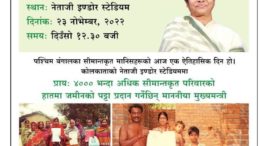 I cannot help but wonder, why would the WB Govt post a quarter page ad on the front page of a leading Nepali language daily, about Parja Patta rights being given to "refugees" in Nadia, while denying the same rights to the people from Darjeeling hills, Terai and Dooars?
It's because TMC knows that they will get away with murder, literally, as long as it happens in the North. They will continue to deny us our rights, for as long as we remain divided. They will keep the South appeased, as there are more MP and MLA seats in the south. They will to keep the indigenous communities of the North deprived, because they can afford to do so.
But, can we, the people from the North, afford to keep on appeasing a government that discriminates our region and people deliberately?