Life is a mix of all kinds of emotions, the good and the bad ones. Through TheDC, we common people have been able to share such emotions and stories with each other. We rejoice in the success and happiness of our fellow brothers and sisters, and we also feel their sorrows and pain at times. But there are moments when our heart shatters down in someone else's pain and we are left with only one question – "Why?"
Still, we have, through these miserable moments learnt to live together and walk as one, and also found the happiness in sharing a bit of someone's pain. We have learnt that no problem is too big when we stand against it together, as one.
In one such unfortunate story, that we share with you with a very heavy heart, a nine years old girl suffers from a critical cardiac disease and she remains home fighting against it, hoping that she receives the treatment soon.
Smriti Rai, daughter of Bijay Rai, was diagnosed with a hole in her heart when she was just 6 months old. She was taken to Manipal Hospital in Bangalore, where she went through a surgery and was cured of her disease. Smriti had a very normal life since then.
Smriti is a resident of Bhargoan Busty in Batasey, Maaney Bahnjyang, almost 8 km far from the Maaney Bhanjyang Bazaar. Her father is a farmer by occupation, and sells vegetables and stuffs to look after the family. She goes to a private school named Wonderland School, which is around 2 km away from her home. She is currently in 4th standard and the principal of her school says that she is a very bright student, the best in her class in fact.
Everything was going fine for Smriti and her family until recently when she started having health issues. After the situation started getting complicated, she was taken to Bajrang Medical and Diagnostic Centre in Birtamore, Nepal, seeking affordable and quality treatment.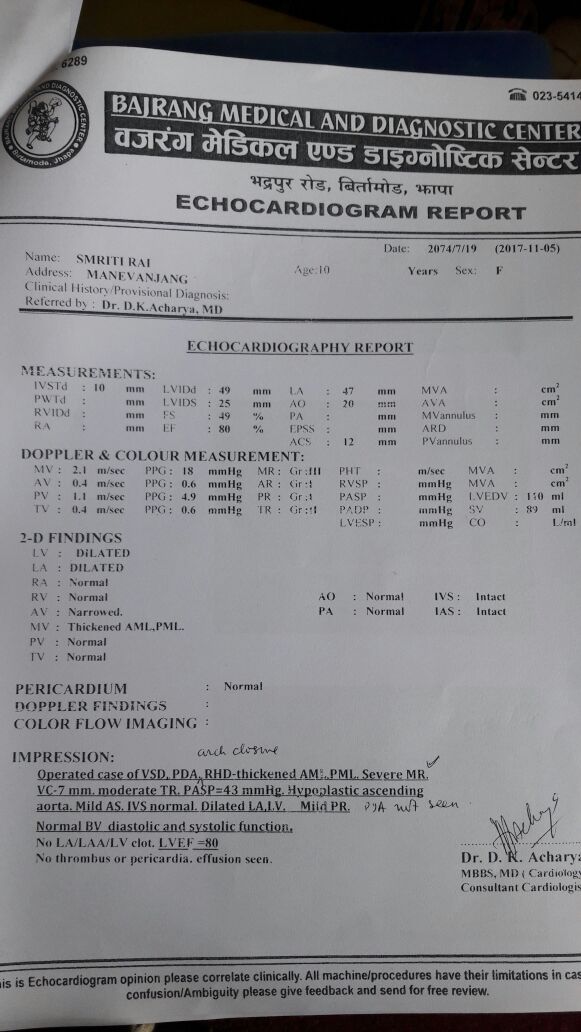 Unfortunately, she was found to have two holes in her heart. The family was taken by shock and sadness, and they started to look around for options to get her treated. They enquired at Sri Satya Sai Medical Hospital where there is provision for free treatment of cardiac diseases of children. Their application was rejected at the hospital, as they did not admit patients who were operated at any other hospital before.
Left with no option, her father sent her reports to the same doctor who had operated her earlier through an acquaintance living in Bangalore. The doctor, who now practised at Fortis Hospital, quoted the amount of 3 lacs 30 thousand for the surgery alone, an amount too high for the family to afford. Besides that, they would need an additional amount for her stay at the hospital during her treatment, medicines and stuff.
That amount of money stands to be unimaginable to a person who survives with his family by selling vegetables. He is, however, trying his best to accumulate as much money as he can by asking for help here and there, and he hopes to get his daughter treated. He is running to every end where he sees even a slight ray of hope, and till now, he has only been able to collect around Rs. 15000. Smriti's teachers and some good folks are also trying to help her father with his effort.
For some of us, 3-4 lacs could be a small amount, but for her father right now, its the cost of his daughter's life. Smriti is just 9 years old right now and is yet to even start her life. She is yet to live the good and bad aspects of her life and cherish them. She is yet to take her first step towards her dreams, yet to know the world closely. So, we request you all, on a humanitarian ground to try and gift the little one with her life. We do a lot of good things in life, that doesn't affect us much, but sure bring a smile of satisfaction and real happiness in our life.
Please see if you can spare the cost of you one-time dinner or lunch outside to make the girl smile again. Please see if your earnings of a day or a few hours could buy life for a little girl, who right now remains at her home helplessly. It's not a very big matter for anyone of us, but it stands to be the biggest matter for the girl of her family. For one thing, I believe firmly in, compassion is one thing that we haven't learnt ourselves; the hills we were born in gifted us with it and has gifted us in abundance in fact.
Given below are the bank details of the girl's father. We deeply hope she beats the disease again and comes up with the best of health and heart. She needs your prayers and support for her to win.
Name: Bijay Rai
Account Number: 34470549064
Bank: State Bank of India
Branch: Sukhia Pokhari
IFSC: SBIN0002127
Phone No: +917585856842