Writes: Rajen Chhetry
Yesterday I had a great day, our GORKHA ICON and Nation's Pride Ms Rangu Souriya was honoured with "BRAVERY AWARD" during #LetsFlyTheFlag program – an initiative of ABP News Live.
We got 4 passes and Colonel Sukul Pradhan along with Ms Rangu's sister and son and myself accompanied Rangu Souriya for the award function.
Before entering the Sirifort Auditorium where the program was organised, we I met Manish Chhetri who is the head of Events and Brand Solutions at ABP News Network Pvt Ltd, and what a coincidence, he happened to be the son of Col Chhetri, Col Sukul Pradhan's colleague and friend during the Army days.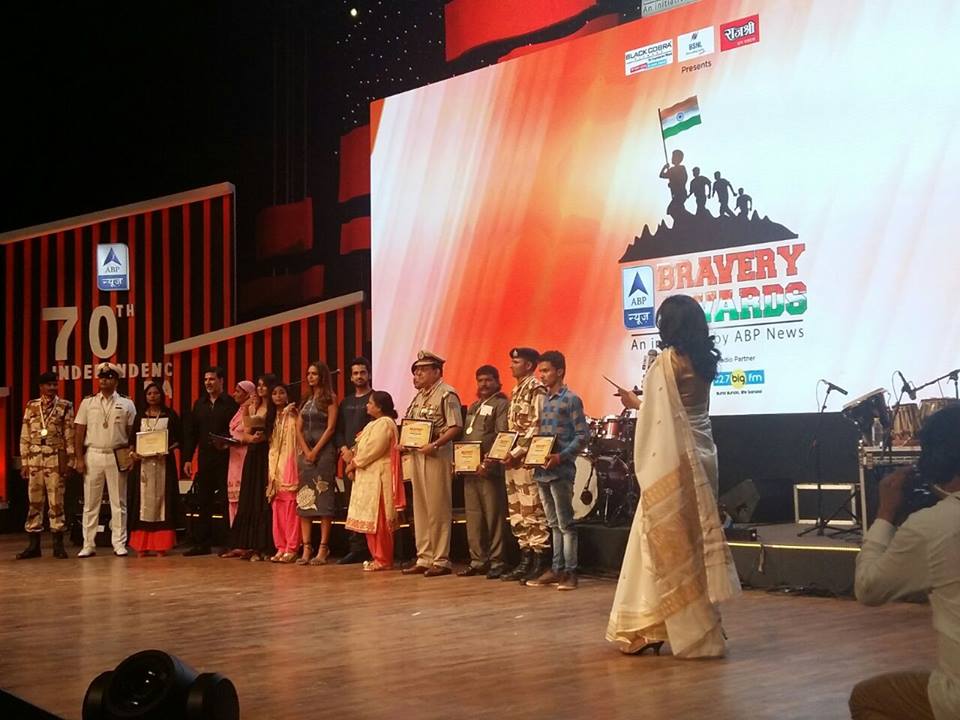 As the national anthem played, we all stood up.
Akshay Kumar who came along with the cast and crew of his upcoming movie RUSTOM felicitated Rangu Souriya and other selected Heroes.
Rangu Sourya when felicitated and was asked to speak a few lines, and she said "I am thankful to the jury for the award, though I have been awarded and felicitated for a number of times, which I appreciate… But my organization continues to struggle… the real problem is, I don't even have a shelter to rehabilitate sex-trafficked and rescued girls."
The entire short documentary and videos prepared by ABP news about the #BraveryAward heroes were so inspirational and touching.
Esha Gupta, beautiful actress of the movie RUSTOM was also seen turning sideways and wiping her tears. The moment was so intense, patriotic and full of positivity.
Akshay Kumar was so touched and impressed, he said: "I earn a lot of money with God's Grace… and I am just a Reel Hero… but these great people here are the REAL HEROES and I salute them, he said."
Akshak Kumar then announced Rs. 5 lakhs Each for the Bravery Award winners. Akshay also spoke with Rangu Souriya, aside, and asked for her contact details and said he will contact her and try to help her.
Towards the end, the Audience was amused with rocking performance by Kailash Kher and his band Kaisala who sang some real dancing numbers and what a voice he has!!!
I really had a great positive inspirational day.
CONGRATS DI!! ON YOUR WELL DESERVED AWARD!!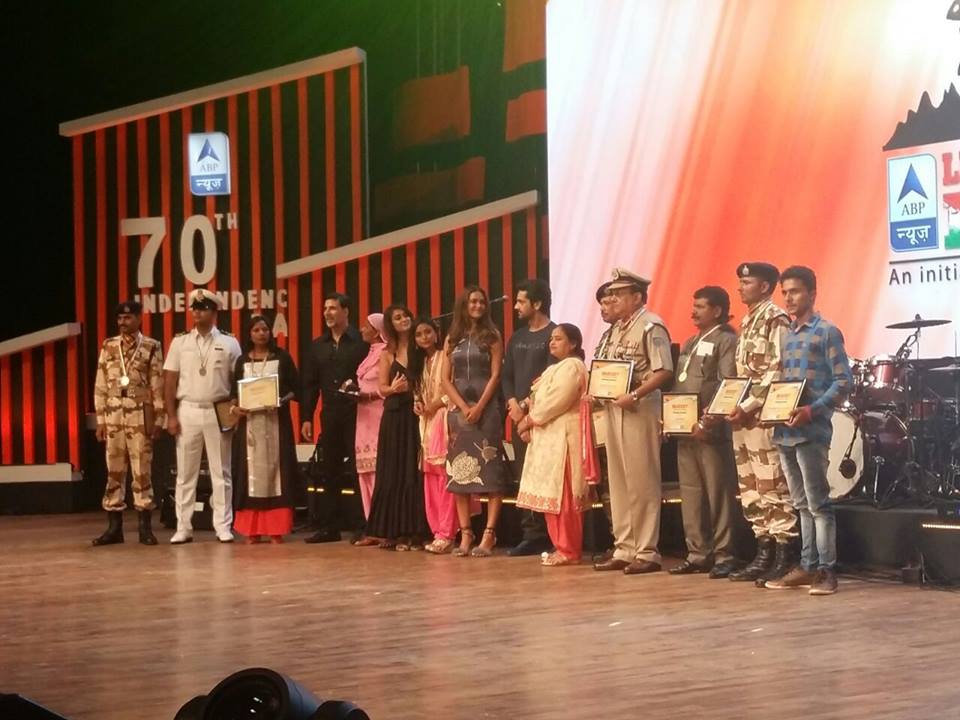 …………..
It is really sad that despite being felicitated by the President of India, Godfrey Phillips Award, Bravery Award and what not, she is yet to get full govt support. She is a 1 woman army, and still cannot afford to even keep staff to run around….Rescue children, attend court cases, send rescued children for to rehabilitation, to attend meetings, to attend various sensitization programs, to everything she else, she is forced to do it herself.
Her plea for a permanent Shelter Home where they can keep rescued children has fallen on deaf ears. She hasn't received any help from the Bengal Govt or the GTA.
Often when she needs to travel to the outskirts of Siliguri for rescuing, she is left with no choice other than to spend the night outside, due to unavailability of vehicles. At times, she is forced to send the girls she has rescued to Coochbehar or Kolkata, as Siliguri doesn't have any Shelter Home and the funds sanctioned for Kanchanjunga Uddhar Kendra Shelter Home by Jaswant Singh have not been released by DM Darjeeling office.
Given this, we request our readers to KINDLY DONATE:
If someone could provide her with a vehicle and petrol during her travels to outskirts of Siliguri, it would be of great help. Rest of you can donate to her at:
Name – Kanchanjungha Uddhar Kendra
Bank Name – United Bank of India,
Branch:- Hill cart road, Siliguri
Account Number – 0237010430749
IFSC CODE – UTBIOSGR220