In the wake of the ensuing Cyclone FANI, Kolkata Municipal Commissioner office has issued a circular regarding Civic Arrangements to combat any emergency situation. All concerned departments have been instructed to make necessary arrangement on war footing basis to handle any emergency situation. Departments can deploy men and machinery for which post facto approval will be provided later on, on actual cost basis.
As per the information received from the National Emergency Response Centre and State Disaster Management department, Cyclone FANI is moving towards Bengal at the following wind speed and rainfall:
02 May – Wind speed 60 km/hr, No Rainfall
03 May – Wind speed 85 km/hr, Rainfall 7-11 cm
04 May – Wind speed 115 km/hr, Rainfall 7-20 cm
All Controlling Officers of Public Works and Civil Engineering Departments have been instructed to alert all Borough Control Room as well as the Central Control Room. All concerned officials will be available on the phone and prepared to take necessary actions.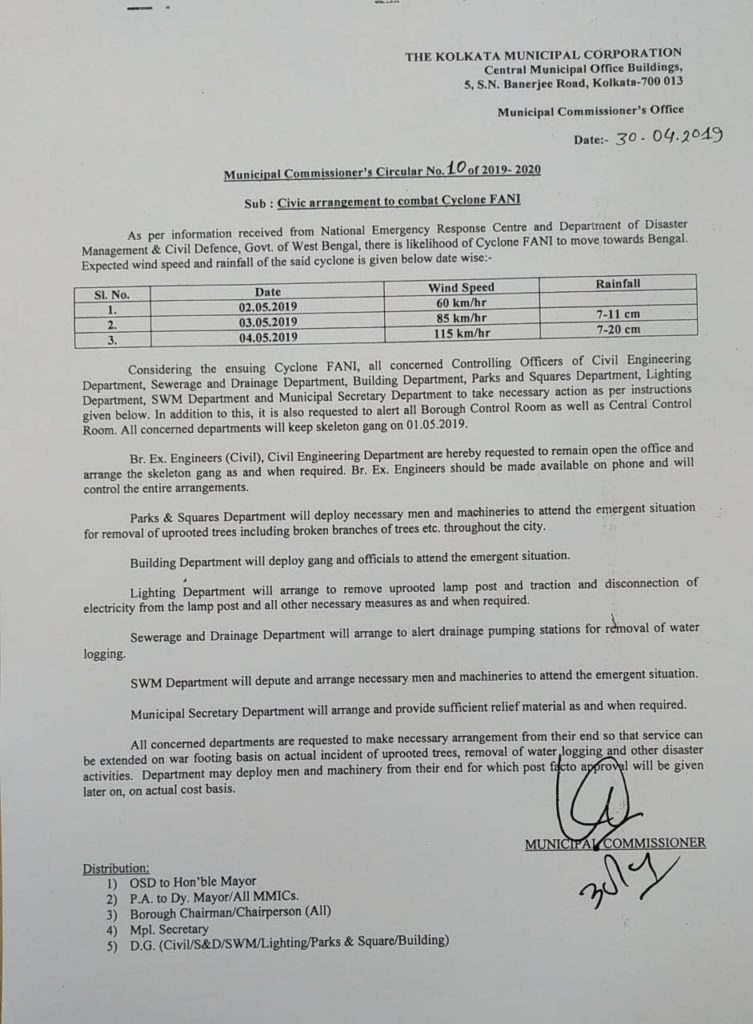 Parks and Squares Department teams are prepared to deploy necessary resources to clear uprooted trees and broken branches throughout the city.
Building Departments will deploy teams to handle emergency situations.
Lighting Department will arrange for removing uprooted lamp post, traction, and disconnection of electricity.
Sewerage and Drainage Department will arrange to alert drainage pumping stations for the removal of waterlogging.
SWM Department will depute and arrange the necessary men and machinery to attend the emergent situation.
Municipal Secretary Department will arrange for sufficient relief materials as and when required.