Calcutta High Court Orders Immediate Demolishment of Illegal Construction in 11-Mile, Kalimpong bench of Justice Abhijit Gangopadhyay has today ordered the demolition of a property situated below CST School in 11-mile Kalimpong by midnight tonight (14th of Aug, 2023).
The case concerns a three storied building constructed by one Mohammad Saifulla, son of Sheikh Jahiruddin of Topkhana, 11 Mile, Ward No. 7, Kalimpong. This construction was challenged by Sh. Bir Bahadur Blon, a retuired school teacher, who claimed that the construction was done on his ancestral land.
On the 2nd of July, 2020 the Kalimpong Municipality had issued a "Stop Work" notice. Citing this, Justice Arindam Mukherjee of the Calcutta High Court had ordered for Kalimpong Municipal authorities to complete the enquiry as to the legality of the construction within a period of six months.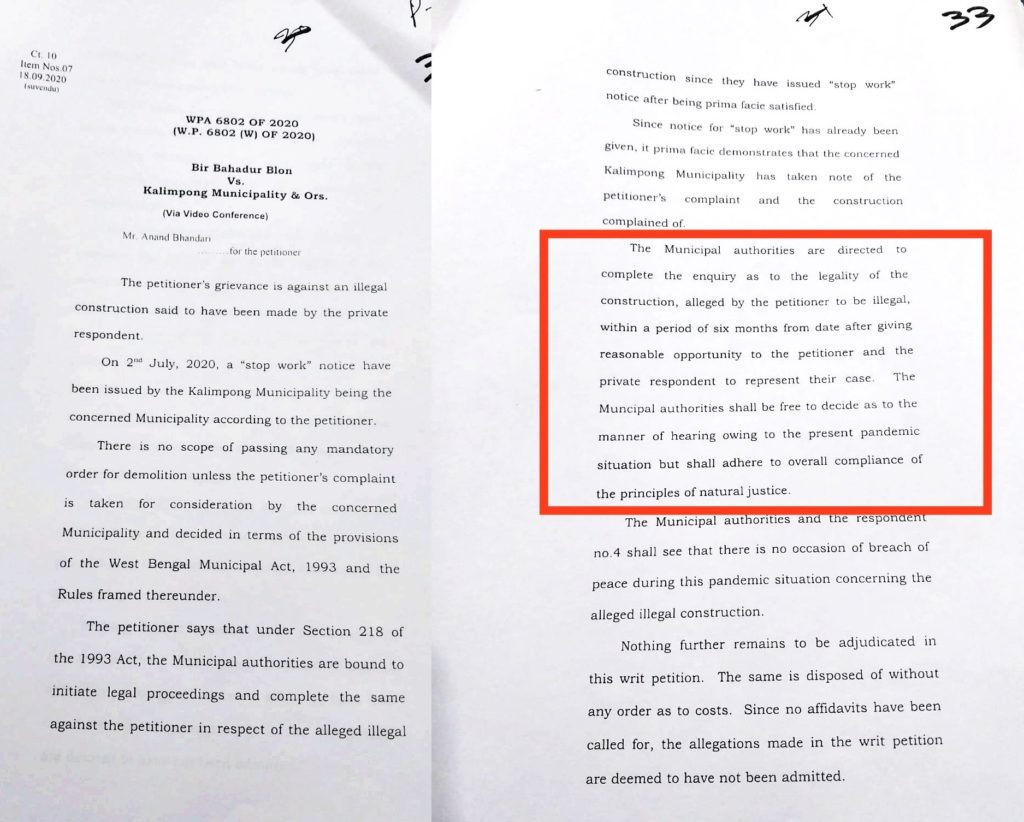 However, it later turned out that the construction had continued, and Kalimpong Municipality failed to produce the enquiry report in the stipulated time. The petitioner B.B Blon had then filed a writ peition asking for court's intervention. Justice Suvra Ghosh of Calcutta High Court had then ordered the Chairman of Kalimpong Municipality to comply with the previsous order within one month.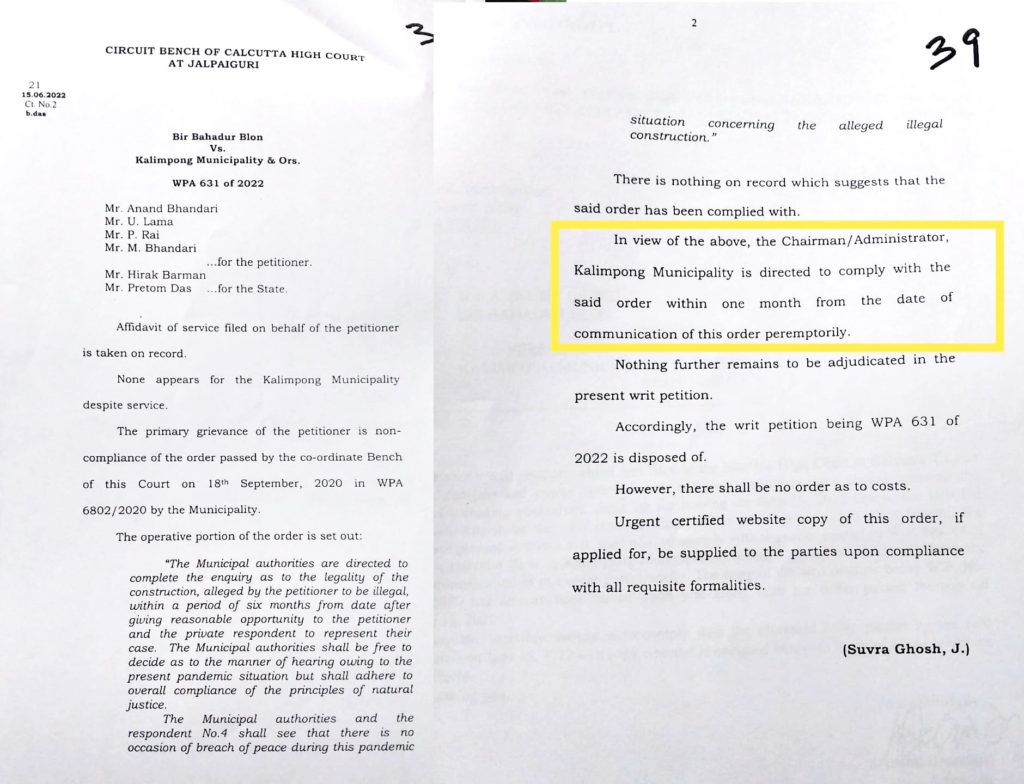 During the course of enquiry, it was found that the building was illegally constructed. Despite one year given to Mohammad Saifulla to dismantle the illegal construction, no action had been taken.
Hearing into this case Justice Abhijit Gangopadhyay of Calcutta High Court passed the following order today, "I direct the Kalimpong Municipality to demolish the illegal part of the construction, for which admittedly no permission was taken from the Municipality, by 12 mid- night today. The Municipality is given liberty to use bulldozer to demolish the illegal construction in this regard. This court requires a report as to compliance of the order day after tomorrow when it will appear in the list and will be taken up at 1.15 p.m."
Despite our attempts we could not contact Kalimpong Municipality Authorities or Mohammad Saifulla for their comments.
Will the illegal construction be demolished finally? that awaits to be seen.