Phurtemba Sherpa, a young lad from Darjeeling, is slaying it right through with his magical sketching skills. His sketches are so accurate and detailed that they hit the exact perfect spot in your eyes and there you stand in awe. Phurtemba evidently is one such person who was born to hold a pencil and was destined to live within the art papers.
His story, however, isn't ordinary and it can prove to be an inspiration for many who are trying to walk into the field of art, be it in any form. One of the things to be noted is that Phurtemba happens to be a self-trained artist and as such, the wonders he has been doing with graphite and charcoal becomes just unbelievable.
Here is a short interview with Phurtemba:
TheDC: Tell us something about yourself.
Phurtemba: I am Phurtemba Sherpa. My parents are Late Dorjee Sherpa and Kima Sherpa. I am a resident of Gandhi Road in Darjeeling.
TheDC: Tell us about your education.
Phurtemba: I completed my ICSE from Ruhiyyah School in Jorebunglow and the moved to VVA in Darjeeling to complete my ISC. I have a BBA degree from St. Joseph's College (North Point).
TheDC: How long have you been painting for?
Phurtemba: I have been drawing since my childhood. I was interested in drawing from my very young days. However, it's this year that I have finally been able to draw good portraits.
TheDC: What got you interested in arts?
Phurtemba: I was always interested in arts. I would see people draw their masterpieces and it would get me really fascinated. It was from there that I derived my inspiration. I started trying and working really hard to get my work better.
TheDC: Is art your career choice?
Phurtemba: Sketching is my hobby. It makes me feel good and I plan to continue it in future. But I haven't yet thought of it as a career.
TheDC: Did your parents support your decision to pursue art as a career?
Phurtemba: Yes. My mother and sister support and appreciate my work. Without their support, I don't think it would be possible for me to work.
TheDC: Please tell us more about your work.
Phurtemba: I am specifically doing portrait sketches using graphite and charcoal. Recently, I have also started landscape sketching.
TheDC: Where do you see yourself in the next 5 years?
Phurtemba: I am planning to do more detailed work. I wish to come up with better, realistic portraits and landscape portraits.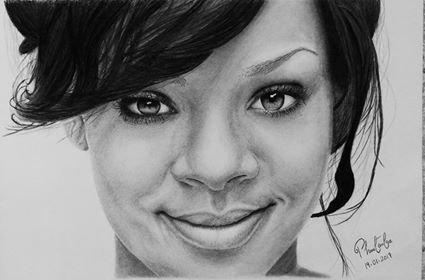 TheDC: What would be some of the suggestions you would want to impart to those who want to follow your footsteps?
Phurtemba: As I have learnt from my experience, practice is the most important thing. So practice as much as you can. Never give up on hard work and make it happen. And no matter how hard it gets, never give up on your dreams. Do what makes you happy and enjoy, because if you don't enjoy what you are doing, you will never improve on it.
The portrait of Tenzing Norgay that we are posting here took Phurtemba 32 days to get completed working 5-6 hours a day. It is a 5 ft wide and 3.5 ft high piece of pure talent. To the ones who must be wondering about how much he charges per portrait, it depends on the image and the size of the portrait and his price includes both sketch and frame.
For any query, you can contact Phurtemba at phurtembasherpa83@gmail.com. You can also contact him on Facebook at this page https://www.facebook.com/Parts.onlinestore/ where you can also view his latest works.
We wish Phurtemba all the best and success with his work and hope that his story inspires a lot of people.