Deepankar Waiba is a WBCS officer and a very talented artist too. A trained economist, he is a painter, musician, singer and a composer he comes from Munsong, a gorgeous but very remote place in rural Kalimpong. He has struggled hard to make a mark for himself, this is his story.
Ama: Shanti Tamang
Baba: Manikumar Waiba
School(s): up to Class X from Munsong High School, Higher Secondary: SUMI, Kalimpong
College(s): Government College, Darjeeling
University(s): North Bengal University
The DC: So tell us something about your journey, what got you interested in Music?
Deepankar: I started loving music from the very beginning, it probably came to me from my parents, though they are not musicians but they are music lovers. I remember unlike other kids who asked for toys or other stuffs from their parents, I used to ask for a guitar, I don't know where that idea came to me at that age because I knew no one who played a guitar at that time. I started humming and singing at very early age, I even used to make my own flute with pieces of bamboos and pipes and play old Nepali and Hindi tunes.
Back then, my father owned a tape recorder and he used to make me and my brother sing and record our songs in a cassette, later during the evenings we used to sit together and listen to those recordings. My mother used to tell me that I will become a singer one day. I grew up listening to all kinds of music and also played various instruments, we formed rock bands in schools and I started composing music and doing live shows.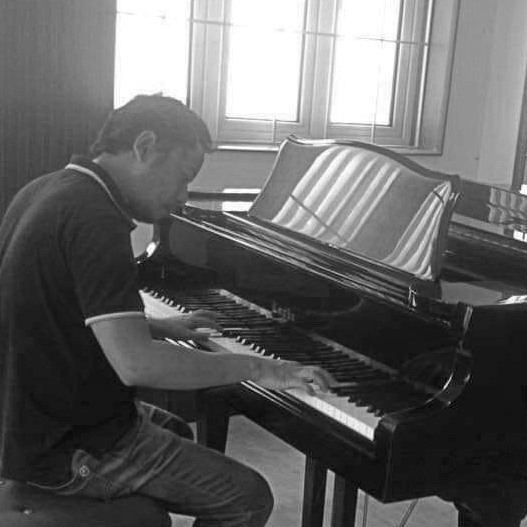 Later on during the college and university days I invested most of my time learning music and playing guitar. My friends who played with me, the musicians I met along the way and my cousin who is a professional flutist also inspired me a lot.
The DC: Is your family supportive of your musical endeavours?
Deepankar: Yes, they have always been supportive in all my endeavors in fact they love my singing and compositions, my father has also written a song for me which I have composed and recorded.
The DC: You are a WBCS officer, and a very talented artist too – so how do you identify yourself more as an economist/artist/musician or a bureaucrat?
Deepankar: There were times when I worked in different capacities, I started as a Social Worker, then as a Teacher , as an Administrator and Bureaucrat, my role has changed over time, right now I prefer to be identified as a Public Servant by Profession and a Musician by passion.
The DC: So how do you balance your time between your passion and your work?
Deepankar: People often ask this question, but you have to step out of your comfort zone to follow your passion. It seems difficult, but it is not if you only give a little thought and act accordingly. Through all these years I have learned that the most important thing that is required for balancing is to keep oneself disciplined. Since the amount of time you get is something that you cannot change, all you can do is change your habits; I try to keep myself healthy, do regular practice and follow strict schedules while working on my recordings and compositions. In order to save time I do all my recordings by myself and keep my arrangements as simple as possible.
The DC: How have the responses been so far?
Deepankar: Wonderful, people have immensely loved my singles, both 'Akash Paari' and 'Darjeeling' are doing great. Till now people from all ages having varied musical tastes and preferences have shown acceptance to the kind of music I have been doing, they have showered their love and support. Both the songs are creating a buzz.
Messages are pouring in from the content creators and other artists as well, appreciating my work and expressing their willingness to collaborate for various projects, I want to thank them all for their love and support. My compositions are loved not only by Nepali speaking people but people who speak other languages as well. I get messages from people asking for a translation of the songs that I have released. I am very much positive and excited to bring more songs of the like.
The DC: What were the difficulties you faced in your journey and how did you overcome them?
Deepankar: I was born and raised during the very hard times of eighties in the place called Munsong, which is a Government cinchona plantation in the erstwhile Sub-Division of Kalimpong, so the problems I have faced during my early days are typical to the problems faced by the youths from the Hills.
The opportunities were limited and the whole generation was in a grip of utter confusion and disorderly system. School-Drop outs, unemployment, substance abuses and crimes were rampant. But I never let myself lose my focus from studies. I did not consider my journey as a journey of myself alone, it was rather a journey of the entire village where I belonged, I was kind of representing hopes and dreams of many people. There is this typical thing about being a lad from a village, because unlike cities here everyone knows who you are and what you are doing, so there is some kind of expectation not only from your family but from the society as a whole.
So during the entire journey I always felt, and I still do, that I have shouldered a responsibility to prove that there is no alternative to education if that vicious circle is to be broken. The pressure of completing my education with good results and making a descent life came not from my parents, but I had to do it for the gamut of people who ran away from education and for those parents who never thought worthwhile in investing in their children's education.
It was something that I understood in the very beginning and I had planed my journey accordingly. Cracking public service was a tedious task and required perseverance, there were difficult times, sometimes it was hard to manage things, but with the support of my friends and family I reached where I had to. I am glad that I did play my role thoroughly and it did yield the result, today I am glad to see that in our locality children's education is given a primary place and people appreciate what I did. Amid all these, music was something which I never let to die; I kept learning and polishing my skill. I already had a plan on the back of my mind that I will bring my music to people and I felt this is the right time to do, so during the mid 2019,
I collaborated with my old college buddy Srijana Lilian who is a fantastic writer and I started working on my first single: 'Akash Paari' after that I did 'Darjeeling' and now I busy finalizing the works on a full length album, which will be released very soon.
The DC: What advice would you give others who may want to follow up in your shoes?
Deepankar: Do not give up your passion, keep working on it and focus on what you should be doing. You will come to know your inner self only by contemplating what you are meant to do. It does not matter if you are making it big or small or late or early, all that matters is whether you are giving enough time to know your true self. Since we are living in the age where knowledge of the entire universe is at the tip of our fingers, make the most out of it.
Keep learning and refining your skill. This is the time to break all stereotypes and explore your true capacity.