The budding musician, Prayas Biswakarma's journey as a musician began not anywhere else, but within the four walls of his house. Trained by his father, Rudra Mani Biswakarma, founder music teacher at Gandhi Ashram School, Kalimpong, Prayas started playing the violin at a very early age. His sister, Kushmita Biswakarma, is also a well-known violinist from Kalimpong.
Prayas started playing the violin as part for the school choir and local programs. Very early in life, he already knew he wanted a career in music. Luck smiled on him as he got an opportunity to audition for the Symphony Orchestra Of India in Mumbai.
As things would have it, Prayas today part of the only professional orchestra from India having joined NCPA Mumbai in Symphony Orchestra Of India since 2017 – first as a contractual employee to now a permanent member of the orchestra.
He has so far collaborated and played music with the table maestro Zakir Hussain, AR Rahman, Sonu Nigam, Salim Sulaiman and Shreya Ghoshal. He has also performed with Neha Kakkar and Badshah in MTV unplugged.
TheDC: Tell us something about your parents?
Prayas: My father Mr Rudra Mani Biswakarma also widely known as "Maharaj" is one of the well-known musicians in Kalimpong. He plays a lot of instruments and arranges songs but his main instrument is the violin. He is currently working as a music teacher in Dr Graham's Homes, Kalimpong. My mother Mrs. Laxmi Ghimiray used to be a music teacher too. She plays the violin and used to teach the same at home and in different places. Both of my parents are musically talented and I guess that's where I owe my skills too. They still do many musical shows in and around West Bengal together and have been parts of many musical groups like Unison Band.
TheDC: Please tell us about your childhood days and school days and about Rev Fr Magur who founded Gandhi Ashram
Prayas: I studied in Gandhi Ashram Kalimpong and then joined Dr Graham's Homes in class 6. During my school days I used to go for many musical concerts under Fr.Mc.Guire. When I was in class 8, I had auditioned for Indian National Youth Orchestra and after being selected I went for Bangalore and Delhi tour with the INYO.
Mostly my school days and childhood days were accompanied by a lot of musical shows and concerts. I also got a chance to perform with an international orchestra in Germany, Italy and Switzerland. Hailing from a small town like Kalimpong and being a music enthusiast these were one of the best childhood and school days memory that I have.
I was very small when I met Rev Fr Maguir and when I was 6 years of age he passed away. So I have very faint memories about him. However, Rev Fr Magur was just not the founder of Gandhi Ashram but he was and is the provider of opportunities for uneducated and poor children – their beacon of light. Yes, his dedication and selfless nature did inspire me. He has always inspired me to help those children who really love music and need help and guidance.
TheDC: Who inspired to take up violin?
Prayas: When I think about inspiration, I feel that both my parents are the guides and my inspiration. When I was 3 years old, my mother asked my father to teach me the violin. Ever since I have been under their constant watch and I learnt every basic thing about playing an instrument from them.
So my source knowledge and inspiration has been my parents first and then, later on, I found my inspiration from many violinists like Christian Ferras.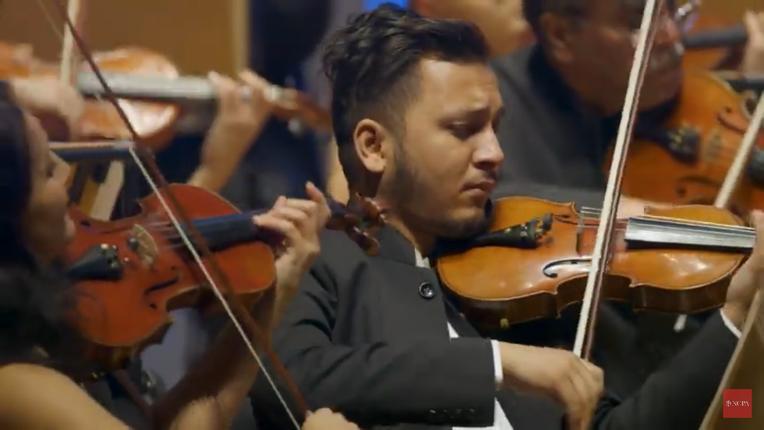 TheDC: Before moving to Mumbai, you won many awards in childhood. Tell us something about them.
Prayas: When I was 9 years old, I got first position in Hills Solo Instrumental Music Completion which was a competition held for musicians from Darjeeling, Kalimpong, Kuresong and Sikkim.
Another important and prestigious award was Lions Global Youth Music Competition held in Hyderabad which was an all India Music Competition and I received the winner's award.
At 12 years of age, I won the Fiama Di Wills Music Award which was a music competition held in Kolkata. In 2010, I won the Telegraph School Awards for outstanding talent and received a gold medal from Barry O' Brien in Kolkata. This award is indeed the most precious award to me.
TheDC: How did you reach Mumbai? Tell us something about NCPA. and Symphony Orchestra Of India.
Prayas: After completing my high school I went to perform with Indian National Youth Orchestra, NCPA, Mumbai. While rehearsing with the orchestra, my sister Mrs.Kushmita Biswakarma who was working at the Symphony Orchestra Of India informed me about a vacancy for a musician in the SOI.
I decided to audition for the Orchestra and then luckily I got an opportunity to audition in front of the Director of SOI, Mr Marat Bisengaliev. As soon as I finished my audition I was asked to join the SOI. I did not have to wait for all the selection processes and the next thing I know is I joined the orchestra. This is how I landed in the city of dreams- Mumbai.
National Centre For Performing Arts is a hub for all sorts of arts ranging from music to dance. Symphony Orchestra Of India is a heart of NCPA and the first and only professional orchestra in India.
The musicians in SOI are from different countries and it is definitely the biggest platform for western classical musicians in India who are really interested in pursuing their musical career in Western Classical music.
TheDC: Let us know about your musical journey in Mumbai.
Prayas: With SOI, I got an opportunity to perform with the legend Zakhir Hussain in the United Kingdom. This was my first musical tour with the SOI abroad. We also toured all over India hosting musical concerts and the very recent one was the Bangalore and Mysore tour to mark the 150th birth anniversary of one of the famous Raja of Mysore.
I have also played with many international artists of Western Music like Augustine Dumay, Maria Joao Pires, the famous Indian youngest pianist Lydian Nadhaswaran, Karl Jenkins a famous music director, and also Indian singers including Shankar Mahadevan and Hari Haran.
Apart from working in the SOI, I also work in Bollywood. I have worked with many well-known singers and music directors like AR Rahman, Sonu Nigam, Shreya Ghoshal, Salim Suleman, Adnan Sami and many more.
My first Bollywood exposure was back in 2017 when I worked with Neha Kakar, Badshah and Jubin Nautiyan for the well-known show MTV Unplugged. The journey as a musician in Mumbai has definitely been adventurous and beautiful.
TheDC: You are now a professional violinist in India's one and only professional orchestra, tell us about your hardships you passed to reach this stage.
Prayas: The struggles and challenges that I faced were the lessons that built me not just as a musician, but also as a person. When I went to Mumbai at the age of 18, I was just a school graduate trying to pursue my dreams as a musician.
The first struggle was to be on my own in the new city without my parents and family. However, my sister helped me coping with the entire new lifestyle and the environment. At SOI, I used to be the youngest musician and the rest were so much older and skilled than me. To come up to the expectations of the orchestra was a tough battle. Everyday practices and dedication is the first tactic to come up to their level. The knowledge that I had about Western Classical Music was nothing compared to my fellow colleagues so there was a competition among ourselves and I had to really pull up my socks and work for it.
TheDC: Your advice to those who are pursuing music as a career.
Prayas: Well, the only thing I learnt and would like to share is that hard work and determination are the wings that you need to give to your dreams. The mantra of a successful musician is practice and only practice. The more you practice the more polished your skills become. So dedicate yourself and believe in yourself and your dreams. After that, you will find yourself living your dreams. It does not matter where you are, keep practising, keep dedicating yourself, and always showcase your talents, never hide them.
TheDC: Tell us something about your future plan.
Prayas: I want to become a music director and give back to the music industry that has helped me and shaped me. I want to open a music school for the students in our hills and provide them with the knowledge and the skills that I have gained so far. Apart from this, it is all in the hands of the Almighty.