Qasim Khallow an ambitious young man from Kalimpong and an alumnus of St Augustine's School, is the Writer – Director of the critically acclaimed Hindi feature film – GONE KESH. He has worked with India's biggest Production house YASHRAJ FILMS for 7 years in various capacities, and he recently ventured into Nepali Cinema as a writer with a Series named "Love Sutra" which is due for release later this year.
A boy from small streets of Kalimpong, who struggled in a one room apartment shared with five others to today weaving dreams and magic for millions. This is his story…
Ama: Mrs Salima Khallow
Baba: Late Ibrahim Khallow
School(s): St Augustine's School (Kalimpong)
College(s): St Xavier's College, Kolkata (B.A Sociology), Asian Academy of film and Television (M. A in Cinema)
What got you interested in movies?
I have used Cinema to escape my reality. I was born and brought up in the narrow quarrelsome neighbourhood of Relli Road, Kalimpong. My childhood was mostly centred around the 100 metre radius of the vicinity and inside a small single room where a family of 5 people lived. Street fights, drunken men, abuses and pigs happily strolling in the streets were part of my reality as a kid.
Cinema helped me escape this reality.
Through Cinema, I saw broad clean roads, big houses, colourful clothes, song and dance and a world I had never seen before. And by the time I finished my class 10 boards, I had my own celluloid dream. I decided, I will be a filmmaker and make movies to help another poor kid escape his or her reality. My schoolmates thought I'd probably gone mad and some even called me a fool. This fool did not know it was impossible, so he did it.
How did your journey begin?
After finishing my graduation from Xavier's Calcutta, I went to Delhi to pursue my Masters in Cinema. After two years of studying Film language and Cinema from across the globe, I finally decided it's about time to head towards Mayanagri – The city of dreams – Bombay.
On a rainy day in July, I left my Delhi house with a small bag and headed towards Nizamuddin station to catch a train to Bombay. I left behind a huge bag in my Delhi house. The bag had all my egos, my temper, my evilness, my greed etc. Finally, at 4 PM the train moved and I was making my journey to a city I had never been before, a city where I don't even have an accommodation and a city where I knew no one. But I knew one thing for sure and I was proud of it; I was finally chasing my dream.
Were your parents and family supportive of your decision?
Always. I am grateful to Almighty for giving me such supportive and loving family.
Please tell us about your struggling phase?
I don't know how many kilos I lost during my Initial days in Bombay but I became very thin. After staying in a dormitory for couple of days, I finally managed to get a room for myself. A room which I shared with another 5 boys. With my filmmaking craft in one pocket and my passion for Cinema in another pocket, I started doing the rounds of offices and Studios. Days became weeks and weeks became months but never did I hear back from any studio or office. By the end of my 4th month in Bombay, I knew the bus and train routes by heart. It became difficult to find the light at the other end of the tunnel.
How did your first break happen?
My first break was TV industry. While doing the usual rounds of studios during my struggle days, I stumbled upon a bungalow which was used for shootings in the Bombay Versova area. Call it luck but they hired me as an Assistant director right at the spot. I was hired as an intern and was paid Rs 100 a day for travelling and free food on the set. I accepted the job with open arms. This was year 2007. The show was for a channel called SAB TV. I used to live close by, so I walked my way to the shoot and saved that 100 Rupees every day. And very smoothly I made my way from TV serials to Films and since then there was no looking back.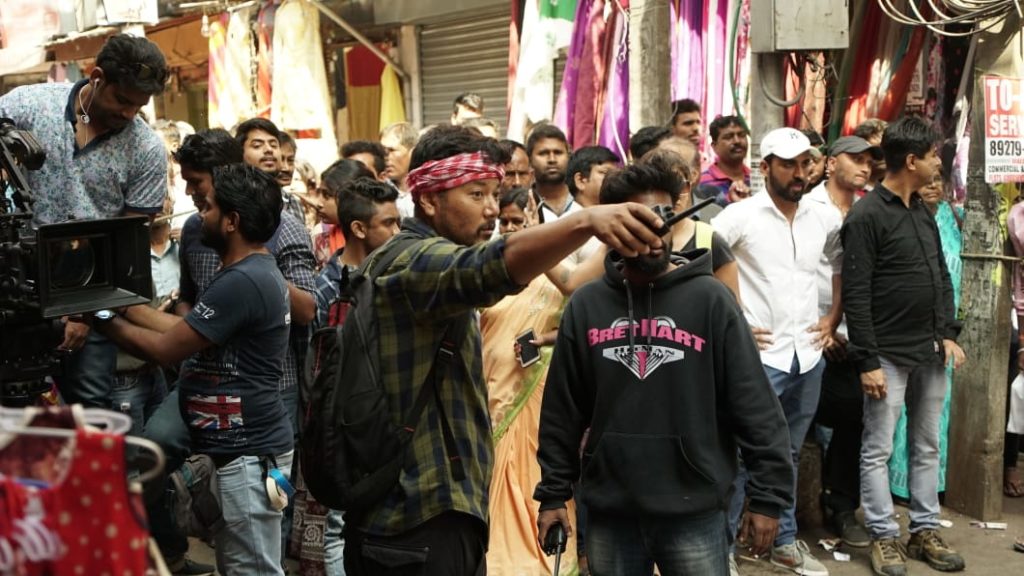 After working in 5 feature films with big A – list actors, I climbed the ladder a bit and joined Yashraj Films. I worked with Yashraj Films for almost 8 years before I went Independent and made my own film.
Tell us about your journey from a struggler to writing-directing a critically acclaimed film like GONE KESH?
I was a big Fan of Shahruk Khan. So during my initial days in Bombay, I had gone to see SRK on his birthday. With a sea of crowd outside his residence, Mannat, I also stood waiting to see a glance of SRK. After a while Shahruk Khan emerged on top of his balcony. The crowd went mad and so did I. he did his signature pose and I shouted on top of my voice "SHAHRUKKKKKK…" After a couple of minutes he left and the crowd was dispersed. I remember that day I lost one chappal of mine in the crowd.
Now flash forward almost 8 years and I was doing a film with SRK called FAN, and during his 50th birthday I was inside his house Mannat, celebrating his birthday. We went to the balcony and as I looked down at the crowd, I could see a young myself standing in the crowd shouting. Life had come a full circle.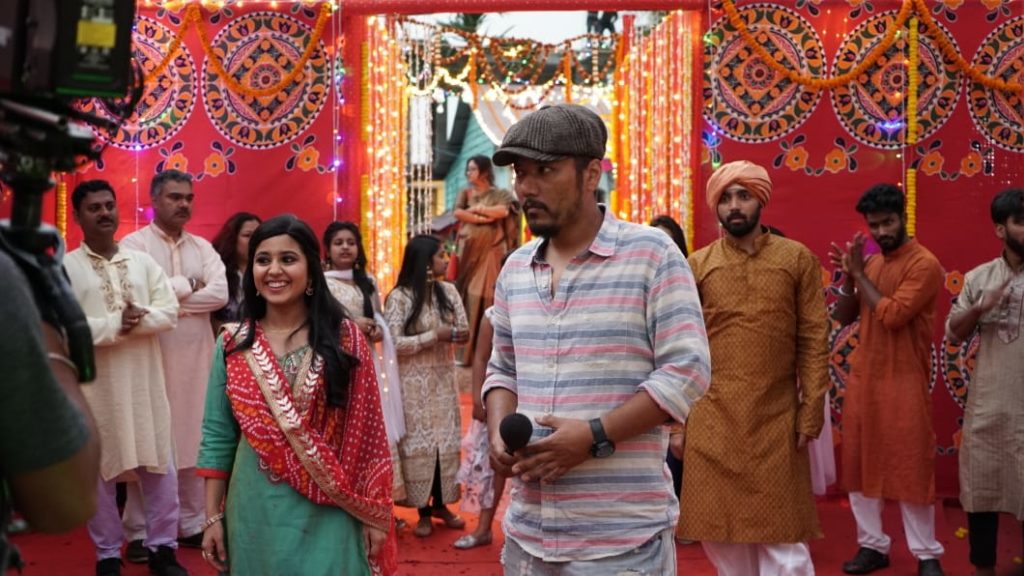 By the year 2017, I had already established myself as an industry player with a proven track record of performance. From the humble beginning of sharing a small room with 5 boys, now I was living alone in the most expensive suburbs of Bombay with a majestic view of the sea. I had worked with almost all the big actors by then. I knew almost all the big technicians and crew of the industry. I thought its right time to go Independent and make my first movie.
I quit Yashraj films in 2017, by then I had worked in films like Ek tha Tiger, Gunday, Shudh Desi Romace, Heroes, Chamku, Yamla Pagla Deewana, Chaar Din ki chandni, , Dum laga Ke haisha, Kill Dil, FAN, Qaidi Band to name a few. It was in 2017, I started the process of making my first film.
Gone Kesh was made with a very very humble budget, but the film critics and the audiences loved the film. Gone Kesh won as many as 20 awards in different Film festivals across the globe. Gone Kesh is now playing on Amazon Prime.
Tell us about your venture into Nepali Cinema – how did that come about?
I got a call from a senior of mine from school. He has become a big time celebrity actor in Nepal. He asked me if I would be interested to collaborate with him on a Nepali film. I without even a thought said YES. I always wanted to do a film in my own language. I sent him a rough idea of the story. They all loved it in Nepal. In a span of few months I finished the script and sent it to them. It's in the shooting stage right now. It's called LOVE SUTRA.
Where do you see yourself 5 years down the line?
5 years down the line I would see myself doing lot of content driven film in both the languages, Hindi and Nepali.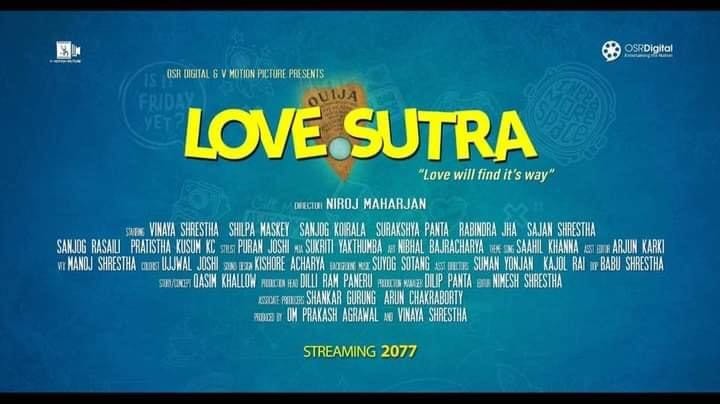 What advice would you give youngsters who may want to follow on your footsteps?
Pain is temporary, Cinema is forever. In your initial days in Bombay, you might have to face a lot of pain, but trust me that pain is temporary. It might last for a year or two or 5 years or even 10 years but the Cinema you will make post that will remain forever, even after you are gone.
We wish Qasim all the luck in his future ventures, and hope that his life and story inspire thousands of others to live their dreams.
[Shirley Pradhan for TheDC]