We are sure that you must have been thrilled by India's victory in its first Hero Gold Cup Football Tournament match against Iran, the most thrilling moment in the match was Anju Tamang's maiden goal which led India to victory. If you folks don't know Anju Tamang closely, let us tell you that she is one of our own from Dooars.
In 2015, we had sent a "Shout Out" her way. Back then we had written…
"The daughter of Mrs. Kanchi Maya and Mr. Ram Singh Tamang, Anju is an extraordinarily talented striker, who if given proper training and guidance has every potential to excel not only at the national, but also the international level."
Born in Birpara, Anju did her primary schooling from Algarah Primary School, in Kalimpong. She completed her Secondary schooling from Algarah HS School. Later she came to SUMI School, in Kalimpong and that is where she gradually started taking her childhood passion of playing football very seriously, and she learned the skills and she ended up practicing with boys.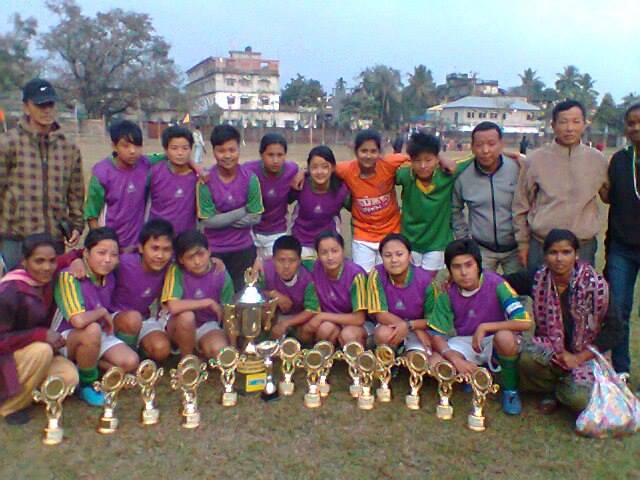 Seeing her enthusiasm and talent, in Algarha her Sports teacher Bhim Sir gave her all available and possible training for football. Later when she joined SUMI Kalimpong she got more exposure.
Her Physical Education Teacher at SUMI Prashant Sir gave her more training and according to her "it's from then on that I improved very well and got a taste of professional football."
The incredible thing is that even in SUMI, she used to play with boys and she was very good. She continued her practice regularly and played at Mela Ground Kalimpong.
That is when she knew that she was better than average player, whether men or women, and her journey took her to play for clubs all over India.
In 2015, when we had asked her "what is Your dream"? she had said, "to play for Indian team and represent India in international events."
Her dream finally realised when in 2017 she was selected to play for the Indian National Team. Not only that, it was her goal, that helped Team India win the first match against Iran in the ongoing Hero Gold Cup.
Ever humble, Anju had earlier told us in 2017, her coaches both in schools and clubs, had been of immense help in her development as a footballer… "Prashant Sir, Bhim Sir in Algarah and Pemba Sir in Sikkim have all been of great help. I have also had to make some sacrifices to reach here. For instance, I will not be able to sit for my final graduation examinations this year because of the AFC championship. It will always be football first for now," she said.
Today, the young Birpara girl stands proudly in the blue jersey and runs through the field like fire. Last time we talked to Anju, we had ended our conversation on the note… "GOOD LUCK… we are so honoured to be able to feature you in our page… as you progress further in your career, we will be sharing your each and every progress with all of Darjeeling… Makes us proud Sister…"
You have INDEED MADE US PROUD… Thank You for giving us this opportunity to tell the world, that our Gorkhali daughters are no less then the best in the world…
We are just so glad that a talent we had highlighted as being a potential International Star back in 2015, has made our words sound so prophetic today, through her brilliance, hard work and tireless dedication.
CONGRATS!! Anju – You are an inspiration and ICON for our youngsters, not only in Darjeeling, but all over India. Its young women like you who redefine what being a woman means. More power to you. We wish you score many such winning goals for the country in coming days and define a new era for Women's Football in India.
We are hopeful that you story will inspire millions of young girls all over India to follow their dream.
Take a Bow!! Today, you have transformed into our GORKHA YOUTH ICON!!