Kanchan and Novelty had a fond place in the hearts of the people of Kalimpong. Dreams, songs, love, modernity – all these, were found here. For this secluded town, they served as a magical door which opened the wide world beyond the Teesta bridge.
These two entertainment hubs were situated at the ends of the action area of the town – Damber Chowk, Main Road and Thana Dara. Groups of two or more ambled to and fro along this thoroughfare. Friends and crushes were met many times. The common excuse was to see the "Coming" posters. Long before they were screened, posters of Spartacus, Mughal e Azam, Guns of Navarone, Jewel Thief, Mother India, Guide, titillated eager viewers.
"Kanchan" was written vertically on a huge, off-white cement edifice. People from as far as Algarah and Teesta Bazaar were attracted here. A circular fountain with bright lights led the way to a large porch with ticket counters.
Novelty also boasted a garden surrounded by a cement parapet just in front of the curved welcoming steps.
I once had a glimpse of the owner of Novelty, a fair, elderly man, in snow-white kurta and dhuti, with a cream shawl over his shoulders.
Parking was never a problem because only a handful of people had two or four-wheelers. It was walking all the way. एघार (11) number गाड़ी, as it was said, was universal.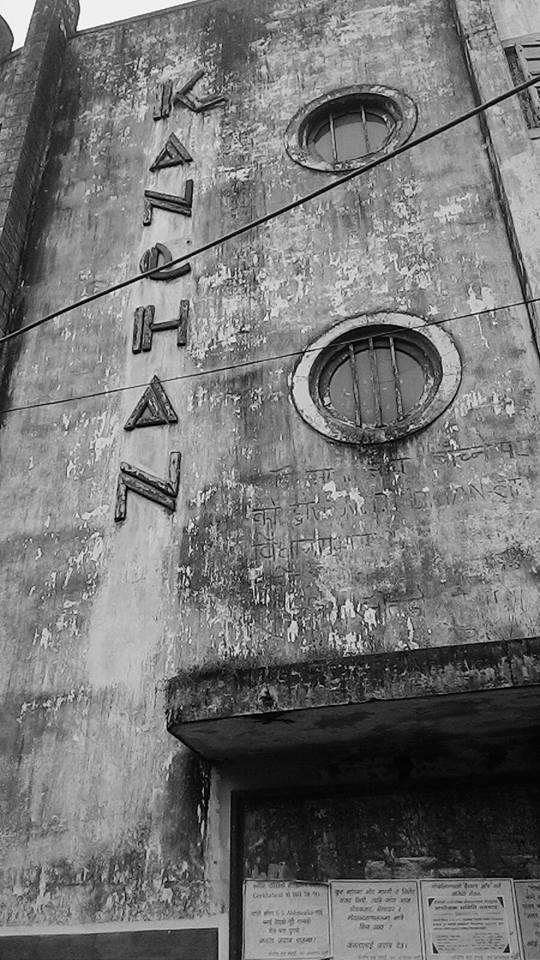 Tickets Prices
Front Stall – Rs 0.40 ( Paanch Aaney)
Middle Stall – Rs 0.65 ( Dus Aaney)
Rear Stall – Rs 0.95 ( Pandrah Aaney).
Dress Circle – Rs 1.25
Sofa – Rs 2.50
FREE – Pandrah August – one patriotic national film, with a song like "Mera Rang De Basanti Chola"
On Haat days, Wednesdays and Saturdays, to cater to the village people, there was the extra Matinee show at 12 noon. Other days there were the Afternoon (2 pm), Evening (5 pm) and Night (8 pm) shows.
The Stall tickets were sold just before each show. The tickets had to be bought through a hole in a concrete wall which allowed just one fist to pass. Shoving, grinding bodies made mockery of the queue line. Muscular lads from the bustees, tussled with the bazarey black wallas. The latter were notorious for raksi and chhuri. One huge ferocious looking man in black baku was given the tough task of maintaining order in the Stall counters at Novelty. There were sometimes more live action here, than in the Western movie for which they were clamouring.
Advance tickets for Dress Circle and higher classes, were also available from a shop in Main Road, beside the present SBI ATM. From a solid wooden cash box in a corner of a wide, white gaddi, out came the coveted ticket bundle. The tickets were extra thin papers of pink, yellow and green. Seat numbers were scrawled in thick illegible blue or red crayon, which only the usher could read.
Show time meant a darkened hall where the screen ruled supreme. Johnny Walker with his signature pencil moustache and the extra large Tun Tun evoked great cheers. Dilip Kumar, Rajendra Kumar, Shashi Kapoor, Dev Anand, ruled as supreme idols. Raj Kumar was the reticent hero. Nanda, Tanuja, Asha Parekh, Nargis, Nutan, Sadhana with fringe cut hair, Mumtaz with her upturned nose, dimpled Sharmila Tagore, were the ruling divas. Mala Sinha was special, because of, or in spite of, her roots. Zeenat Aman showed girls how to be socially assertive. Mehmood, I S Johar and Om Prakash evoked quite a lot of laughter. Poor Pran, never was a man more reviled and cursed than him, and how the crowd hated the way he twirled a biri in his smirking mouth. Nirupa Roy was the ultimate mother. All problems on the stage would be solved by the ever so decent Ashok Kumar and Hangal. Then came Helen, very few could see the perfect artiste beneath her skimpy costume. This cabaret beauty's one dance scene would often be the sole reason for many to buy a ticket. Bald David was the elderly darling with a pivotal role. Shashikala and Lalita Pawar often played negative roles. Balraj Sahni was liked a lot. Kishore Kumar then, was an actor and not yet a singer. Dara Singh was looked at in awe by fledgling body builders. Simi and schoolboy Rishi did a hill scene in 'Mera Naam Joker'. After Shammi Kapoor's ''Junglee" film, screams of "Yahoo .. ! " were heard even in distant villages. Raj Kapoor's epic film 'Sangam' with Vyjayantimala, had Mukesh's hit songs, and stretched to a record long run. The whole town went all crazy with the film 'Aradhna' where Rajesh Khanna and Sharmila Tagore enacted the song 'Mere Sapno Ki Rani Kab Aeyegi Tu'- complete with dhaka topi and toy train.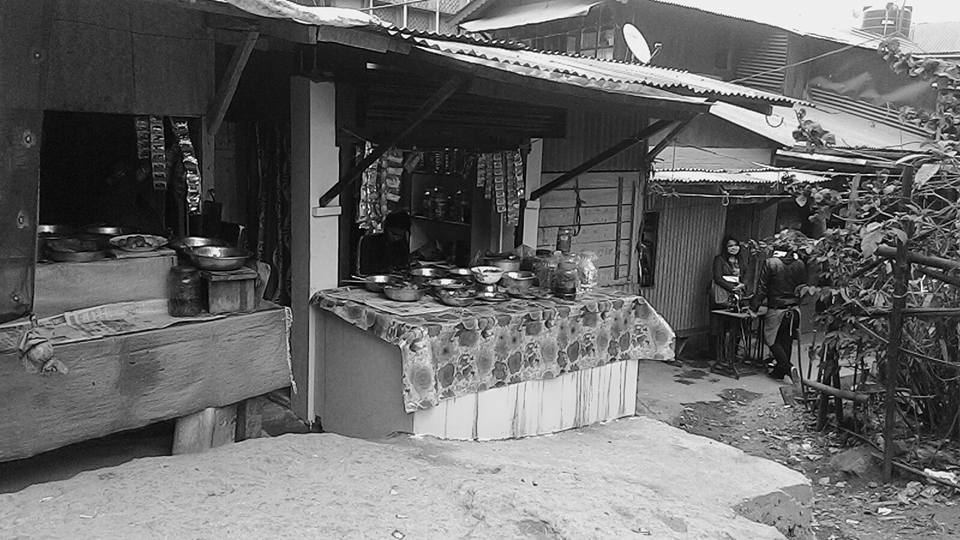 After watching 'Bhoot Bungla' and 'Woh Kaun Thi' one had to act calm while walking in dark lonely places and control the urge to look around and run.
Eyes were wiped, noses blown, and sobs repressed by ladies while watching the orphan boy and his friend in the film 'Dosti'. And Mohammed Rafi's ' Jaane Waalo Jara, Murkey Dekho Muje' did nothing to stop the tears. All of Lata Mangeshkar's songs were well received. Asha Bhonsle's 'Chura Liya Hai Tumne Jo Dil Ko' made her another star. Mukesh, Manna Dey, Mahendra Kapoor, had a considerable following.
Madhubala's legendary loveliness bloomed in black and white prints with hardly any photoshopping. It was much later that Eastmancolor from Kodak and Technicolor brightened the small screens which later expanded into the grand CinemaScope.
The two duos of Shankar Jaikishan and Laxmikant Pyarelal made a gamut of popular melodies. R D Burman also stood tall. Another duo Salim Javed wrote the memorable dialogues. Sahir Ludhianvi's words in many songs , like ' Kabhi Kabhi Mere Dil Mein', and 'Chalo ek Baar Phir Se' enraptured hundreds.
Kalimpong wore a festive look during the screening of 'Maiti Ghar'. Mala Sinha carried the film well. The mystery of "Bik Malai Nirmaya .. " still remains.
Chinky eyed teens, student lamas, elderly ladies in woollens, even taxi drivers, sang with considerable skill the hit songs like 'Chaudavi ka chaand ho' / 'Sau saal pehle muje tum se pyaar tha' / ' Taarif karu mai uski'. Their Hindi diction and words were perfect. It was remarkable how people in remote mountains, who had never even been to Siliguri, could relate so closely with the national mainstream.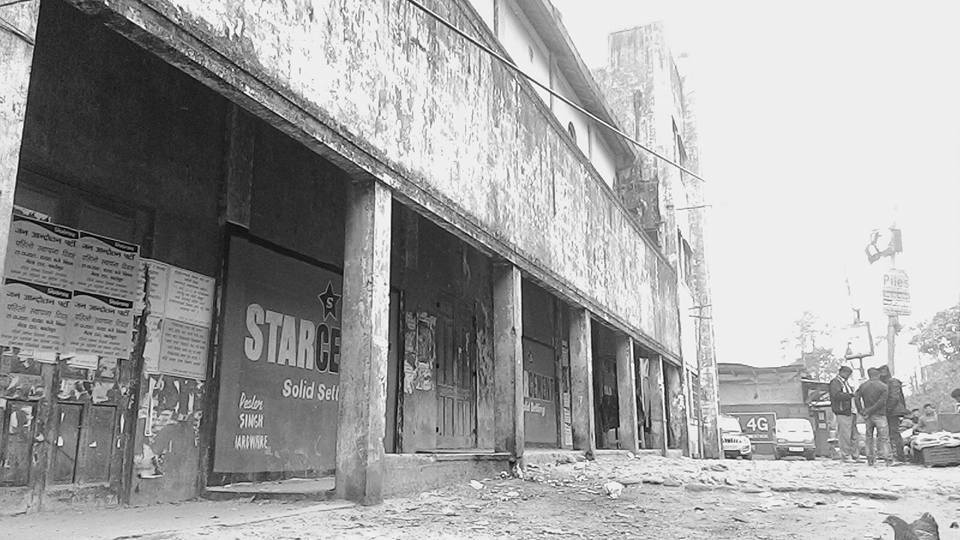 It was not at all quiet on the western front. The Guns of Navarone' roared with the screen giants Gregory Peck, Anthony Quinn, and David Niven. Block bookings by schools were done for 'The Longest Day'. The Austrian mountain slopes showed in 'The Sound of Music' were so different from ours. Hill boys loved cowboys and 'The Magnificent Seven', ' The Good the Bad and the Ugly', 'They call me Trinity' were seen multiple times. Charles Bronson, Clint Eastwood, Yul Bruner, Ernest Borgnine, Lee Van Cleef, Eli Wallach, Lee Marvin, Paul Newman, Steve McQueen, – were easily recognised. Drivers and helpers in the Motor Stand could be seen enacting a Laurel and Hardy scene or trying out a Charlie Chapman shuffle. Cliff Richard's 'The Young Ones' and 'Summer Holiday' were runaway hits. So many people hummed his songs 'Bachelor Boy', 'Travelling Light' and 'Evergreen Tree'. Elvis Presley did his unique thing in 'Jailhouse Rock'. The cartoon 'Tom and Jerry' before the main film was eagerly watched. Alfred Hitchcock mesmerised the town with his 'Dial M for Murder', 'The Birds' and 'Psycho'. Charlton Heston could never have been replaced as the hero in 'Ben Hur', 'Ten Commandments' and 'Planet of the Apes'. Musicals like 'The West Side Story' were sparse. Christopher Lee was the quintessential Dracula. From huge framed portraits which lined the staircases, Rock Hudson, Burt Lancaster, Ava Gardner, Sophia Loren, Gina Lollobrigida, Tony Curtis, surveyed the motley crowd with a hint of amusement.
Films could be good or bad, but the extravaganza on offer during the Interval was always exciting and hurried. Long tapering badam ko khochhi were bought by nearly everyone. Brown fried chana in green saal ko paat, adorned the numerous stalls around the hall. Alu Dum, reddish yellow, looked tempting. Boiled whole eggs, fried brown, beckoned first timers. Chhurpi was widely sold. Bataarey and Khurma were taken inside the hall. For the seriously hungry there was the momo, or simo, which had to be gobbled before the bell sounded. ( To get 'phambi' at that time, you would have to zoom 50 years ahead into the future. )
The Paan Dokaaney's shop was always crowded. Suparis, plain or sweetened, and dried nariyel, NP chewing gums, bubble gums stared from inside glass jars. Cigarettes like Scissors, Four Square, Panama, Gold Flake, Cool, Wills filter kings, Charminar, were hurriedly huffed and puffed in the washrooms, in order to be on time for the vital opening scene.
The sensual waterfall girl in the Liril soap advertisement was one of Kalimpong's own. People hurried so as not to miss her clip. When the sound failed, one person from the audience carried on with the high notes of the Lifebuoy jingle. The crowd joined vociferously in the Vicco Vajradanti song. Colgate went all out to promote its Hair Oil and Tooth Powder. Different beauties and hunks paraded Lux, Palmolive, Binaca, Keo Karpin, Himalayan Snow Cream. One grandmother stubbornly refused to return home without buying , a bar of 501 Soap she had just seen being advertised.
Fancy jackets, bell bottoms, jewel thief hat, long sideburns, folding umbrellas from Hong Kong, and overcoats and boots – the latest 'in' things were seen in these two halls.
And unlike in Facebook, here you bumped into real-time, flesh and blood beings with whom a host of emotions were expressed in the brief "Hello" before the screen took over.
Wrinkled and forsaken now, Kanchan and Novelty were pretty maidens, once upon a time in Kalimpong…
Writes: J S Simick