Shantiniketan, a serene paradise nestled in the heart of West Bengal, holds a special place in my heart. This charming town, renowned for its rich cultural heritage and artistic ambiance, provided me with an unforgettable experience that I hold dear to this day. Join me on a journey through my days in Shantiniketan, where the essence of art, culture, and nature converge to create an enchanting tapestry.
From the very moment I set foot in Shantiniketan, I was embraced by an overwhelming sense of peacefulness. It's a place where age holds no significance; I was affectionately given the name 'Didimoni,' and it felt like the entire town wrapped me in its warm embrace Rickshaws, the primary mode of transportation connecting the town to Visva Bharati, hold a charm of their own.
As a newcomer, you might question your decision to leave the bustling city life behind for this seemingly remote place. However, as time passes, the rustling leaves of majestic trees, the melodious chirping of birds, and the gentle breeze work their magic, infusing an atmosphere of peace and serenity. One can't help but feel the blessings of Gurudev Rabindranath Tagore.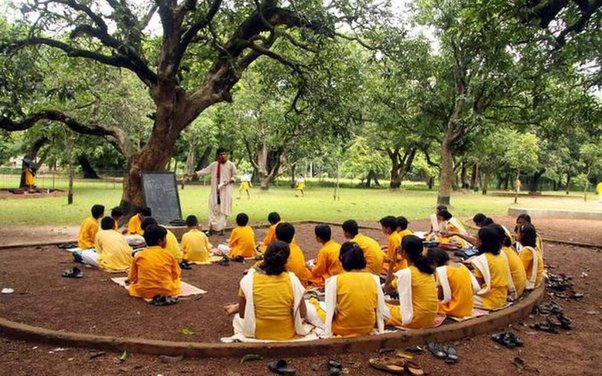 Exploring the campus, I was captivated by the unique blend of tradition and modernity that permeates every corner. From young school kids attending classes under the morning dew-drenched tree shades of Amrakunj to the endearing custom of students addressing their teachers as 'Dada' and 'Didi' while applauding with a heartfelt 'Sadhu Sadhu,' the educational system here is nothing short of remarkable.agore, who founded this haven.
A visit to Shantiniketan is incomplete without immersing oneself in its vibrant arts and crafts scene. The town is famous for its artisans and their exquisite creations. Whether it's intricately designed pottery or handwoven textiles, every piece reflects the rich artistic heritage of the region.
I had the privilege of witnessing skilled craftsmen at work, carrying forward traditions passed down through generations. Crossing the road from Nisha hotel towards the Falpatti Ratanpali area, I was amazed by the vibrant artistic skills that thrive, giving a boost to rural traditions. From attending Nandan Mela, which happens every December, to visiting the Saturday Haat in Sonajuri, where you can connect with nature along the banks of the Kopai River while being mesmerized by Baul and Rabindra Sangeet performances – Shantiniketan offers a perfect backdrop for introspection and relaxation. Shantiniketan comes alive during its festivals, and I had the privilege of experiencing the grandeur of Ananda Mela celebrated every year on Mahalaya.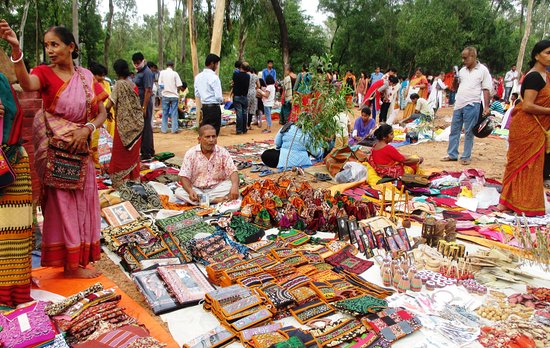 The food festivals arranged by students, like Poush Mela in December, showcase the region's folk traditions. Dhol Jatra, a unique way to welcome Basanta (the season of Holi), where everyone is draped in yellow, is a sight to behold. Brikha Ropan offers an unending performance of Rabindra Sangeet and Rabindra Nithya. The vibrant colors, traditional music, and delectable local cuisine leave an indelible mark on your memory.
My journey in Shantiniketan commenced in the year 2009 when I initially chose to stay at the Girls Mess Kolakalla, accompanied by three close Nepali friends. This particular mess had garnered quite a reputation among the hill students and soon became an integral part of my Shantiniketan experience. It was here that I first encountered the joys of self-cooked meals, a testament to our shared enthusiasm for independence and adventure. As time passed, the bonds we formed grew unbreakable, and the memories we created together remain etched in my heart.
However, as is often the case in life, circumstances evolved. Our parents voiced their concerns about our well-being, and the remarkably affordable hostel fee of just Rs. 100 per month encouraged us to explore the world of hostel life. This transition marked the beginning of a new chapter in my Shantiniketan journey, filled with its own set of unique experiences.
I had the privilege of residing in three different hostels during my time in Shantiniketan: Srisadhan, Mirlalini, and Birlayala. Among these, Srisadhan stands out as it is closely associated with an interesting historical anecdote. It's a place of pride as it once accommodated Mrs. Indira Gandhi during her visit. As a curious undergraduate student, I couldn't help but wonder about the room where she had stayed. When I finally peered into that locked room, I found it to be refreshingly simple and authentic. It contained a few of her personal belongings, which added to the room's historical charm. At that moment, my fascination shifted from the person to the room itself.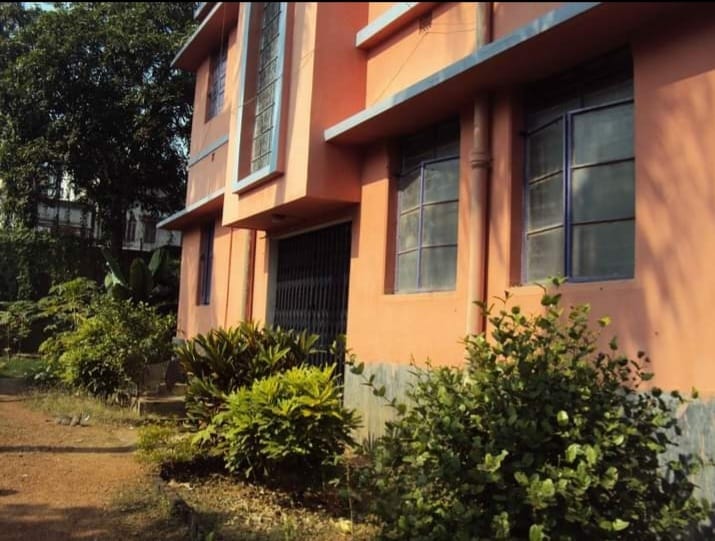 Hostel life was a delightful blend of fun and practicality. It introduced me to the art of preparing Muri Chop, Maggi Wai Wai (cooked using electric kettles or improvised rods), all of which became staples of our culinary adventures. However, cooking in the hostel was not allowed, and we often found ourselves bending the rules just a bit to satisfy our taste buds. Despite these challenges, the hostel life experience was marked by camaraderie and unity. My Bengali roommate's occasional inquiries, from "Ota la la ki cherry" (Do you want to eat cherries?) to "Tor Dollea amakea de na" (Please pass me that), highlighted the harmonious coexistence of students from various backgrounds and communities.
Moreover, our visits to Arushiree market and indulging in meals at Panchanaya and Bihari Uncle's felt like exclusive and elite experiences. These visits were cherished, reserved for special occasions when we received our monthly allowances from home. Gopal Da's smiling face as he sold ice cream and the delicious Laccha Paratha were additional highlights of those days.
Reflecting on this time, I can't help but remember Punjabi Uncle, whose modest eatery near Hati Pukur (Elephant Pond) served meals for a mere Rs. 16, packed with delightful flavors. He also provided us with an opportunity to witness the extraordinary talents of the students from Kala Bhawan. In essence, my days of hostel life in Shantiniketan were a chapter filled with laughter, shared meals, and a profound sense of community. These memories remain dear to me, representing a unique aspect of my journey in this idyllic town where art, culture, and nature seamlessly converge.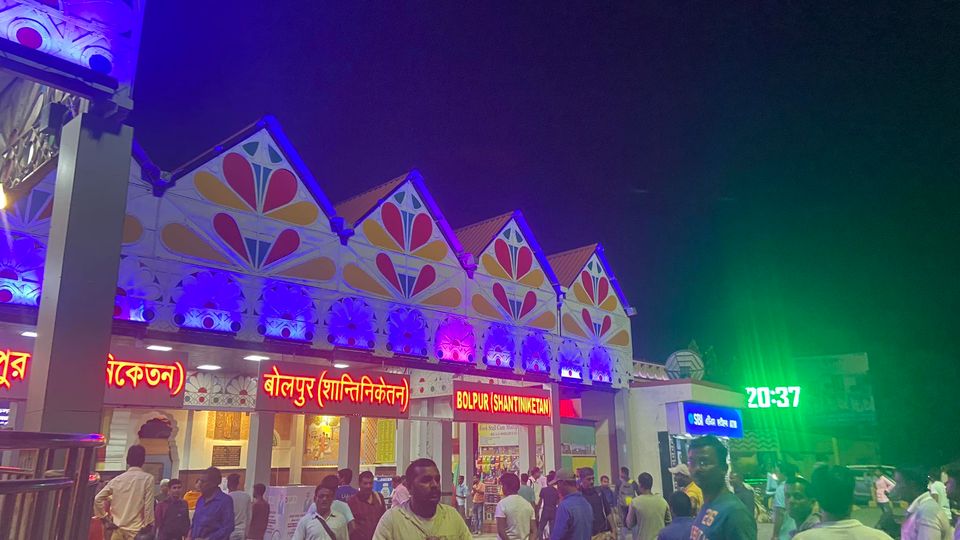 My days in Shantiniketan were a delightful blend of cultural exploration and communion with nature. This enchanting town offers a unique experience that is both enriching and rejuvenating. I left with not just memories but also a profound sense of peace and inspiration. Shantiniketan, with its simplicity, has become my second home, where I found solace and learned to adapt to the culture and people. UNESCO's recognition of Shantiniketan as a World Heritage Site is a testament to its contribution to art, culture, and nature, weaving an unforgettable tapestry of experiences.
Writes: Manisha Pradhan