As the Lok Sabha elections are closing in, we are getting new information, mostly rumours every day about who will contest from Darjeeling. A hot cake among political parties, the Darjeeling seat comes with heavy baggage and reputation of its own. As the centre of Gorkhaland statehood movement, Darjeeling never really had any other agenda for politics other than Gorkhaland. It has elected leaders and parties who have shown the slightest solidarity with the movement. This year, however, much is at stake for Darjeeling voters and it needs to be seen what is it that people actually want.
Political parties, leaders, and media houses have already started testing the waters throwing random names as candidates. Social media is already abuzz with its own list of hopeful candidates. Only time will tell how true the rumours are or if the social media pundits manage to get their lists right.
But what makes the 2019 election unique is that it is for the first time that Darjeeling is going to vote after the Gorkhaland agitation of 2017. This is the first opportunity the people have got to speak their minds after having suffered extreme brutalities, shut down for over 3 months, internet and media blackout, and even death of 13 protestors. After the 2017 agitation, people never really got a chance to speak as the new administration went all out to suppress any dissent using state police. We bring you some top-lining events that will play a crucial role in the upcoming elections before people decide to cast their precious ballots: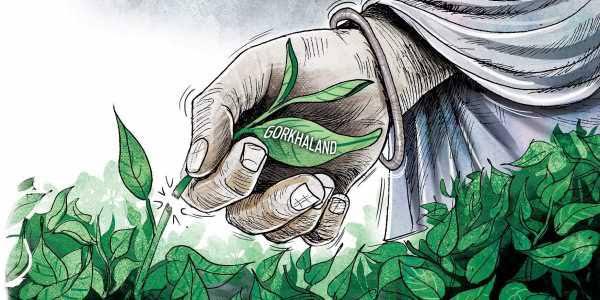 Strong Anti-incumbency
Perhaps there is no other constituency in the country right now with as much strong anti-incumbency sentiments than Darjeeling. After having elected BJP candidates for 10 years, much before the party came to power at the centre, the people feel let down by the party. For the people, the silence of BJP leaders during the 2017 Gorkhaland agitation was akin to political backstabbing and dishonesty of the party. The fact that the BJP MP from Darjeeling SS Ahluwalia never bothered to visit the Hills even once during the 104 days shutdown which left 13 protestors dead is not something the voters will forget very soon.
Disconnect with the State Government
Given it unique position, Darjeeling has never been fully integrated with West Bengal political or cultural narrative. While Kolkata strongly stands against Gorkhaland, local MLAs elected from Darjeeling region are always pro-Gorkhaland parties. With 3 MLAs in a house of 295 members, representatives from Darjeeling are looked and treated with suspicion and indifference. In all circumstances, the locals of Darjeeling feel more connected to Gorkhaland Territorial Administration (GTA), the semi-autonomous body formed in 2011 after the tripartite agreement between the Center, West Bengal Government, and the GJM, which was leading the Gorkhaland movement then.
Gorkhaland versus Development
A major outcome of the 2017 Gorkhaland agitation was the idea of pursuing development over statehood demand. The new leadership handpicked by the West Bengal government to lead GTA, cited development as their only agenda. All attempts were made to suppress any dissenting voice which still harped on Gorkhaland. With the help of police and local administration, people calling for statehood were arrested, silenced with threats, families harassed, and some had to flee the land.
New Leaders and Social Media pressure
The 2017 agitation witnessed a huge amount of social media presence, perhaps much more than what the West Bengal government had anticipated. Rallies were organized across the globe, organizations formed, and new leaders were born overnight, impressing the listeners with their oratory skills despite their lack of experience in real politics. The new wave of Gorkhaland activist put a great deal of pressure both in Delhi and Darjeeling with constant dharnas and protest marches. In the most recent case, protestors disrupted a GTA organized even in Delhi after which FIR has been filed against members of a Delhi-based organization.
Opportunity Lost for New GTA
A lost opportunity for the new GTA team in Darjeeling was their inability to stand up to the promises of development in the region. They seem torn between their own political insecurities, non-acceptance by the public, shoddy development projects while making tall claims of achievements. Can't blame them for spending much of their resources and energies in silencing dissent, rather than proving the public by fulfilling the promises.
Do not say 'Gorkhaland'
The biggest irony in Darjeeling today is that people who live within the Gorkhaland region are not able to speak up for Gorkhaland. It is only a few 'fugitive' leaders who were forced to flee from Darjeeling during the agitation that is still shouting 'Gorkhaland' from their hideouts. Perhaps it is in the best interest of the West Bengal Government and the new Leaders in town to keep such shenanigans at bay because all that the people need right now is someone to lead from the front for Gorkhaland.
Darjeeling today stands at a juncture where it has to decide which way its future course will head. The public has lost its trust in leaders and parties, which have repeatedly failed them right from 1986 until this day. However, in this day of social media and access to information, it is unlikely that the only good oratory skills will be able to sway votes. Passionate speeches still rule, but the public is much more aware and are not afraid to ask questions. It indeed it to be seen what comes out of the Lok Sabha Elections in 2019, but definitely the people are in a position to make an informed decision.