Vidhan Sabha elections: Dear readers, as many of you are aware, we try to study the political trends, ground realities, political issues people's concerns, and other factors and analyze how it will translate to votes. In a very unpredictable political environment, we have been able to successfully predict 2014 MP and 2016 MLA elections.

Elections in 2019 are a different ball game altogether, and the factors influencing the elections are some of the most extreme. We have done our best to analyze all the influencing factors and this is what we are projecting to happen tomorrow.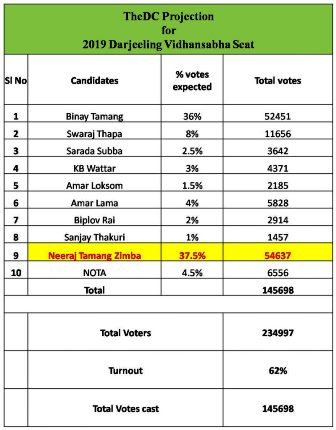 Our Inferences
Please note that this is an ACADEMIC EXERCISE and not GOSPEL TRUTH… we do this to test our own understanding of the situation, and we are sharing the results so that we could hear from you all, what you make of our inferences.
There are a total of 234997 eligible voters in Darjeeling Vidhan Sabha seat, out of which roughly 62% or 145698 individuals voted.
We expect Independent Candidate Swaraj Thapa to poll around 8% – We have attributed him high numbers based on traditional CPRM + Congress vote banks. CPRM polled around 5% in 2016 MLA elections, and Congress around 2% in 2011. We expect Mr. Thapa to attract an additional 1%.
Independent candidate Sarada Rai Subba is expected to poll around 2.5%. This because Ms. Subba shared a good image and rapport with TMC supporters before she was unceremoniously removed from the party. Many in TMC are unhappy with having to vote for Binay Tamang. Ms. Subba thus attracts those TMC voters who would have otherwise voted for BJP or some other candidate, but not Binay Tamang. Her personal rapport among some sections of the masses will account for additional votes for her.
We are expecting CPIM candidate KB Wattar to poll around 3%. In the 2011 MLA elections, CPIM had polled around 3.48% from Darjeeling LS Seat. Given that CPIM is a staunch cadre-based party, we expect Mr. Wattar to retain his votes, with a slightly reduced margin.
We expect GRC candidate Amar Loksom to poll around 1.5% votes. In 2016 polls GRC had polled 2.33% and we expect this figure to go down this year.
We expect JAP candidate Amar Lama to poll in around 4% of the votes. We have attributed him higher % owing to the fact that among the urban voters, he is seen as someone with intellect and clean image. His personal outreach and public image should garner him a respectable number of votes.
We have accorded 2% votes to ABGL candidate Biplov Rai, as he is a fresh face in a very old and dying party. Majority of the votes he will poll, will be because of residue public sympathy for Late Madan Tamang. His own party leader Pratap Khati canvassing against him didn't help his cause.
We have accorded 1% votes to Independent Candidate Sanjay Thakuri, as we feel his own family and friend circle will vote for him and 1% was the least we could attribute.
The most interesting and significant battle in Darjeeling Vidhan Sabha seat is between TMC supported Binay Tamang and BJP candidate Neeraj Zimba
Despite lack of turnout of urban voters, for 2019 Darjeeling Vidhansabha seat, we are projecting a very tight race, with BJP Candidate Neeraj Zimba having a slim lead over his closest competitor Binay Tamang.
In 2016 MLA elections, TMC had polled in 28.53% of the votes, which had included TMC core cadres + JAP + GNLF votes.
Given that in 2011, GNLF had polled 9.11% votes, we can safely assume that in 2016 – out of the 28.53% votes TMC had polled , JAP votes were at 1% and 10% were GNLF votes. TMC core votes being around 17%.
This implies, that in 2019 – TMC votes will account for not more than 10% of the total votes polled. This is because post Gorkhaland agitation TMC has lost cadre base, and hardcore TMC supporters who are unhappy with Binay Tamang will shift their votes to Sarada Rai Suba. This translates to around 14000 votes in favor of Binay Tamang from TMC side.
Since the MP elections, GNLF cadre base has grown significantly as compared to earlier years, so they are expected to poll around 20% of core votes. This translates to roughly 28000 votes for Neeraj Zimba
The remaining 43% votes – which are core GJM voters, we have attributed 60% votes to Mr. Binay Tamang, and only 40% votes to Mr. Neeraj Zimba
However reduced TMC votes, and increased GNLF votes are expected to give Mr. Zimba a lead of roughly around 1900 votes.
We have attributed around 4.5% NOTA votes, this is because a large section of the youths are very unhappy with the political situation, and they want to make their statement felt. In 2014 MP elections NOTA votes stood at around 2%, whereas in 2016 MLA elections it stood at 4% for Darjeeling Vidhan Sabha seat. We have attributed a 0.5% increase in NOTA votes.
However, we expect that any deviation from the NOTA votes will benefit Neeraj Zimba, rather than Mr. Binay Tamang as he is seen as the face of the system.
Once again, we request our readers to see this as an ACADEMIC EXERCISE. Though we expect this analysis to hold, we concede that uncertainty is what makes politics so exciting. We will be humbled if proven right, but if we are proven wrong, we apologize in advance, and assure you we will learn from our mistakes and do our best to improve our analysis.
We thank everyone involved with this analysis and wish all the candidates good luck.