Yesterday I got to know about the demise of Sisir Sir. I have been a student of St. Robert's School, and I have also been a student of Sir Sisir Mani Pradhan since my earliest days at school to the days when I was an elder teenager.
As I feel sad of Sisir Sir leaving us for his heavenly abode, I also recollect my experiences with him, rusty but never forgotten. My story with him starts with my very first days at St. Roberts School. I had secured admissions at "St. Robert's" and was alloted section "C" of class 5.
It was a vivid experience… As vivid as one's first ride of a bicycle would be, or perhaps their first bike ride or maybe the first few flakes of snow on their faces. It was as vivid as it could be. Our class teacher was Sir Adwitya Rana. An unforgettable teacher he was and he remains. And in the same class, we had Hindi as one of our subjects, which Sisir Sir was trusted to teach.
I may not remember the first few lessons of any subject of my 5th standard… but of Hindi, I do. The first chapter was a poem, "Prarthana"- a basic one. The first story was of a rabbit who struggled to depend on his friends at his shitiest moment, just to realise that he himself was his truest friend. The story was titled "Sacche Dost", and the first question to the lesson was "Chiku kaun Tha?". As funny as it may sound to you, I still remember the exact question and the exact answer we had for the question – " Chiku Ek Khargosh Tha."
If only things were limited to the lessons, questions and answers we were supposed to be taught, we would perhaps be something very different. Sir Sisir Mani Pradhan or just Sisir Sir, as we like to call him, was a man with stories. He had many – many stories to tell and he would tell those in a beautiful way.
An ex-army soldier he was, he would tell us stories about his life at the army, some based on his experiences, some others based on his ideas. We would in fascination follow his narration with our eyes and ears wide open, through the fields of the northeast, where the common looking farmers cutting the grass would take out weapons and attack the armed forces, who would in response retaliate. He would, in fact, show us a bullet mark on one of his arms (which later as we realised was a vaccination mark).
At School, most of our junior classes happened to be on the floors below the ground. The lowermost floor was class 5 and the classes went on getting higher on the subsequent floors. The cold rainy days in monsoon would usually be dark for the rooms underground, and by extension, little scary. These were the days when Sir would tell us " bhoot ko katha" – some real scary ones to say.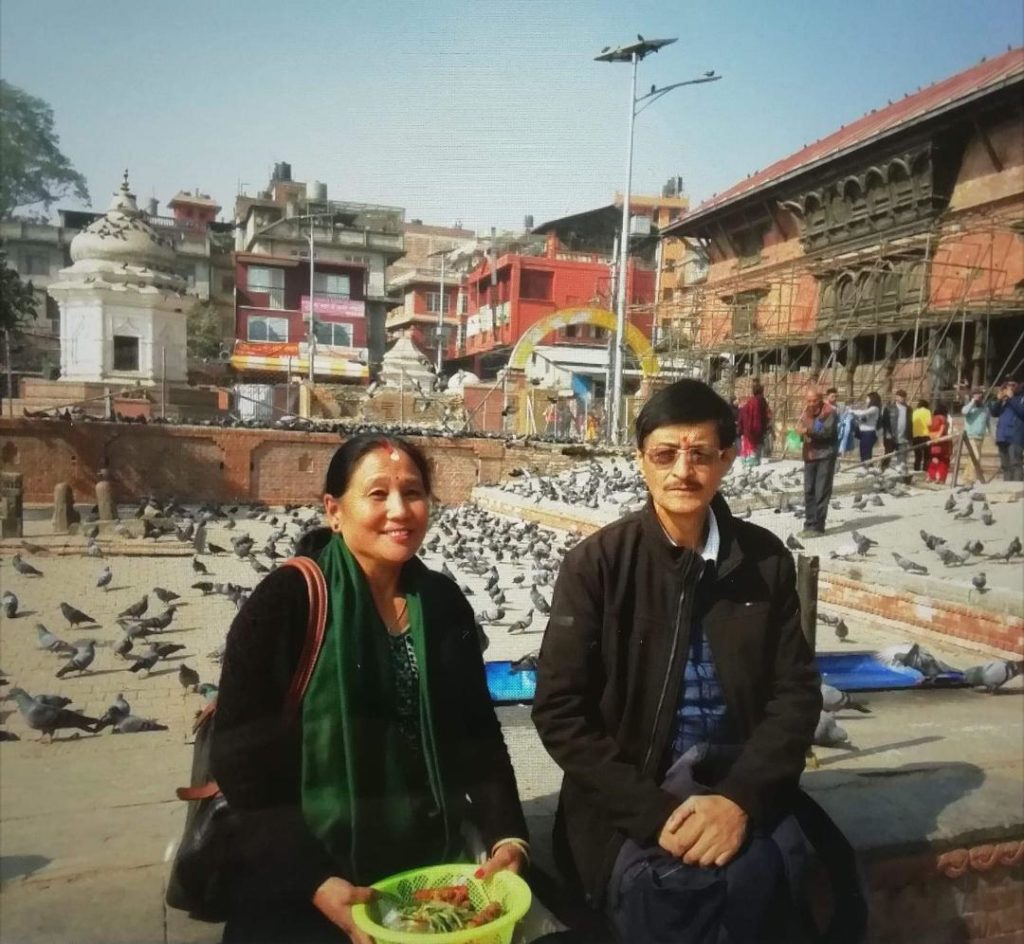 The rest of the time in the year, Sir would be either teaching or attending off periods where some lucky volunteers of us all would give him a head massage.
I also till date remember the only day he punished us. We were still in class 5 and it was his class. He was, for some reason, a bit late and we assumed he wouldn't be coming for the class. We were shouting and making noise. He came though and we did get caned on our naked asses with our eyes closed (aankha kholeko was 3 double). But the mark of the cane at the moment, with the pain, also planted some of his words into our hearts – no matter you are being watched or not, you should be true to your duty, always. Doesn't mean my ass didn't get red bruises though. Ek hafta tattako ni.
But of all the stories and lessons I remember from him, the one where he described his earliest days has always touched me the most. He would say he went to Colonel Villa School (which I don't know it exists today) for his primary education, and the moved to St. Robert's. He would say he came barefoot to the school as a student, and that if he could walk so many years in life barefoot and still reach somewhere, we had shoes with us and that we could reach wherever we wished, only if we walked enough.
Though I saw him throughout my school, the last he taught me was in class 7, where he would teach us Nepali. The first ever point in my life where I was asked to describe things as per the context. It was called "सप्रसंग व्याख्या गर।" and I didn't know a shit of what it meant till he taught us about it.
Btw, he was an avid reader of history and fiction books. In fact, he had once taken a history book from me to read, which he quite enjoyed. So much so that I never got it back. As privileged as I was to get rid of a book I was never interested in reading at all… never been a history person.
Today, I more than humbly remember Sir Sisir Mani Pradhan. All of us St. Robertians can never forget his contributions in our lives. We shall always remember him for how he touched our lives, the stories he told us and how he taught us to be good at least, even if not the best.