Darjeeling: As the nation remains busy analyzing Elections 2019, Exit Poll reports from across the country predict that the NDA-led BJP government is most likely to return in the center. Political parties and alliances have begun identifying coalition partners, blaming EVM machines, and even the Election Commission. Various exit polls conducted by different television channels and organizations seems to suggest that PM Modi is coming back to power with a thumping majority. The BJP is expected to get around 250-300 seats in the Lot Sabha.
The 2019 Elections signaled a new political beginning in the Darjeeling hills as well. Nobody had imagined that GJM (Bimal) and GNLF would come together to fight the elections together. The GJM-GNLF alliance gave an upper hand to the BJP that was fighting against massive anti-incumbency sentiments. The test for the newly formed BJP-GJM-GNLF alliance was put through another test when the by-elections for Darjeeling were announced for 19th May. The alliance stuck together and fielded their consensus candidate for MLA seat as well.
TheDC announces its 2019 Opinion Poll based on what our readers have voted on the online poll we ran on our Social Media platforms.
General Elections 2019
For the MP Elections, the contest was between BJP's Raju Bista and Amar Rai, the TMC candidate backed by GJM (Binoy faction).
Total votes polled: 4.8K
Amar Singh Rai, TMC – 884 votes (19%)
Raju Bista, BJP – 3.8 K votes (81%)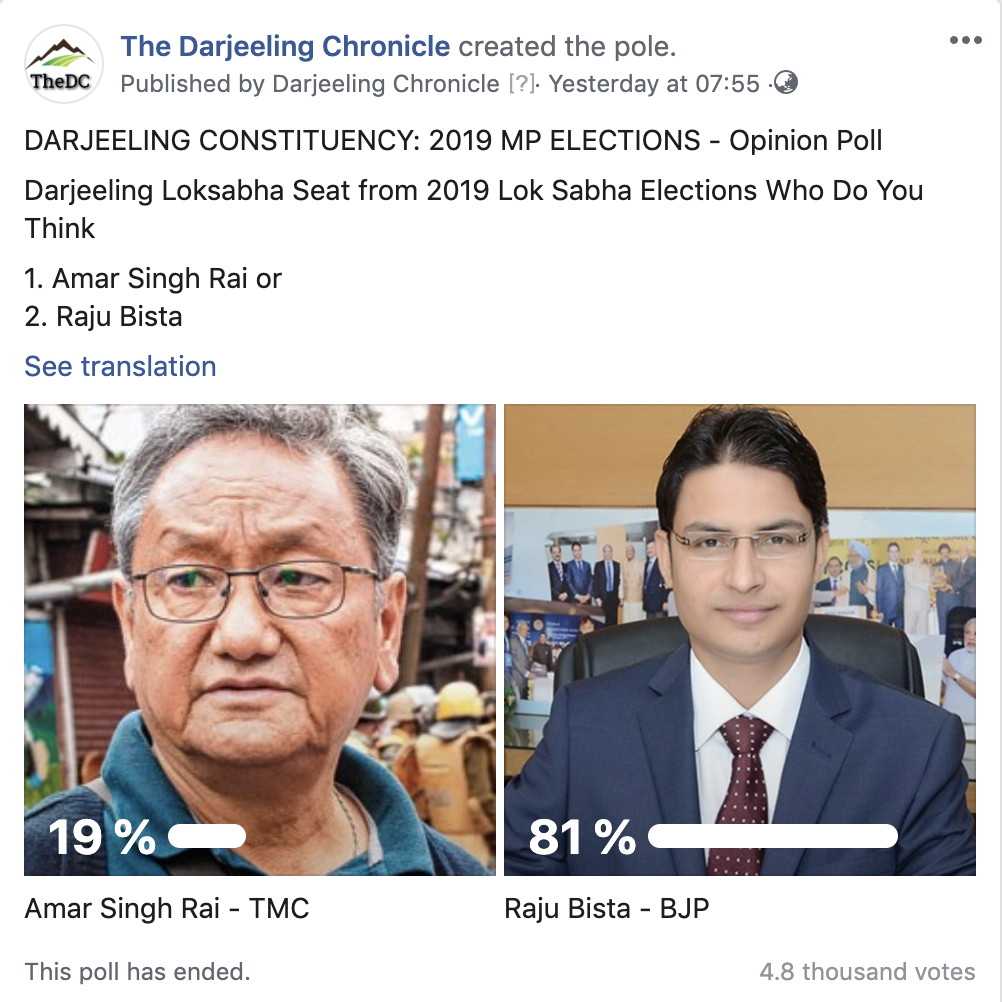 Darjeeling By-elections
The MLA by-election was a close contest between the consensus candidate fielded by the BJP-GNLF-GJM (Bimal) alliance, Neeraj Zimba and the former GTA BoA Chairman, Binoy Tamang supported by the TMC. Benoy Tamang stepped down from his erstwhile position as the Chairman of GTA to fight this by-poll.
Total votes polled: 4.5K
Binay Tamang – 863 votes (19%)
Neeraj Zimba – 3.6K votes (81%)