In what can be taken as a sample of which side the middle class voted, over 75% postal votes were cast for BJP in Darjeeling LS Constituency.
When Trinamool Congress came to power in Bengal, they rode on the popular sentiments of being pro-farmers and pro-middle class.
Their dedicated fight in favour of the farmers, and against the CPI(M) in Nandigram and Singur had helped them catch popular fancy. Everyone from writers to poet, to film personalities, to common people joined the grassroots movement started by TMC.
But in a very short period of time people realized that TMC was not capable of providing good governance. However, they held onto power using brute force.
This time around, TMC has lost the pivot around which their foundations were based – the farmers, and the salaried class.
With the farmers they couldn't provide any alternative to their distressed economic status, and with the salaried class, West Bengal is currently two salary increments behind than the Center.
While Center has already implemented 7th pay commission, WB govt employees are still struggling under the 5th pay commission.
This anger finally surfaced in this election. All the salaried people who couldn't vote directly, voted via postal ballots. How the ballots were cast itself tells a story.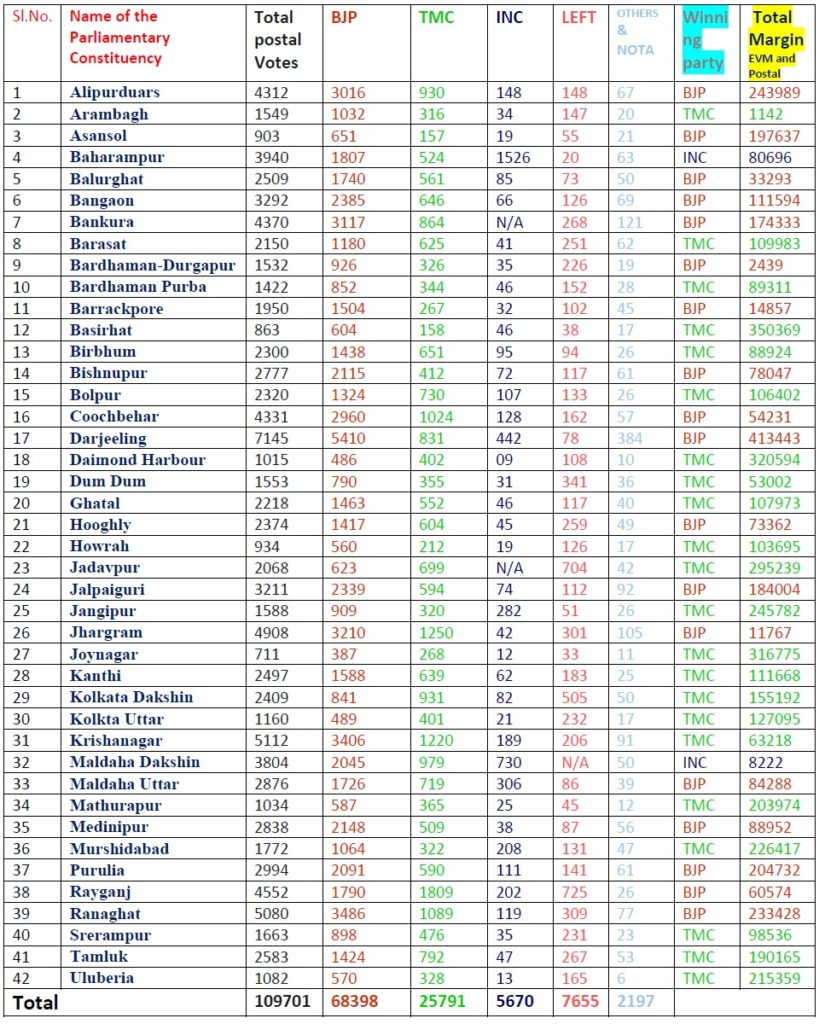 In Darjeeling, out of the total 7145 postal ballots, 75% or 5410 salaried class voted for BJP, where as in the general voting BJP got 61%, which means more educated and salaried class people voted for BJP in Darjeeling Constituency, than the general public.
In comparison, TMC only received 831 votes or 11% of the votes, where as in general voting TMC had received 26% of the votes.
This trend has held across Bengal.
Given this anger, surely, the upcoming 2021 Vidhan Sabha elections could very well see the obliteration of TMC from the state