"There are three things in the world that deserve no mercy – hypocrisy, fraud, and tyrrany." F. W. Robertson
For generations, we have wondered as to why the demand for Gorkhaland hasn't become a reality. I believe the most fundamental reason for our failure lies in the fact that our society is full of hypocrites.
While there are those for whom earning money is a priority, and who like leeches shift their allegiance from one group to the other whenever there is any shift in power, there are others who pretend to have the best interest for our community in their hearts, but they continue to push forward Bengal's agenda. And there are still those dangerously ignorant lot, who claim to hold our community close in their hearts, but they end up playing insidious role in affirming the dictatorship unleashed by those in Nabanna. This article is addressed to the third lot, in the hopes that their conscience will prick them someday in the future, if not today.
Shahityik Fail
Since May of 2017, we have witnessed a reign of subjugation, lies, deceit and terror being unleashed in our hills by the TMC government. On May 14th, 2017 the West Bengal Education Minister Mr Partha Chatterjee announced that Bengali will be made a compulsory subject to be taught in the schools across state. Following the diktat, protests erupted in Darjeeling hills, Terai and Dooars, as the Gorkhas for the first time in two generations woke up to the cold reality that Bengal was out to undermine our mother tongue Nepali further, and impose Bengali language upon us. On May 30, 2017 a public meeting was held at Gorkha Rangamanch Bhawan to deliberate the (language imposition) move of the government that was attended by literary figures, academicians, college professors, teachers and people from different walks of life.
On June 1, 2017 Darjeeling Police filed an FIR against those who had addressed the meeting, and charged them under various sections of the Indian Penal Code – 120B (criminal conspiracy), 155A(b) (promoting enmity between different groups), 505 (statement conducting to public mischief) and 34 (common intent). The filing of FIRs against our literary icons was one of the triggering points of Gorkhaland andolan in 2017, as the people here in our region were seriously alarmed to realize that we did not have any freedom of speech and expression. Moreover, people were incensed at our literary icons being hounded. The protests, that had started as faint murmurs, soon snowballed into a mass movement, which resulted in the killing of 13 innocent Gorkhas at the hands of state forces, and hundreds of others being arrested on flimsy grounds. Prominent among those charged on June 1st was Dr. Jiwan Namdung – a Shahitya Akademy Award winner and one of the most well known critics in the Nepali literary world.
On December 27, Dr. Jiwan Namdung accepted Giri Purashkar from Binay Tamang the Chairman of the Board of Advisors (BoA), GTA. Indirectly, however, Dr. Namdung accepted the award from the Bengal government, as currently all the BoA members are APPOINTED by the BENGAL Government who do not REPRESENT the PEOPLE of our hills – they are, in fact, the government's appointee, representing the interest of Bengal.
Any self-respecting individual would have outrightly rejected the award on the ground that accepting such an award from a regime which has curtailed 'freedom of expression' in the hills would amount to self-hypocrisy and self-derogation. But sadly, Dr. Namdung didn't feel this way. He was perhaps just so glad that he got the long deserved recognition, and a cheque of Rs 1 Lakh to go with the award perhaps added a little cherry on the top – little but big enough for him to forget the humiliation he was meted out just few months back.
It is relevant to note that on July 13, 2017 eminent poet and novelist K S Moktan, who had been recognized with Shahitya Akademy Award, Bhanu Puraskar (2004) and the Banga Ratna (2014) for his literary works returned his awards. Similarly, the famed singer, Karma Yonzan returned his Sangeet Sammam Award (2016), and Dr. Prabhat Pradhan, the former principal of Kurseong college, returned his Siksha Ratna Award (2015). Their decision to return the state-instituted awards and recognition was to lodge their protest against Bengal's draconian measures in quelling the Gorkhaland statehood demand. And merely six months later, on December 27, 2017, Dr. Jiwan Namdun gladly accepted the award given in proxy by the Bengal government.
I personally feel that the least Dr. Namdung could have done was to ask Bengal government to take back the FIR filed against him and other literary figures, to allow for ABN News Channel to go on air again and to unseal their office in Siliguri, to release people who have been arrested over Facebook posts before he accepted the award.
But Dr. Namdung didn't feel the need to do any of that!
Sporty Fail
On January 12th, Darjeeling Police felicitated sports personality from our hills in an event organised by it at Chowrasta. Among those felicitated were Everester Jamling Tenzing Norgay Sherpa, Deben Gurung and Trilok Subba (taekwondo), Parul Lepcha (archery), Crispin Chhetri and Lakpa Sherpa (football), Ganu Giri and Tenzing Zambling (body-building), and marathon runner Roshni Rai. Since the first eight have remained more or less neutral in their political stand, their accepting the award from Darjeeling Police did not raise much eyebrow. But what did come as a surprise though is the fact that Miss Roshni Rai of the 'Run With Roshni' foundation having no compunction in receiving the award.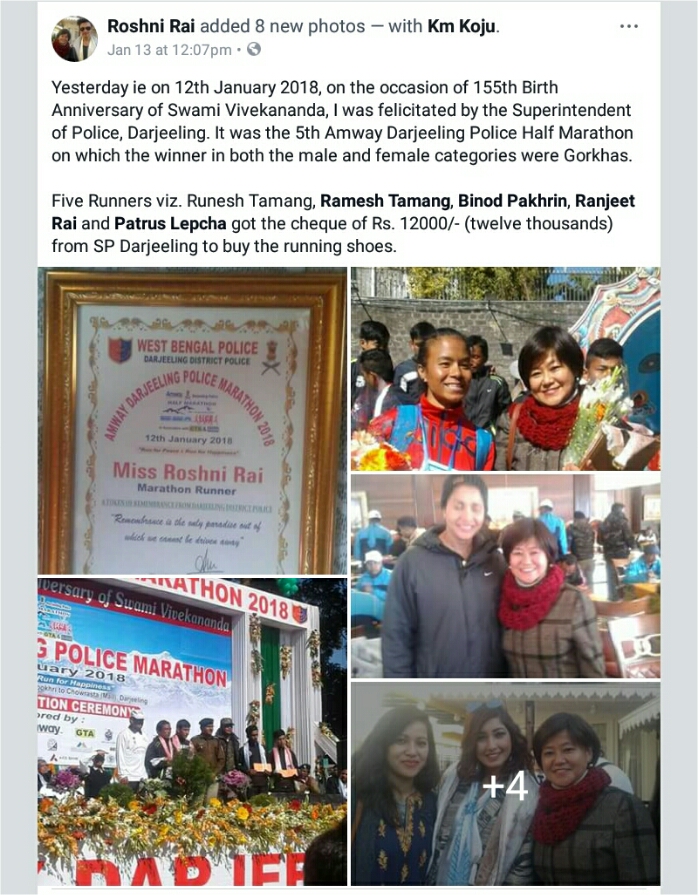 While I decry everyone who chose to receive their recognition, Roshni Rai in particular, I feel, should have desisted. This, given the fact that her entire foundation is based on the claims to assert and re-assert the "Gorkha Identity." In the past 10 years or so, Roshni has build her reputation as being a "champion of the Gorkha identity issue," so much so that she was award with "Gorkha Gaurav Samman" in 2015. What could have been more shameful for a community than to see our "Gaurav" gladly accepting recognition from the same head of the police under whose command, police have unleashed a severe crackdown on those demanding Gorkhaland state.
While I understand the fact that Roshni was getting recognized for her contribution to sports, I honestly wonder if she should have accepted the award from a regime that has done everything to undermine the primary motive of her own foundation – "Gorkha identity."
Ironically, in a message she shared with me yesterday, Roshni writes, "We will dedicate our Tata Mumbai Marathon 2018 as a tribute to thirteen martyrs, who were killed by West Bengal Police because they were supporting the Gorkhaland statehood demand." [sic] I couldn't help, but ask her, "how was it accepting award from the SP who ordered those firing that killed our innocent Gorkhas, kind'a sad, ain't it?"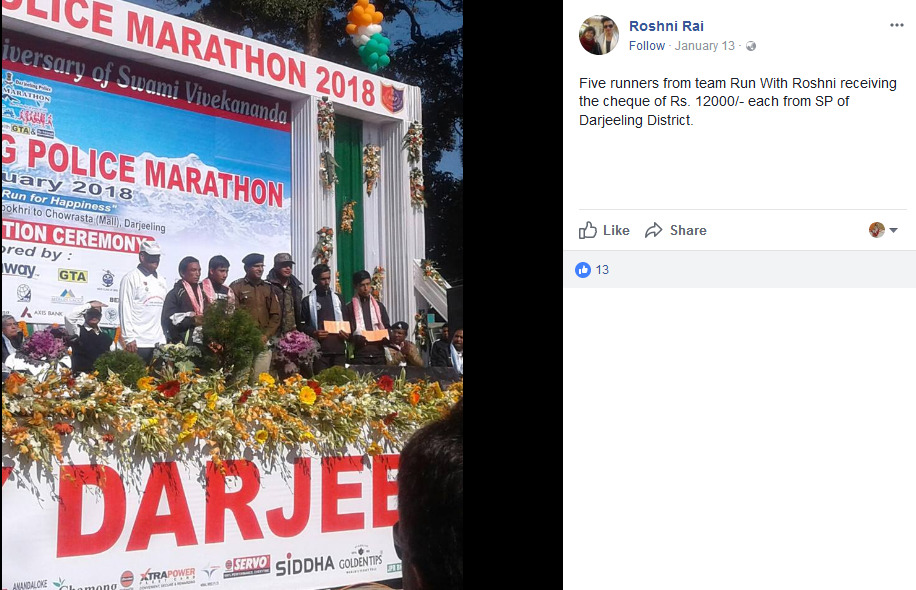 Roshni gave me her reasons, but it didn't convince me enough. Perhaps a cheque of Rs 50,000 and contribution of Rs 12,000 to five of the "Run With Roshni" foundation runners must have gone a long way to ease the pain that she and her runners must have felt for our dead brothers and community.
If nothing else, to me her behaviour was a classic case of "हग्ने लाई भन्दा देख्ने लाई लाज – hagne lai bhanda dekhne lai laaz," – either that or may be, my expectations from her were a bit misplaced.
Gorkha Identity – easy sellout
It is perhaps time for Jiwan Namdung and Roshni Rai to reflect on the fact that "Gorkha identity" issue has remained unresolved so far, because till date our 'stalwarts' have had no second thoughts when it comes to personal glory, even if it means shaking hands with the devil, or receiving awards from them.
I shudder to think, what would have happened if Einstein had agreed to accept an award from Hitler during the height of the Second World War? What if Gandhiji had received an award from the British Government during the height of our Independence movement? What if Nelson Mandela had chosen to receive "South Africa Star" award from the South African government during the height of anti-apartheid movement? What if His Holiness the Dalai Lama agrees to accept an award from the Chinese Government?
Perhaps nothing significant – but all of these great figures in our history would have lost their moral right to criticize the regime that they sought to challenge.
Tomorrow if the government decides to re-introduce its one language formula and impose Bengali language on us again, I wonder how will Dr. Jiwan Namdung protest against the Bengal government or Binay Tamang? Tomorrow when the police orders more shooting at the Gorkhas, how will Ms. Roshni Rai take a stand? Perhaps they won't, but I hope those who seek to take a stand reflect on what I have written, because you cannot shake hands with the devil, and pray to God to deliver you from evil. As Alan Dershowitz once wrote, "Hypocrisy is not a way of getting back to the moral high ground. Pretending you're moral, saying you're moral is not the same as acting morally."
When it comes to Gorkhaland and Gorkha issues, our community will only get deliverance on the day when all our social and political aspirants learn to take a moral High Ground, against recognition, awards and monetary benefits.