Bimal's Bengal Bet – Brave or Buffoonery?
As far as the Gorkha dominated regions of Darjeeling hills, Terai and Dooars were concerned, 2021 elections had all, but a foregone conclusion – TMC defeat. But things are never that simple and straightforward in politics, especially in the hills, are they? Our politicians know how to complicate things.
Bimal Gurung is and remains one of the most disliked names across Bengal, and it is for this very reason, he was much liked in the hills and Gorkha dominated areas of North Bengal. For he had gone onto symbolize Gorkha resistance against a tyrannical government, that was hell-bent on breaking the back of collective Gorkha aspirations – Gorkhaland state. The more West Bengal government hated Bimal, the more he was liked and even adored by the people up North. Even his most vocal critics had started to grudgingly admire his courage and his struggles, while the common people silently prayed for him and his well-being.
हम ममताको फिर से CM देखना चाहता हूँ
All that changed on October 21st, 2020 when out of the blue Bimal Gurung appeared in Kolkata with a scary looking Baba in tow and announced his allegiance to TMC and Mamata Banerjee.
"हम ममताको फिर से CM देखना चाहता हूँ" is what he told the press, to the dismay of many inside his own party and the Gorkha populace in general.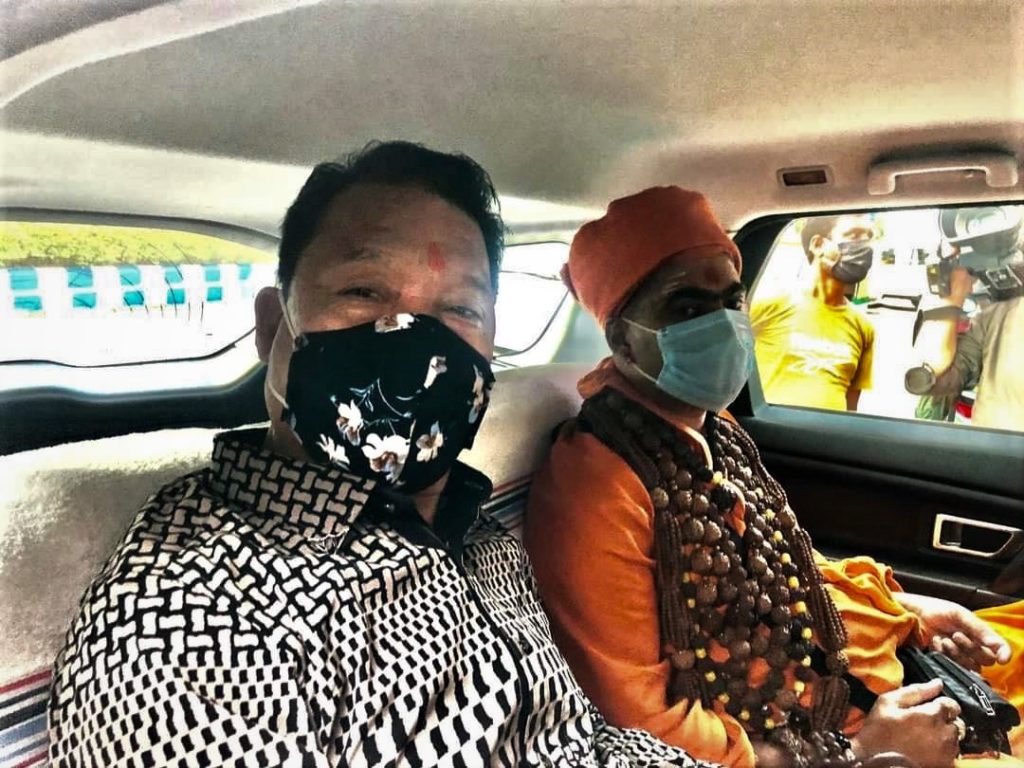 Those in the know now tell us, he had been promised the earth and the sky and also the oceans and mountains in between, before he made that announcement. But the indications of that was not to be, came on that very day itself, when he was thwarted from entering Gorkha Bhawan in Kolkata. They locked the gates and refused him entry.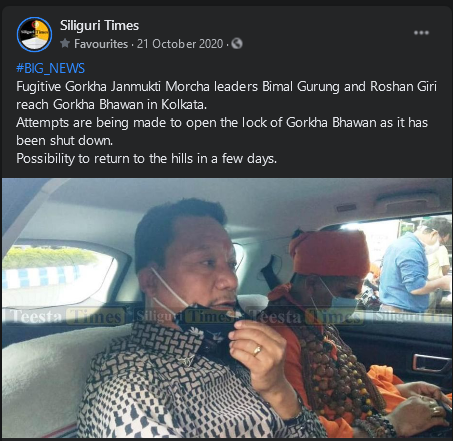 The irony of the "champion of Gorkha cause" not being allowed into "Gorkha Bhawan" was not lost on anyone, and even the most politically novice could see that such a humiliation wouldn't be possible without the blessings from Nabanna.
Later, from a hotel he did a press conference and justified, "we have been a part of the NDA since 2009, but the BJP-led dispensation hasn't kept its promise of finding a permanent political solution for the Hills. It has not included 11 Gorkha community in the list of Scheduled Tribes. We feel cheated, so we are walking out of NDA today".
Survival of the Fittest
GJM supported BJP when BJP did not have any presence in the state. The illustrious Jaswant Singh was followed by SS Ahluwalia, and now Raju Bista, but BJP promises towards Gorkhas have remained unfulfilled. So GJM quitting BJP alliance does hold some water, but that is just one part of the story. The other half is all about "survival".
In politics, power matters. Not everyone is a Gandhi or a Mandela to be able to stay in a prison and yet influence mass movements from jail itself. Having gone "under-ground" after the 2017 elections, Bimal Gurung saw his sphere of power eroding. Thanks or no thanks to Social Media, he could literally see even his most loyal supporters swearing allegiance to TMC, Binay or joining GNLF on a daily basis. Moreover, Raju Bista a young upstart from BJP was starting to spread his wings and that didn't sit well with Bimal loyalists. Being out of power is one thing, but being out of power and also out of the region is quite another, it heightens insecurity.
I feel that the primary reason for Bimal Gurung and his loyalists to rethink their alliance with BJP was their fearfulness of becoming politically irrelevant.
तारिख पे तारिख
BJP, despite being a very powerful party had not taken enough measures to safeguard GJM interests. The court cases concerning Bimal and GJM kept on dragging and there was no end in sight, like Sunny Deol had once boomed, "तारिख पे तारिख… तारिख पे तारिख" is all that kept on happening as far as Bimal Gurung was concerned. What they glossed over was the fact that the delay was primarily due to TMC government bringing up one reason or the other to keep deferring the hearing – sometimes, they would add more cases against Bimal Gurung, sometimes, they would claim Bimal Gurung was in Nepal and thus outside of the jurisdictions of the Hon'ble Courts of India and so on.
Outbreak of COVID made matters worse, as the Kolkata High Court hearings into Bimal case lined up for March of 2020, got postponed indefinitely and is yet to be taken up.
The longer the delay, the more frustrated Bimal and team became and thus more insecure.
With 2021 elections nearing, the realization that if TMC returns to power, they may have to stay away from Darjeeling region another 5-more years, which was untenable, hit them hard. So they did what any politician worth their salt would do – sent out feelers to TMC bosses, one of which finally landed them a chance at negotiating their "safe return" and desperate as they were, they took it up without putting much thought into the "what ifs".
What If?
I think, one of the biggest miscalculation that GJM made is in overestimating TMC chances of returning back to power. As much as Mamata Banerjee is liked in parts of Bengal, TMC as a party has failed the state colossally. In every index Bengal has performed worse under TMC than under the Communists, and it is saying quiet something, for until TMC, the communist era was seen as the worst phase of Bengal since time immemorial. So, asking this question – what if TMC doesn't return to power, should have been the very first question any sane person would ask before making a deal with them, but Bimal and team didn't.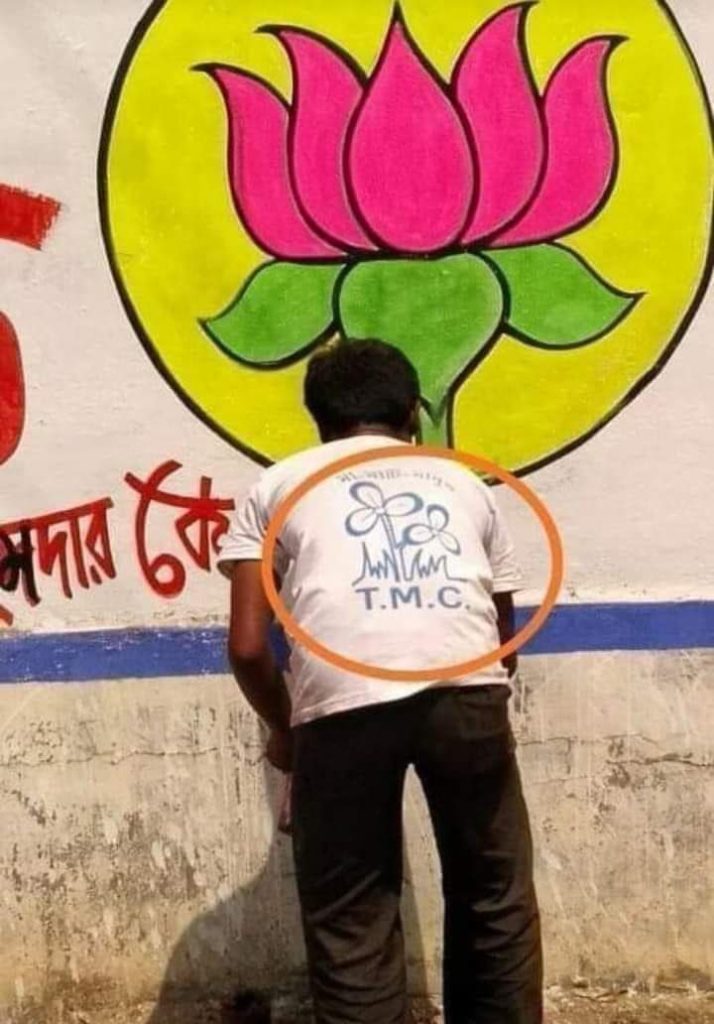 Another obvious question should have been, can we trust Mamata and TMC? Everyone knows the answer to that one, but I am not sure, if Bimal and team bothered to ask themselves this question.
It almost seems like they were simply too concerned with returning back to power, to care for anything else.
The Vote-Cutter
One of the most well-known Nepali poems is "Ghansi – The Grass Cutter," in which the great Poet Bhanu Bhakta laments about learning a lesson from the grass-cutter, and doing something stand out to leave behind a legacy. Not many Gorkha politicians have bothered to read that poem, because almost all of our politicians are least bothered about their legacy. No one seems to be bothered about how the future generations will view them and what will be their contribution towards uplifting the community.
This! Here! Now! Immediately! is what most Gorkha politicians are concerned about.
Like the adage goes, "Those who do not learn from history are doomed to repeat it." In our rush for instant gratification, we often fail to look at our history and end up repeating the same mistakes over and over again.
In 1984 General Elections, around 90000 people from Darjeeling had voted for rebel candidate Siddharth Shankar Ray over Congress official candidate Dawa Norbula. An era defining election, which Dawa Norbula lost by a mere 1404 votes, against CPIM's Anand Pathak. Out of a total 561740 votes, Anand Pathak had polled 235706 votes, while Dawa Norbula had polled 234302 votes. This was a watershed movement for our region. For it was this win by CPIM, that strengthened Subash Ghising and gave birth to the bloody and violent agitation for Gorkhaland of 1986-88.
But, I digress.
By 1984, Siddharth Shankar Ray was a spent force in West Bengal politics, but the then District Congress leaders like KB Chettri sided with Ray over the local candidate Norbula. Siddharth Shankar Ray merely acted as a vote-cutter for CPIM. The division of votes between Congress and rebel Congress candidate had ensured victory for CPIM candidate Anand Pathak.
My biggest fear is that TMC is merely using Bimal Gurung in the same role as that of Siddharth Shankar Ray – to cut Gorkha votes, which will favour TMC in the political battle in North Bengal.
The Gorkhas are very highly influential in 12 seats in North Bengal – Darjeeling, Kurseong, Kalimpong, Matigara-Naxalbari, Siliguri, Phansidewa, Mal, Madraihat, Kalchini, Kumargram, Nagrakatta, Dabgram-Fulbari, and could be a win-lose factor in other seats like Fakalata, Maynaguri, Alipurduars.
In the 2019 general elections, Gorkhas had overwhelmingly voted for BJP. But with Bimal siding with TMC, some portion of these votes are bound to be divided in favour of TMC.
Meanwhile in the hills, TMC has not supported Bimal and instead left the three hill seats to be fought between Bimal faction and Binay faction. If recent assertions by local social media is to be believed, TMC has instructed their supporters to back Binay faction, and not Bimal.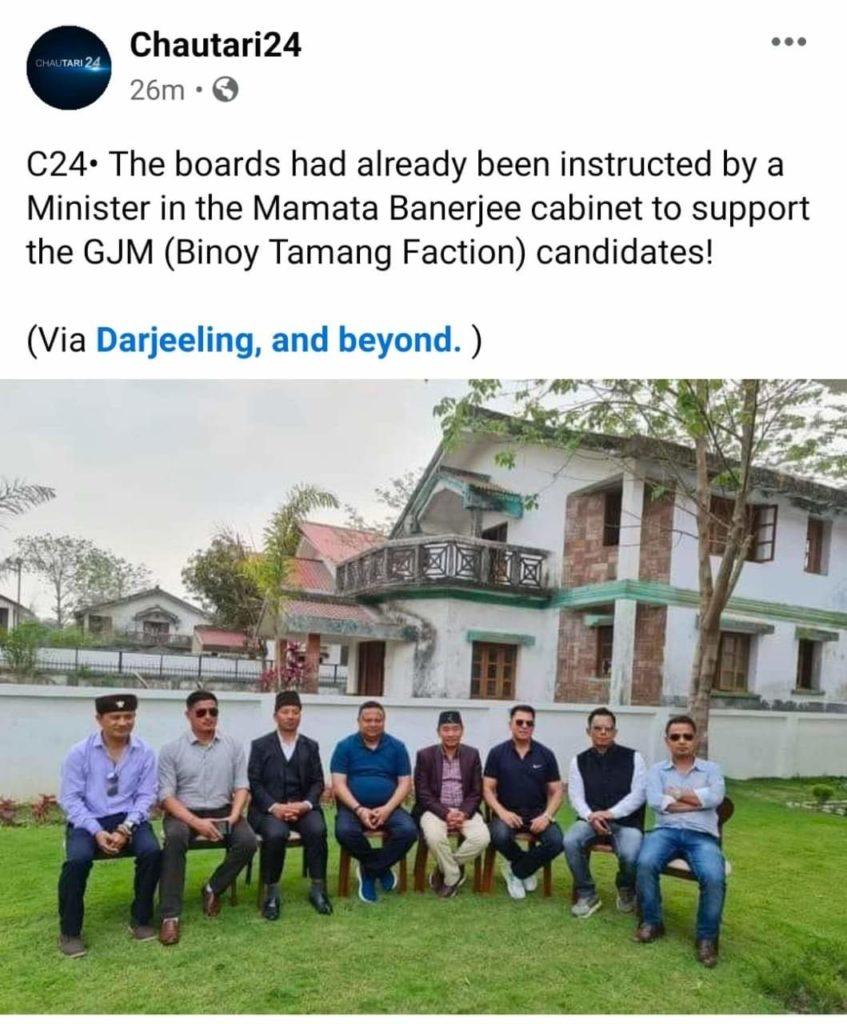 So get this, GJM Bimal gains nothing, while TMC will gain from Bimal support in the North Bengal seats.
Repeat of Kishenji?
But more worrisome is the fate that awaits Bimal, if TMC does come back to power and Binay faction or BJP win the hill seats.
During the 2011 election, Mamata Banerjee had befriended Maoist leader Koteshwara Rao alias Kishenji. Such was their bonhomie that the Maoists had extended full support to TMC rally on August 9, 2011 at Lalgarh in West Midnapore district. Large number of Kishenji's supporters had attended the rally and if NDTV is to be believed, Maoists had even provided protection to those attending the rally.
After winning the elections though, Kishenji was killed in a controversial encounter in the forest of Burishole in West Midnapore district on November 24, 2011.
In 2015, TMC Number 2 Abhishek Banerjee let it be known that TMC had a hand in his killing.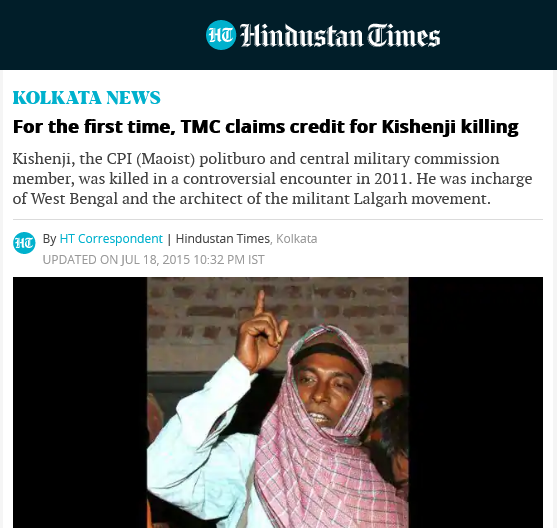 Will Bimal meet the Kishenji fate? I hope not, but chances of that happening if TMC comes back to power are very high.
Parting Thoughts
A recent conversation with a restaurant owner from Jaigaon left me thoughtful, he said, "हाम्रो तिर त दाजुलाई मान्छ दाजुको ईस्कुल न पड़ने कुन गरिबको नानी होला? Daju [referring to Bimal Gurung] is highly regarded in our place, there is not a poor family whose child didn't study in his school [Kanchenjunga School in Tukvar which was vandalized by his opponents and has remained shut since 2017].
For all his flaws, Bimal Gurung is still liked by a large section of the people from North Bengal. Especially in remote rural regions where politicians rarely venture, Bimal Gurung is seen as someone who has cared for the people.
But will this sentiment prevail across the region? It's difficult to say. But in tying his fate to TMC and also himself, Bimal has made a bold move, will it help him bounce back or will it backfire?
Only time will tell.