The United Gorkha candidates fielded by the BJP won Darjeeling Lok Sabha seat with a thumping majority. The party also won the assembly by-elections that were also announced yesterday. The BJP had fielded its candidate with an alliance with regional parties including GNLF and the GJM, led by Bimal Gurung. 
Raju Bista won the MP elections while Neeraj Zimba won the by-elections, both with a huge mandate. It may be recalled here that the BJP has promised in their 'Sankalp Patra' to provide a permanent solution to the issue of the Gorkhas, including granting them 'scheduled tribe' status. The victory is also seen as a public mandate to the historic alliance between GNLF and GJM of Bimal faction. With the coming together of GJM and GNLF, two of Gorkhaland's strongest proponents, there is a new excitement among the people on how the alliance will deliver.
In an added bonus to the BJP, the party also won all Lok Sabha constituencies in North Bengal including Alipurduars, Jalpaiguri, and Cooch Behar. Gorkha voters have a strong presence in these constituencies and the impact of the alliance could be felt across the region. John Barla, the famous tea garden leader won the Alipurduars seat with a huge margin as well.
Darjeeling General Assembly seat
A total of 1267270 voters had used their voting rights this elections.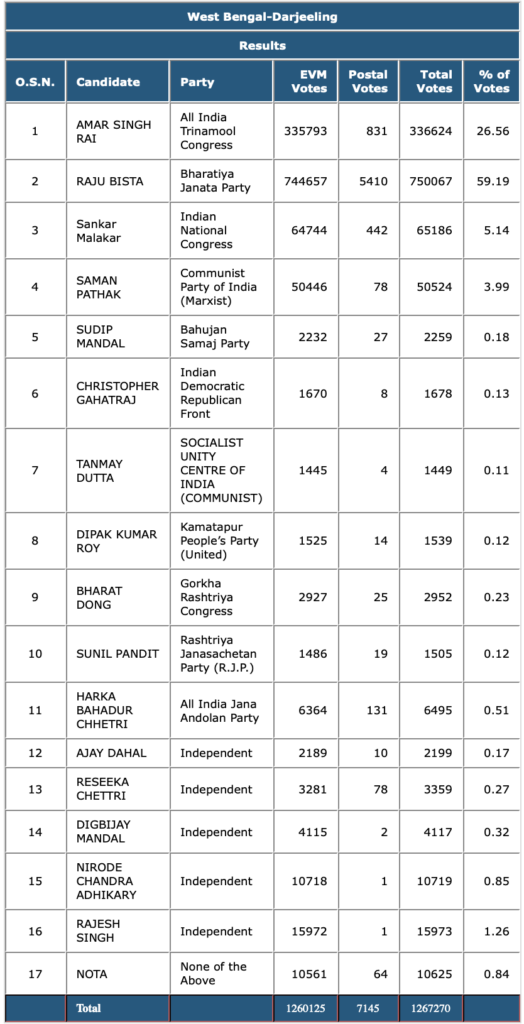 Raju Bista, the MP candidate polled 744657 votes (59.09 %) while his nearest rival candidate from TMC, Amar Singh Rai polled 335793 (26.65%). Sankar Malakar of the INC was a distant third with 64744 (5.14%) votes, followed by Saman Pathal of the CPIM with 50446 (4%) votes.
With this win, the Darjeeling MP Raju Bista also become the candidate with the highest vote margin in all of West Bengal.
Assembly By-elections
The total number of voters in the constituency are 142322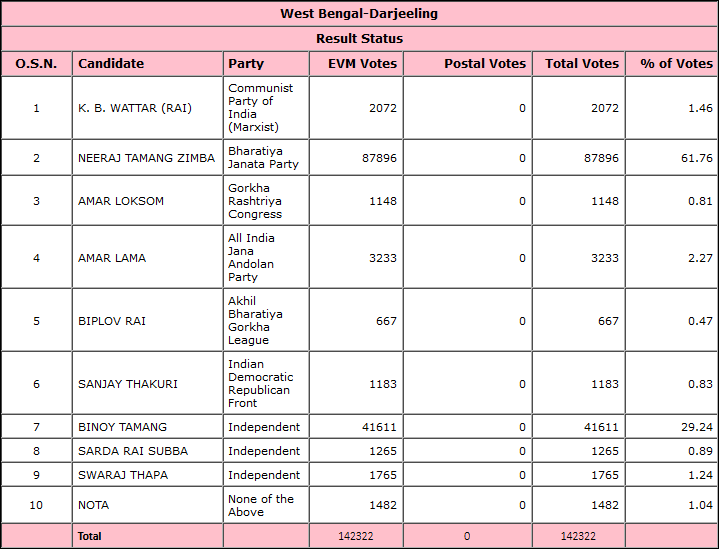 Neeraj Zimba, the BJP candidate polled 87896 (61.8%) votes while Binoy Tamang, an Independent candidate backed by TMC stood second with 41611 (29.18%). Amar Lama of JAP came a distant third with 3233 (2.27%) votes.
Ironically, the Darjeeling MLA seat was left vacant after Amar Rai reigned the assembly seat to contest the MP elections, which he lost badly. The by-elections were called to fill the vacated seat by him the assembly.