Some hurts are so deep, it gets radiated. You don't have to spell it out; it's there for everyone else to see. On the 23rd of October, West Bengal chief minister Mamata Banerjee's hurt in losing Darjeeling Lok Sabha seat was for everyone to see. She had come to Kurseong for an administrative review meeting, but she couldn't keep a lid on her politics and that betrayed her feelings.
I don't know how others take it but I have to confess, my long-held notion was proven wrong. Turns out she has a heart and she feels, after all. Who would've guessed?
The Bhoomiputra Narrative
In fact, the CM Mamata Banerjee was so very convinced that her choice of a 'bhoomiputra' candidate was a 'masterstroke' which would see TMC flag fly high in the hills, she made it TMC's main plan for 2019 general elections in the restive Darjeeling region.
From what I know, she was led to believe that choice of that particular candidate with the son-of-the-soil narrative would be a 'masterstroke' by the same group of people, who would earlier whisper in the ears of former GTA chief Bimal Gurung.
Preparations for bringing the 'bhoomiputra' narrative to centre stage had begun much before the announcement of elections. There was a considerable push by 'bhoomiputra and bhoomiputri' Facebook activists to demand a 'local' candidate. Some had even started to object to the very name 'Gorkhaland' as the bane for our aspired new state. They had turned so local that they would argue online 'Gorkhaland is not local enough.'
Long story short, with the declaration of Amar Singh Rai as the TMC candidate, this entire 'bhoomiputra' narrative many had tried to push online, finally added up.
But wait, there were Saman Pathak and Shankar Malakar, Nirode Adhikari and Bharat Dong, and numerous others. In fact, 14 out of 16 candidates in the fray were 'Bhoomiputras'. There were so many local son-of-the-soil candidates that Times of India published an article titled "Bhoomiputra Glut in Darjeeling" thus bringing to context what a colossal failure that narrative was.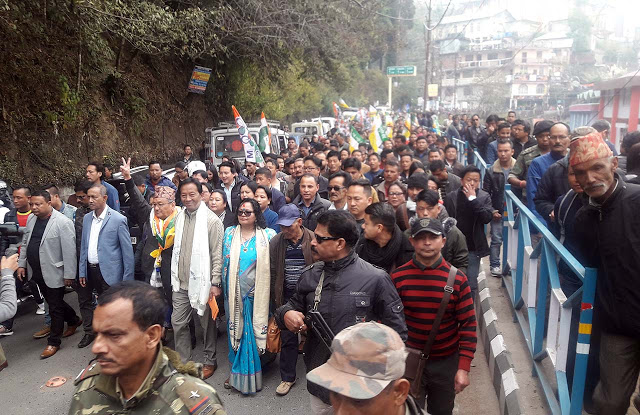 Failed narrative – deep hurts
Indeed, come counting day, a Gorkha lad from Manipur Raju Bista won with a record margin of over 4.13 lakh votes. The highest in West Bengal. It was a thumping rejection of TMC and their 'son-of-the-soil' narrative. For the next five months, Banerjee hadn't bothered to comment on the spectacular loss. But all that changed yesterday when in the middle of an administrative review meeting, she ended up blurting out, "I am sorry to say this… I should not utter these words in an administrative meeting but I feel sad when a son-of-the-soil, Amarnathji (referring to Amar Singh Rai, the Trinamool candidate), does not get votes, but an outsider spends a lot of money and gets the support."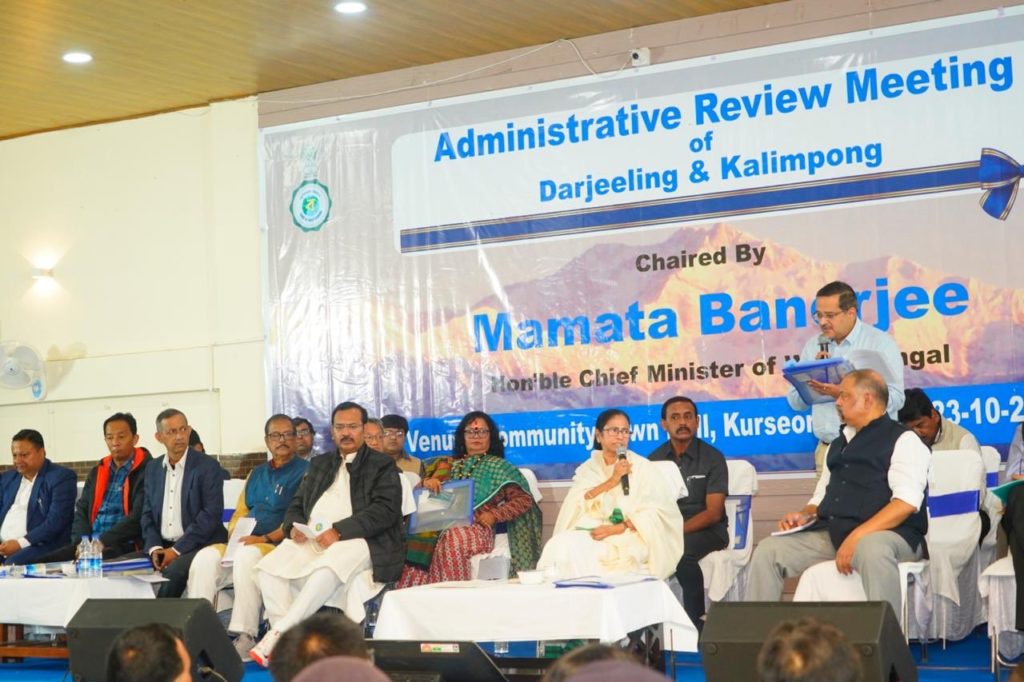 The reason why I feel she has a living heart was when she said, "If you don't like me, don't give me votes, but give your vote to a local person." After all these years of living in denial, she seems to have finally realized that people in Darjeeling don't like her.
What a realisation to come to, for a politician, who has always claimed "pahar hasche" loudly and boldly to all her voters in south Bengal.
She then trained her ire on the heads of so called "Development Board – caste specific NGOs Mamata had formed to lure in votes for TMC". She declared, "We will conduct an audit on the funds given to development boards, the houses that have been completed, those unfinished and whether the funds have been properly utilised, after which we will review the development boards."
From the very first Lepcha Development Board to the latest Siliguri Terai Dooars Development Authority (Gorkha Community) Banerjee has spent over Rs 200 crore of taxpayers' money in the past five years, funnelled through over 17 caste-specific 'Development Boards' in the hope of winning over support and votes of the hill people. Those who head these boards had her convinced for long that they are the best representatives of their caste, and they will be able to bring in all the votes she desires.
Well! that didn't happen, and it won't ever.
Mamata Darjeeling – Conning the con
In simplest of terms, Mamata Banerjee got conned by Darjeeling con artists.
Her ambition and her desire to see the hill unity destroyed so that she could plant the TMC flag from the hills to the sea got the better of her, and she permitted smooth political opportunists and plain con artists to make a fool out of her. They led her to believe that it was through them, she would enter the hearts and minds of the hill people.
Nothing could be further from the truth.
The fact that both Binay Tamang and Anit Thapa lost from their own polling booths in which they vote, shows how disliked these people are. Yet, Banerjee chose to support them with funds, power and administrative support. Despite the fact, none of the Development Board people has actual support of sympathy of the caste-specific communities they claim to represent, Banerjee has permitted corruption and nepotism by wasting crores of rupees in the hopes of winning votes.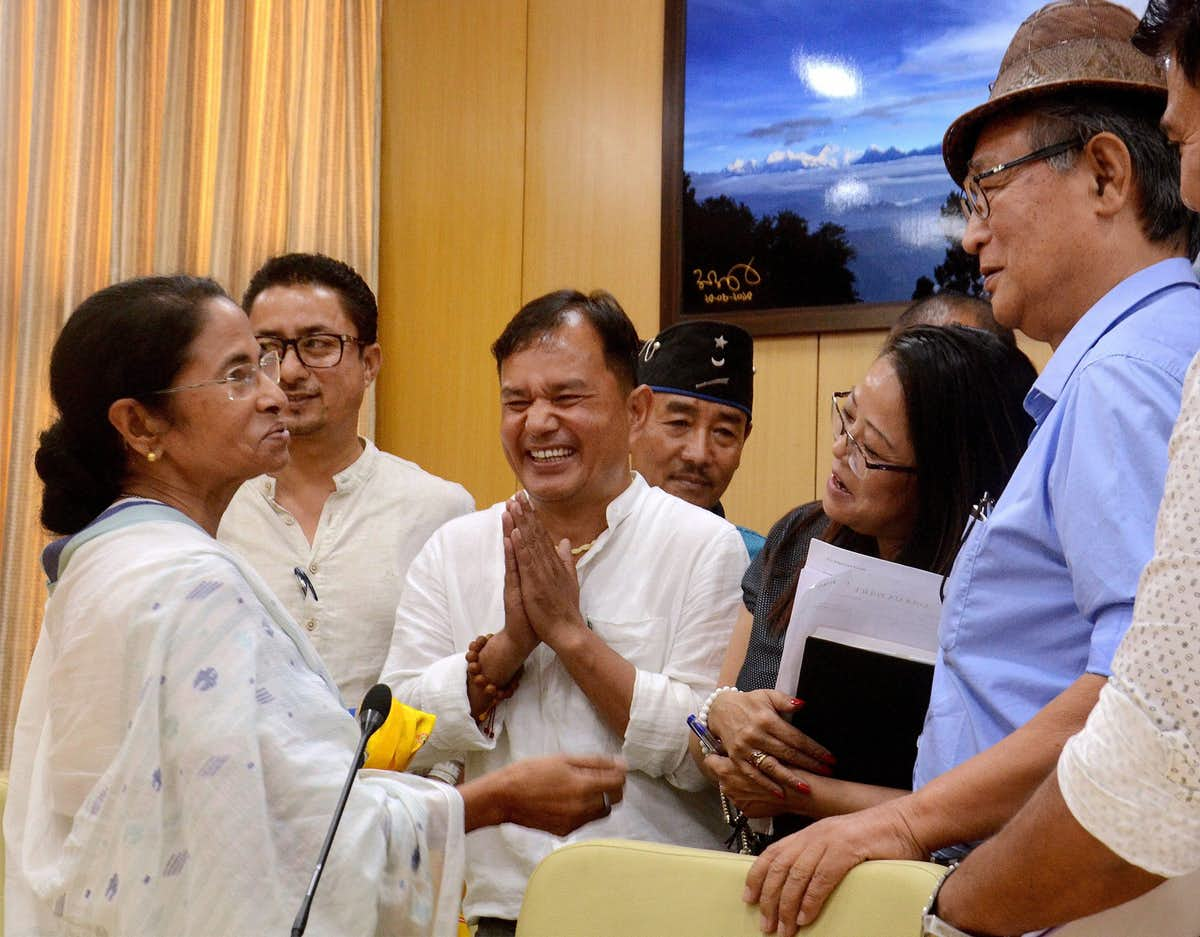 But time has come for her to reflect, this can't go on forever. These con artists and opportunists will be the first to dump her, the moment they realise she won't remain in power anymore.
Connect, don't disrespect public mandate
If I was Mamata Banerjee, I would begin by reflecting on the reason why I lost. TMC didn't lose because they didn't try, they lost because they tried too hard.
The hill people are a very easy-going lot, we don't want "Darjeeling to be turned into Switzerland" what we want is basic functional infrastructure – good roads, good hospitals and health care, good schools, good colleges and a Central University. But Banerjee hasn't bothered with that, she won't either.
We want employment opportunities for our youths in Darjeeling. But Mamata Banerjee hasn't bothered with that, she won't either. In fact, yesterday, when her favourite these days Anit Thapa tried to remind her of abysmal employment scenario in the hills she responded with, "Let the hills settle down first."
We want police atrocities to stop, we want threat intimidation and violence to end, and we want democracy to prevail. But Mamata is not allowing that to happen in Darjeeling, as she has obviously placed her ego above people's democratic rights.
We don't want unwanted political agents imposed on us as administrators, we want you, madam, to sit down with our elected representatives to find a permanent political solution.
We do not want your money, your power or posts – we want dignity, respect and right to determine our fate and future.
We do not want you second-guessing our choice of an elected representative, we know who we have elected and why.
We don't give two hoots about your "son-of-the-soil", what we want is "soil-for-the-sons-and-daughters" – a state of our own, and unless you can agree to that, we will take our chances with an "outsider" in whose vines the same blood flows as ours, as opposed to an "insider" who is your stooge.
This article was originally published here.