A very close friend of mine was today fuming at the candidature of Mr. Amar Singh Rai as a Trinamool Congress candidate in the 2019 general elections, happily projected by pliable media as "Darjeeling ko Bhoomiputra candidate". He was worried about the 'future of our community,' and the general status of 'Gorkhaland statehood demand' if TMC won from Darjeeling hills. As we talked, I reflected on the turn of events that led to this day.
Down the well-beaten path
The absurdity of a sitting MLA from one party, agreeing to contest the MP/MLA elections on the ticket of another may have hit casual observers hard, but those who have kept a closer eye on politics in Darjeeling know this is not the first time. That unique credit goes to Dr. Harka Bahadur Chettri. A sitting MLA from Kalimpong had his name published as TMC official candidate for the 2016 legislative elections, but after public outrage, and seeing how damaging it was to his new-formed Jan Andolan Party, Harka persuaded TMC to remove his name from official TMC list. He did contest as a JAP candidate, supported by TMC.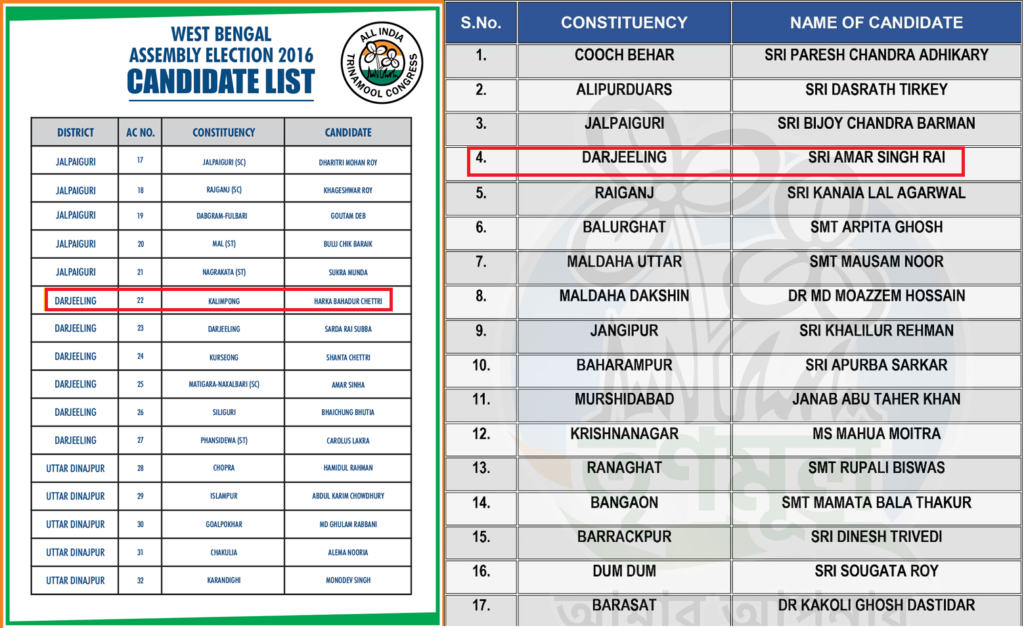 Where Binay Tamang and group are today, is where Harka and group had hoped they would be back in 2016 – at the helm of hills, with full support of the West Bengal government. Jan Andolan Party founded by stalwarts like Dr. Mahendra P Lama, Anmol Prasad, Amar Lama all veteran of politics behind the curtains were so confident of their political opportunism that they had refused to include the word "Gorkha" and barred any mention of "Gorkhaland" from their party agenda and election manifesto. Dr. Harka Bahadur Chettri had even gone on to label "Gorkhaland" a "communal term."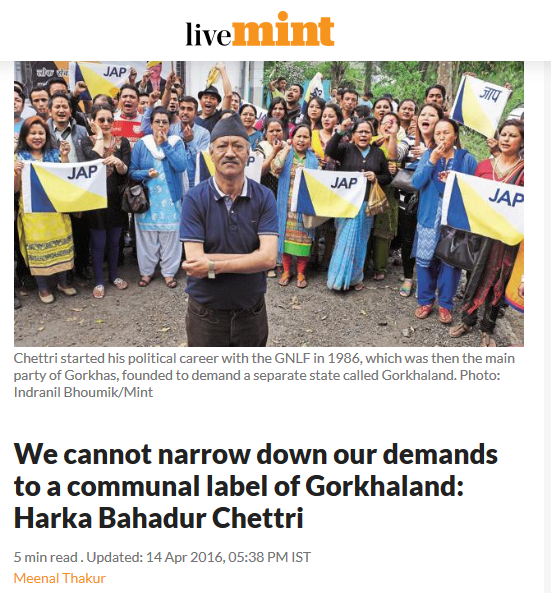 Sadly for them, they couldn't generate public support, and realizing the futility of that exercise, Bengal shifted their focus on dividing GJM in such a way that, the party would survive, but the leadership wouldn't.
Gorkhaland Andolan 2017 – Delhi circus
As Gorkhaland andolan picked pace here in Darjeeling, Terai and Dooars, internet was shut down. This gave the allegedly 'educated-intellectual' crowd based out of various cities across India and the world an opportunity to voice their opinion and show solidarity with the cause. Amidst all this, a new organization was formed in Delhi – Gorkhaland Sanyukta Sangharsha Samity (GSSS). A quick scroll of the founding members was enough for those who have observed Gorkha politics closely to realize, it was done to foist the alleged 'educated-intellectual' leadership in the Gorkha horizon. The way they went about it was alarming. They started to humiliate and belittle the very politicians who were leading the Gorkhaland movement. They called for a change in leadership, in the midst of a revolution.
Cut-off from the digital world, people here in Darjeeling were standing rock-solid in unity forgetting party lines, development-boards, and all other attempts at sabotaging the revolution. Yet, these allegedly 'educated-intellectuals' were leaving no stone unturned to undermine the Gorkha unity. Their constant online barrage was finding resonance among the Gorkhas spread across India and the world. Most people who had no clue about politics, actually were suckered into paying for the "Delhi-circus" through donations. The more donations poured in, the shriller and hoarser the Facebook activists got. It was ironic that those demanding democracy in Darjeeling, had unleashed a dictatorship at Jantar Mantar in Delhi.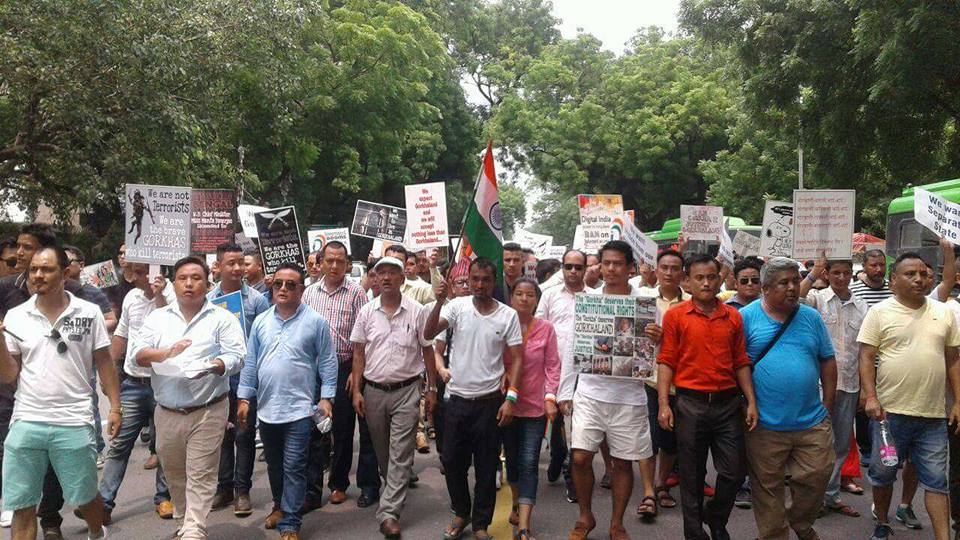 Tired of their shenanigans, back then, I had written an article titled, Beware of the Divisive Forces. That article had laid bare these alleged 'intellectuals' and presented their modus-operandi and the motivations behind their manufactured outrage, for all to see. These Delhi elite lot were perhaps rankled by my article enough, to get one of their minions to bark at me.
I received a few threatening calls too, telling me to "avoid Delhi". It was funny, they never threatened to come to Darjeeling and beat me up.
That same group of people, against whom I had warned the general public about in my article, went onto form two more organizations.
Seeds of divisions
Not many know that the seeds of division sown in Delhi were first planted by the Community Party of Revolutionary Marxists (CPRM). It was their cadres, that had first humiliated Roshan Giri at Jantar Mantar, and it was downhill after that.
Politicians who had no support on the ground in Darjeeling, reached Delhi to donate to the circus that was being performed. Almost everyone from RB Rai to Harka Bahadur to Neeraj Zimba attended and addressed the crowd there. Conspicuously absent were the leaders from the largest political party leading the Gorkhaland agitation.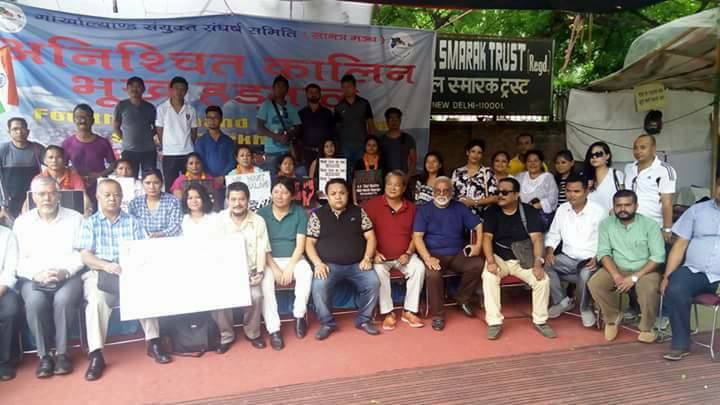 The Delhi circus was a tool, these jantaless leaders hoped would bring in a wave of change in the hill politics and sweep away all the "undeserving, uneducated lot," and bring them to their rightful place as the "educated-intellectual" replacement.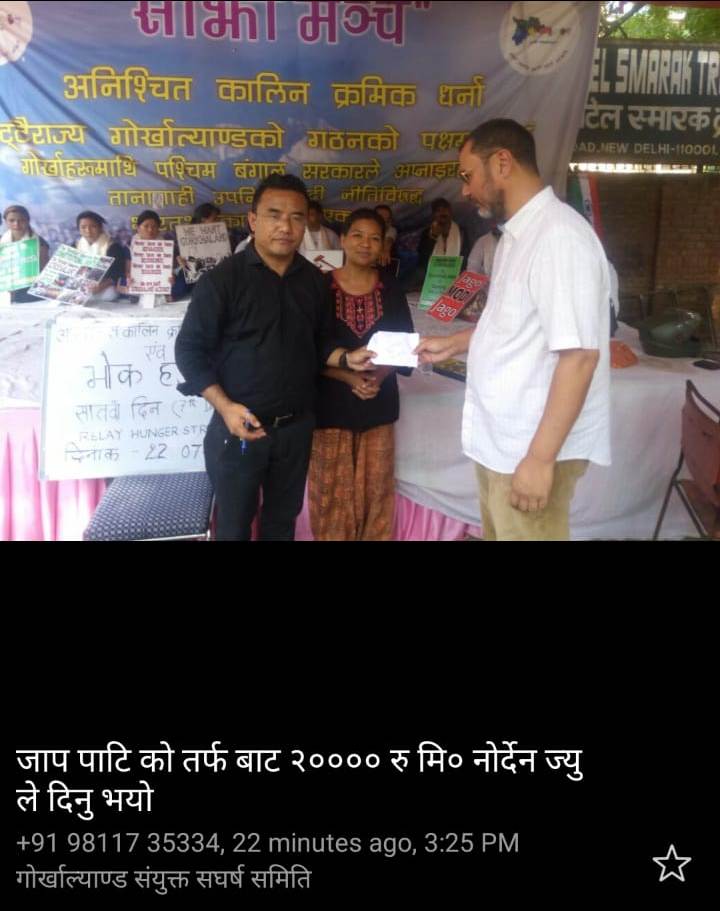 Their often repeated lines would be, 'how can an uneducated person lead our community, we need educated people to lead from the front, not a class 4 pass'.
Thus it came as no surprise, when RB Rai the "secretary general" of CPRM was the first to announce his desire to contest the 2019 MP elections.
Behind the scenes Mr. Munish Tamang, Dr. Harka Bahadur Chettri, Dr. Mahendra P Lama, all tried and are trying tooth and nail to cement themselves as the next MP candidate.
These alleged "educated-intellectual" did all their calculations proper, but made only one mistake, which is turning fatal for them i.e discounting the public emotions, public loyalty, and public support to the Gorkhaland cause.
"Intellectual" Wet Dreams
So when my friend today complained about Mr. Amar Singh Rai, I asked him back, what is it that he is complaining about?
If you take away the politics part of it, Mr. Amar Singh Rai is in-fact wet dreams of "educated-intellectual" lot coming true. He is a Professor, of political science, no less. He is well-educated, well-heeled, and well-spoken, has a proven sharp mind – not everyone can navigate from being a die-hard Gorkhaland supporter to being a Trinmool MP candidate so easily, that it comes across as nothing but natural course of events unfolding. He is what those conducting the "Delhi circus" have always dreamed, desired, wished and hoped for to see in a politician leading Darjeeling. I don't see any reason for them to be complaining now. He is a manifestation of their deepest hidden desires and wet dreams coming true.
So, I ask my friend in-turn, "Isn't he the ideal candidate our "educated-intellectual" activist lot wanted?" He responds, "I don't know that… but the team in which he has joined is the worry"
"But", I inquired, "Why is it such a worry? We have repeatedly elected CPIM MPs, our youths, especially the 'educated ones' today strongly identify with left and ultra-left politics. All this, despite the brutality and reign of hell unleashed upon us in 1986-88 period"
Stockholm Syndrome
This is when the harsh reality of our situation struck me.
We as a community, suffer from the Stockholm Syndrome – a condition that causes hostages to develop a psychological alliance with their captors. That's it. We are psychologically so traumatized, that we cannot think for ourselves anymore. We have started to identify with our captors, and in fact, pledged our allegiance to them. Be it the Communists or the Trinamool lot, we have always sought approval from those who have unleashed unaccounted for violence and trauma on our community.
We have surrendered ourselves to our captors completely. There is no other way to put it – our backs are no more bent, they are now broken, and we are now crawling.
Will we ever grow a spine? I hope so, but for that we need to grow our self-esteem and our self-worth. We as a community will only survive, if we grow some collective ego and a sense of self. If we all free ourselves from our ideological baggage or lack of it, and envision a day when a slap on one Gorkha is seen as a slap on the entire community, when a Gorkha humiliated in cities are decried across the world , when we absolutely refuse to sell out and crawl.
Lipstick on a pig – Darjeeling, Gorkhaland, Bhoomiputra
As there will be attempts at manufacturing your "sense of self" – as words like 'son-of-the-soil', 'bhoomiputra', 'local' floats in the air, remember these are merely attempts at putting a lipstick on a pig – a desperate futile attempt to disguise the true nature of the greater malice about to consume our community.
Beware and Be-aware, rest will follow.