Raju Bista, the new torchbearer
In a path-breaking and surprising decision, a corporate ex-RSS young man by the name of Raju Kumar Bista has been chosen as the BJP candidate to contest from the Darjeeling Lok Sabha constituency. Bista hails from Manipur and also has a home in Matighara, Siliguri district, WB. He is known to be close to the BJP circles in Delhi where he was the Managing Director for Surya Roshni Limited for many years. BJP General secretary Kailash Vijayvargiya said that "I don't know if he is Gorkha, par woh Pahari hai. He was born in Manipur so there is a north-east connection there." With all this confusion, Bista will have to come forward to authenticate that he is an Indian Gorkha. Much hopes lie on Bista but with the support of GNLF-GJMM behind him, he must have come with sound briefing.
Good that Shri Surendrajit Singh Ahluwalia has bid goodbye. His patronising, condescending and mocking attitude towards Gorkha delegations was unacceptable. Not to speak of his recent 'son of soil' remark, which showed no understanding of the Indian Gorkha people. He enjoyed all the perks of a MP in Lutyen's Delhi but rarely visiting Darjeeling Hills nor spoke about the Darjeeling's problems in Parliament.
BJP President Amit Shah, announced in Alipurduar, that BJP would stand as a giant rock against Mamata Bannerjee's atrocities on the Gorkha brothers and sisters. Yesterday in Kolkata, he also accused the Mamata government of choosing one particular community over the general masses. According to him, her state budget at Rs 4000 crore for madrasas was higher than for the entire higher education department. He also mentioned about how she banks heavily on infiltrators and practices appeasement policies. Talking about infiltrators read on the latest about Donald Trump's Wall to stop illegal immigrants from Canada and Mexico.
The Great Wall of Donald Trump
"I would build a great wall and nobody builds walls better than me, believe me, and I'll build them inexpensively. I will build a great wall on our southern border and I'll have Mexico pay for it"
President Donald Trump, 16 June 2015

Trump has finally got the money to build his wall–at least for half of it, if not the entire length that he desperately wanted. The Pentagon announced on 26 March, that $ 1 billion would be transferred to the Army engineers to build the new wall on the US-Mexico border. Stopping illegal immigration has always been a top political priority for Trump. In fact last Friday, he even threatened to close large parts of the US-Mexico border, if Mexico did not immediately stop illegal immigration.
The USA and Mexico share a 3,145 km long international border stretching over urbanised to hostile desert and river terrains. Many, entering illegally through the desert and mountain areas die from hyperthermia or drowning. According to the US Customs & Border Protection (CBP), 396,579 apprehensions (what they call the illegal immigrants) crossed the border in 2018. The highest in the US fiscal year has been at 1,600,000 in 2000! The maximum number of apprehensions has been from Canada followed by Mexico.
A few months ago, Trump posted a graphic of the proposed wall with a tweet saying " A design of our Steel Slat Barrier which is totally effective while at the same time beautiful!" The wall designed as an 18 feet high steel fence with improved roads and bright new lights, is facing a lot of flak over its functionality. Many are also arguing about the morality of such a wall.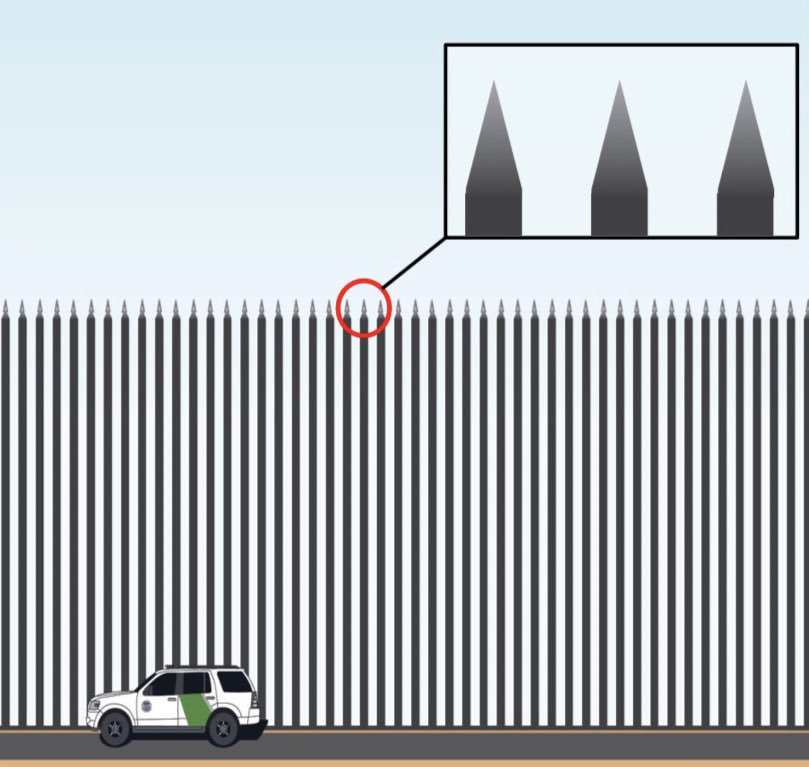 Mamata on Rahul
Rahul Gandhi's jibe at Didi B has received a rebuttal. "He is just a kid" she said. How can one be a kid at 48 years? Appeasement politics.