The GNLF Spokesperson Neeraj Zimba who is in his heydays after scoring a massive victory in the recently concluded Assembly By-polls, from Darjeeling Vidhan Sabha constituency in collaboration with GJM (Bimal Gurung) and the ruling party of the nation BJP.
Zimba who is also a lawyer by profession has been an active spokesperson of the Gorkha National Liberation Front (GNLF), and has time and again publicly proclaimed late Subash Ghising as his 'icon – Appa,' as someone he wants to emulate. Like his Appa, he claims to emulate ideology of love for our community and soil, and has always been declamatory in advocating the same anywhere he gives his eloquent speeches.
After getting elected as an MLA from Darjeeling Constituency he has undoubtedly been successful in exalting the dignity of Gorkhas by taking oath in Nepali language in Vidhan Sabha.
As a result he received accolades and appreciation from all quarters – i.e Gorkhas across the globe.
Vidhan Sabha Blues
In recent days Mr MLA is in Kolkata, and being social media savy, he keeps on updating from his Twitter and Facebook handle about the weather of the city and his learning phase for the works entrusted on him by the public, as our a new MLA.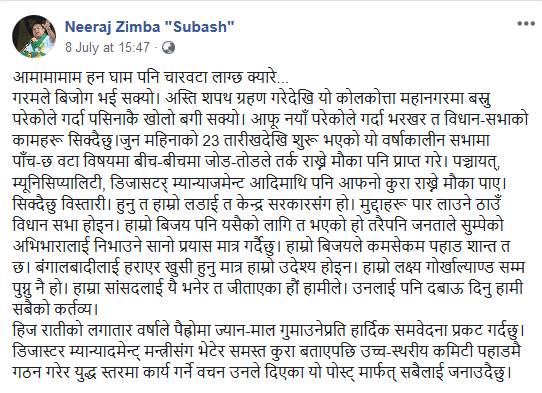 In a press release shared two days ago, he has credited himself for "raising some important issues and discussing some crucial matters of Panchayat, Municipality and especially disaster management". He seems happy with the assurance given by West Bengal Disaster Management Minister – that "a high level committee will be set up in the Hills to curb disaster like landslides."
Citing that as an example, seemingly enthusiastic Zimba said that "he will give his optimum to try and fulfill the duties, entrusted to him by people as their representative."
Reminding people that our ultimate aspiration is Gorkhaland and that is the only reason of getting him elected as an MLA, he also put it on record that "Vidhan Sabha is not the right place to raise an issue of Gorkhaland."
He also claimed that "Defeating imperialism of Bengal is not just another task for the Gorkhas but to fight for the ultimate goal of Gorkhaland."
So he wrote, "we have elected our MP just for that, we all need to put pressure on him."
His ignorance
A lawyer Zimba, whether out of his happiness being an MLA or out of enthusiasm of his work he is learning as a novice Member of the Legislative Assembly, or out of his extreme respect, paid tributes to Jyoti Basu former CM of Bengal at Bidhan Sabha Bhavan in Kolkata on his 106th Birth Anniversary. He posted his photo on Twitter paying his reverence,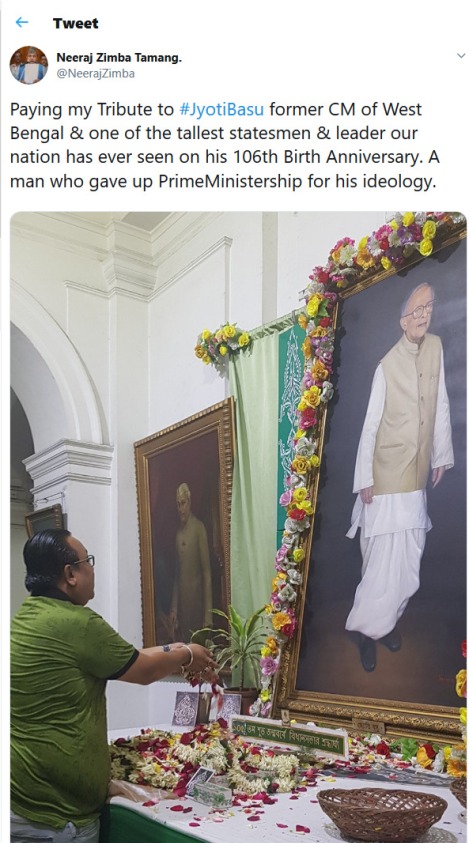 Whether or not for the other people who took him otherwise but for me, "irony died a million deaths" seeing his narrative. It made me burst into a hearty laughter at first to see a Zimba claiming that his so called "tallest statesman had given up the post of Prime Minister for his ideology."
How ignorant or rather an ardent follower (as he seems to be) could Zimba be about the real story behind his statesman giving up the Prime Minister post?
What our MLA is ignorant about is Jyoti Basu did want to rise to the power and was ambitious about becoming the powerful man of the largest democracy of the world, India. But his politburo associates had barred him from doing so,who later expressed his disappointment saying that it was a political blunder.
Forgetting roots and bloody Gorkhaland Movement of 1986
Let alone the recent bloody agitation of 2017, Gorkhas still recall the bloodiest massacre of Gorkhas in 1986 Gorkhaland Movement that was led by Subash Ghising. People still shed tears of blood recalling the mass killing of Gorkhas back in the days when Jyoti Basu was the Chief Minister who was the first to label us Gorkhas as "Secessionist."
The blood soaked Gorkhaland agitation claimed more than 1200 Gorkha lives, for demanding our democratic rights for a separate state.
It was a constitutional demand then and it still is today.
The same Jyoti Basu who down played Zimba's ideal Appa and handed him a mere lollipop in the form of Darjeeling Gorkha Hill Council, sans Siliguri sub-division.
The same Jyoti Basu who displaced many families and their happy lives, and lead to the ruining of once peaceful Darjeeling.
The murderer of thousands of Gorkhas can be the tallest statesman for some people who can compromise with their dignity, but not for those Gorkhas who are even today living a life of dignity. Not for those Gorkhas who revolted against the imperialist Jyoti Basu for our soil, and definitely not for those Gorkhas who fought with Mamata Banerjee for right to self-determination in 2011 and 2017, and not for those Gorkhas who gave a massive mandate to Mr MLA to oust Mamata's TMC from our Hills.
Thus, paying tribute to the communist who died with blood in his hands of thousands of Gorkhas is a direct insult from our elected MLA to those brave martyrs who laid down their lives for the soil, for the democratic rights of Gorkhas that is enshrined in the Constitution of India, and for the legitimate demand of a separate state-Gorkhaland.
Hence, to uphold his moral high ground Mr MLA must therefore tender his apology taking down his narrative which is a blatant blunder.
His obligation?
Out of 294 Assembly seats in Bengal, voices from Darjeeling region is hardly heard in the Vidhan Sabha. Many MLAs from Darjeeling represented the Hills and gone, but Mamata's "Switzerland of Bengal" hasn't yet seen the light of the day. Under such circumstances our MLA Zimba seems to have taken the old adage, "When in Rome, do as Romans do" to his heart.
He seems to be another traditional representative in line who must by default pay an allegiance to his master from Bengal. Hence, he seems to be under obligation to dance in the tune of his colonial masters.
However, the fact he must have borne in mind, I believe, is that he was elected by people whose only aspiration is the permanent political solution that is long pending demand of Gorkhaland.
Taking the onus upon his shoulder to work for the interest of the people Mr Zimba has a long way to go to prove his mettle and caliber as people's representative.
Neeraj Zimba seems to forget that hailing a politician who was responsible for murder of over 1200 Gorkhas as the "one of tallest statesman and leader our nation has ever seen," is akin to Jews hailing Hitler the same. Going forward, I hope Mr. MLA will curb his over-enthusiasm to play to the gallery and please his masters in rest of Bengal.
That said, this is just a beginning of his test. There is still 2-years in his hands to stand with dignity, and people who elected him with massive votes with high expectation are watching him closely.
The ball is in your court Mr MLA!