In an election, which marks nothing less than the political maturing of our Gorkha community, Trinamool Congress (TMC) has been completely decimated.
It is one thing to lose an election, but quite another to be rendered a distant second.
TMC has not only lost the hills, but they have lost the entire North Bengal – Darjeeling, Alipurduars, Jalpaiguri, Cooch Behar, Balurghat, right up to Malda North. The lowest losing margin is around 33000 votes in Balurghat, and the highest is a humongous 4.08 Lakh votes in Darjeeling.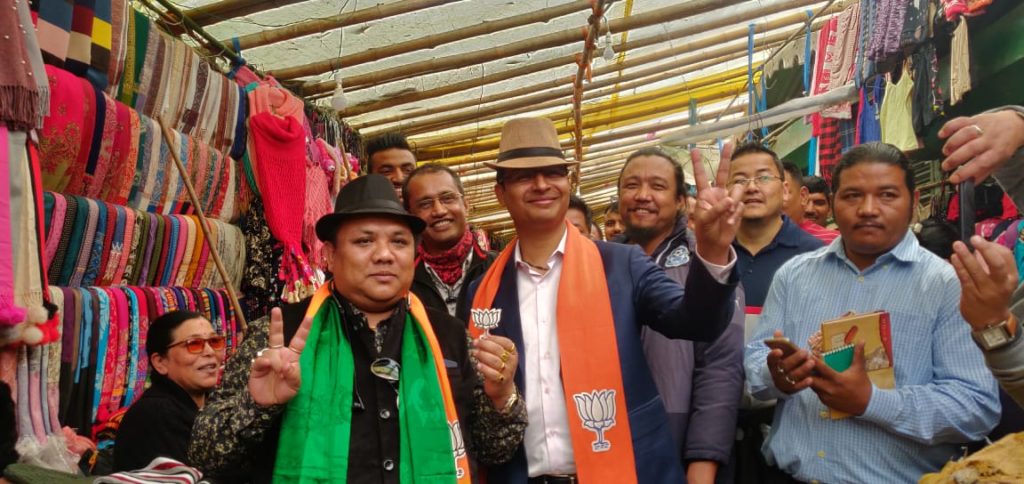 In a parallel to the Game of Thrones, it's like the people of the North have finally decided to root out the distant, but highly dictatorial and tyrannical rulers from the South.
No matter how the "Meat Market Spinners" try to spin this one tomorrow, make no mistake – for Darjeeling, Terai and Dooars this election was nothing less than a mandate for or against Gorkhaland.
It was also a mandate to see if the illegal administration under the guise of "GTA Board of Administrators" imposed on the hill people should continue or not. It was also a mandate to see, how popular the "benevolent and most kind regime" unleashed by West Bengal government in the hills that forced the "mountains to smile", is?
Well, the people have spoken, in fact yelled through their votes – We do not want GTA! We want Gorkhaland! And thank you for asking, today the mountains are not just smiling, but they are laughing out loud.
Echo Chambers
In April of 2019, a journalist friend of mine from Kolkata had written an absolutely riveting article on how the hills are actually feeling, and had talked about this strong undercurrent. I congratulated him for capturing the essence of the discontent here. But he complained that his article was not well received.
The problem with every political party that comes to rule in West Bengal is that, they has always tried to see the hills through the lenses of colonialsm. The Chief Minister, right from the times of BC Roy to Jyoti Basu to Buddhadev to Mamata has always acted as a ruler who have been forced to govern over this "bunch of socially and culturally backward hillbillies who are occupying our sundor Darjeeling…" so out of the goodness and benevolence of their heart, they try to "civilize" us. Their modus operandi is same as that of the 18th century colonialists. They find a few greedy enough from among us who are willing to sell out, and hand them power and some funds. The Brits used to create Zamindars, the Bengal rulers found their Chairmans and Sabhasads and Councillors. And they have their Khabri Lals who report what's going on. Now, I don't really blame the rulers, if all they keep on hearing that they are the best and they are the greatest, that is what they will eventually end up believing. So I blame the Echo Chamber that Mamata had built around herself, when it came to Darjeeling and the issues and problems facing our people here.
This is how the Echo Chambers ruined it for TMC. They spun a lie to make people in rest of Bengal believe that "Pahar Hasche", that lie was circulated over and over again by a very pliable bunch of Khabri Lals – whose only concern was DAVP and TMC Advertisement revenue, and some access to powers that be. Eventually TMC came to believe the very lie it had spun "Pahar Hasche" to be true, because "everyone in the media was talking about it."
The lies TMC told itself was never questioned. When TMC instated Binay Tamang, Anit Thapa, Amar Singh Rai et al to function as the Gorkhaland Territorial Administration (GTA) Board of Governor, an honest media would have told them, what they are doing won't go down well with the people of the hills. But other than TheDC and a handful of other news outlets, every newspaper, TV channels headquartered in Bengal, and even Facebook pages functioning as news outlets from the hills that was covering Darjeeling, reported only what TMC bosses wanted to hear. From some captain of a defunct team rising, to Mamata's benevolence, to the advantages of development boards, to amazing employment generation under GTA2, to development agenda triumphing Gorkhaland this election, to the virtues of bhoomiputra on and on and on. The TMC Echo Chamber merely regurgitated what their bosses in Nabanna wanted to hear.
That is where TMC lost the plot. They lost touch with the reality, and have now faced a record breaking defeat.
So yesterday, when my friend asked me what the final victory margin for BJP was, and I told him 4.08 Lakhs, he simply wrote back, "When I told everyone … they all thought I was mad…"
Of course, my friend is having the last laugh.
TMC Moral Wrongs
After over two years of continued suspension of democracy in the hills, and a regime of fear and intimidation unleashed upon the people, when people finally got a chance to showcase their choice – they made their voices be heard loud and clear. I have observed politics in Darjeeling – up close and personal, all my adult life. But I have never seen people's mandate being so overwhelmingly one sided. In my opinion people have given their mandate against three things –
Suppression of people's democratic rights, and police raj unleashed in the hills, and
Trinamool Congress Chief Mamata Banerjee fake "Pahar Hasche" narrative.
TMC Proxies and goons in the hills
At the same time, this mandate is for:
Gorkhaland statehood
Restoring democracy and peoples rights as guaranteed under our constitution and
A stronger and better India
In being so overwhelmingly defeated, in MP elections by 32.63% votes, and in MLA elections by 32% votes, the Trinamool Congress has lost its moral right to govern over our hills, either overtly, or through its proxies.
Dissolve GTA – TMC
The Gorkhaland Territorial Administration has failed to fulfill the wishes and aspirations of our people, so has the GTA Board of Administrators. As a way of accepting and respecting the public mandate, the West Bengal government should, at the earliest dissolve the Gorkhaland Territorial Administration, and initiate talks with the hill people, that will lead to a permanent political solution – be it in the form of a State of Gorkhaland, or the Gorkhaland Union Territory.
No more, no more of this threats, blood, violence and gore, no more of this tyranny and oppression of democratic rights of our people, no more suppression and subversion of democracy in the hills, no more of treating every political opponent and their families like terrorist, no more of fake – echo chamber initiated narratives.
Bengal government and TMC can still play a vital role in transforming Darjeeling, and they can start doing so by dissolving the GTA and initiating talks to pave way for a permanent political solution.
Poetic justice
Had Mamata and her merry men decided to go for a more politically correct stand, and worked towards deescalating the tensions back when the Language issue erupted, I am sure things could have been very different for TMC in the hills.
However, their arrogance stemming from their absolute reliance on their echo chambers is what has lead for TMC to be on the verge of extinction in the hills, it's this same echo chamber that had earlier led to the ruin of GJM Chief Bimal Gurung in his heydays.
As we were discussing the election trends and it became clear that TMC and their proxies were trounced, a friend of mine reminded me, "Its providence that the counting should take place in Gorkha Rangamancha, the epicentre of the movement against linguistic hegemony, where TMC and its dalals are losing."
Poetic justice indeed.