At the age of 16, Shanti Rai swam across the raging torrents of river Teesta for the first time in her life, today she is a Rafting and Rescue expert. An avid nature lover and a deeply passionate social worker, Shanti is an inspiration. While our community is indeed very progressive, there are still many a fields that are viewed as being the sole domain of men, exploding into one such field was Shanti Rai – the first female Rafting and Rescue expert from our community, and perhaps in the country too. Through her skills, she and her team have saved numerous lives not only in Darjeeling, but also as far away as Bihar. Shanti Rai has not only entered into a traditional male domain, but she has dominated it, as one of the best in this field.
This is her story
Brief Bio
Name: Shanti Rai
Ama: Baishamaya Rai 
Baba: Sundal Rai 
School: Rangpo Primary School 
H.S: Mining, near FCI Godown 
Working as: Lead guide and rescuer – GTA Tourism, Teesta 

TheDC: Can you tell us about your growing up days, how were you as a child?
Shanti: I loved the outdoors, I still do. I cannot imagine a life sitting in an office, I need to be outside. Right from my childhood, I used to be a very active child, I participated in all the athletic events in school – 100mts, 200mts, Javelin, Discuss throw – everything – and would invariably always come first. I was also a district level football player in the age groups of 16-17. When National Games were organized in Sikkim in 1999-2000, I participated in 100mts race and marathon.
Let's put it this way, anything that would get me out in the open, I would participate in it. I couldn't even sit in the class, I used to feel restless.
TheDC: Your love for Teesta is apparent for everyone to see, how did the relationship begin?
Shanti: I was born in her lap, so obviously she is like a mother to me. I honestly don't remember when I started to play in the river, but that is where I actually felt at home. Right from my childhood, I would try and cross rivers, many a times smaller rivers (khola) would wash me away, but I managed to crawl back. These rivers are also like siblings for me, I grew up playing with them.
TheDC: Teesta is (or sadly was ) one of the fastest flowing rivers in the world, when did you first cross Teesta?
Shanti: I remember it like yesterday; the sense of achievement I felt that day. Imagine growing up with Teesta flowing outside your window, and that urge from deep within, a challenge of sorts since you learn to swim, that no other tests of your skills will do, the only way to know you have learned swimming is if you cross Teesta and her raging currents. I was only 16-yrs-old when I was able to cross her. Mama ko chora ra ek jana sathi pani thyo (she conspiratorially adds).
At the other bank Bel (Bengal quince) pakeko hunthyo – so we crossed to get some.
But what a day it was.
TheDC: How did you get into rafting?
Shanti: See when you grow up next to a river, the river becomes a huge part of your life. As kids, we would get on a tube at Rangpo and float down to our village – Tarkhola. Later we would see the raft, and once a raft came closer to our village we would swim and touch it.
In 1997 a Tashila Bridge Tourism Festival was held in Sikkim, and they had organized a rafting competition, I observed the rafts and at night I crossed the river alone using an oar boat. When my brother found out the next day he was very upset and angry, but I could tell he felt proud of me.
So from then on, whenever they would raft, they started to take me as a helper. Once was enough, I was hooked to rafting. All I wanted to do was ride the raft, I didn't mind being a helper.
In 2000, Tashila Rafting Competition, I came 3rd, I was the only female in my group. It felt incredible. I was offered a job as lead rafting guide.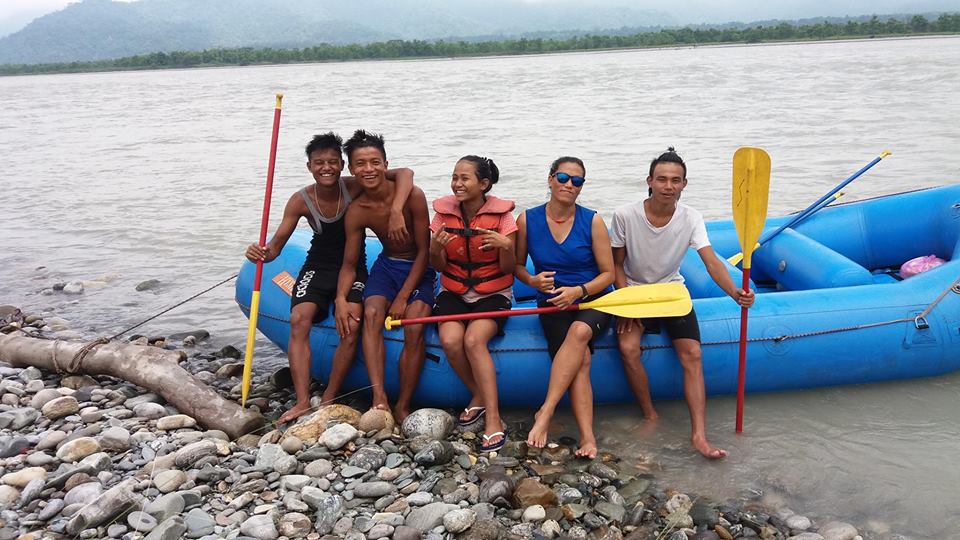 TheDC: Did rafting and rescuing go together? How did you get involved with rescuing?
Shanti: In August 20005, I had gone to Malli as my Cousin sister had died, and was travelling back, and we got caught in a traffic jam. When we reached the spot, we realized a vehicle had plunged down into the river, and someone was trying to find a way to reach the vehicle. The vehicle was stuck in what is known as "boiling AD," the water was rushing from all sides.
When I saw the situation, I didn't think much. I just grabbed the rope and went down. I first rescued one individual, later we made a human-chain and helped rescue a child, then I jumped into the river to rescue a woman, then took one to the roof of the vehicle. Tragically one youth had tried to swim before I could reach him, and he drowned. We were able to rescue the rest. After that I went home.
Later the word spread raicha and many organizations from Rangpo to Kalimpong honoured my efforts with Life Saver's Award. I wasn't expecting that, but that's how my journey as a rescuer began, it was a spurt of the moment thing.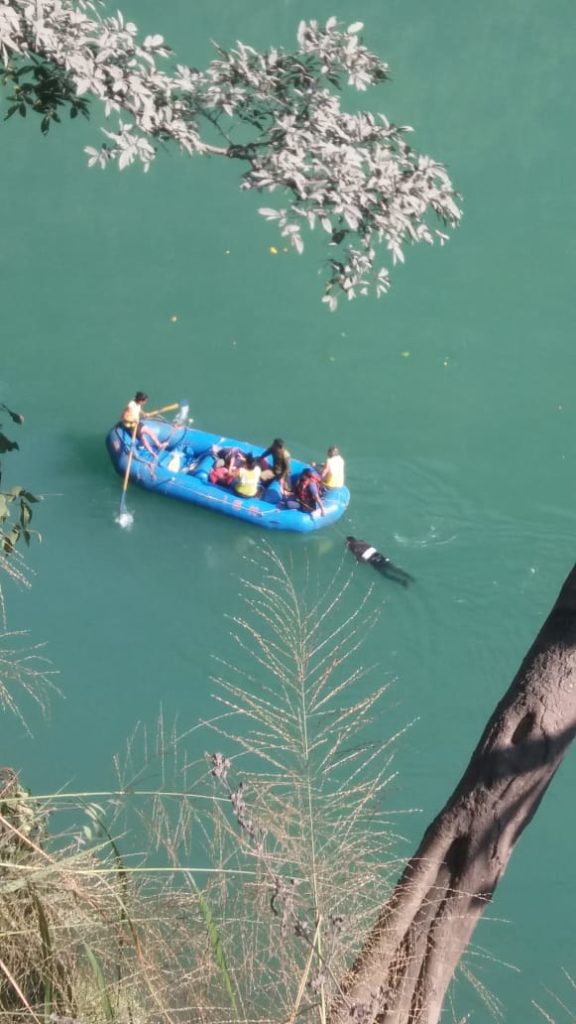 Later when NHPC bridge was washed away due to the raising river, many people were washed away, a few were stuck in an island in the river, we initiated the rescue efforts at around 7 AM and it went on till 11 PM –that day we rescued 250 people.
So it continued like that.
Today I am a member of Himalayan Highway Disaster Management Society, and we rescue people along Teesta.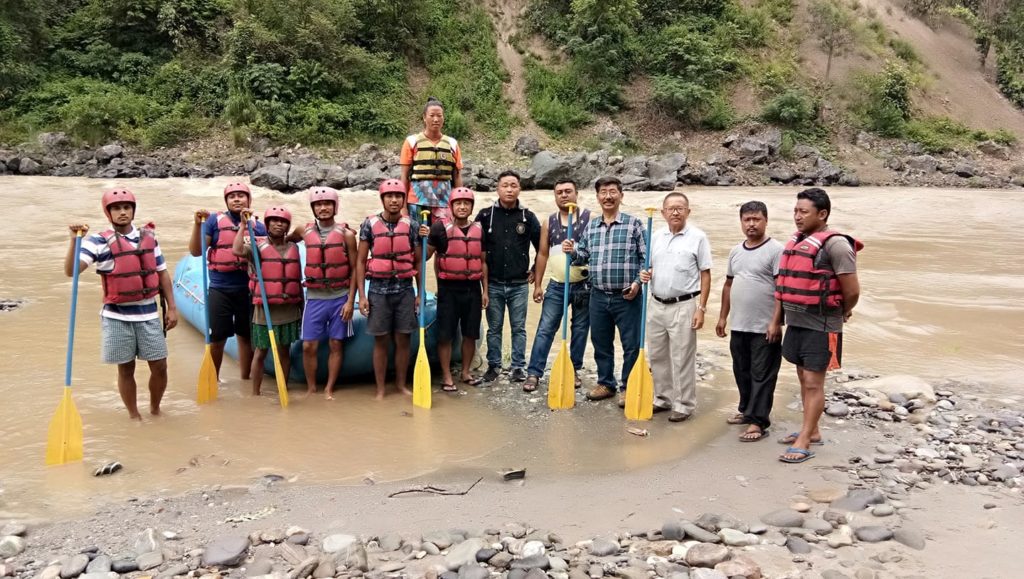 TheDC: Rafters from Teesta have travelled as far as Bihar for rescuing, tell us about it
Shanti: Bihar was flooded and widespread death was being reported. Rafting experts from Teesta decided to form a team and go help the people there. But when my seniors told me not to go as I was a woman, I felt like crying. But I was adamant that I would join the team. Eventually they relented, and we ended up rescuing over 1200 people in Bihar.
TheDC: Let's talk about Teesta, how has it changed in your lifetime?
Shanti: Please don't even get me started. I feel terrible these days. Teesta is no more the same. It breaks my heart, earlier she was free, today we can see her being caged. But we cannot do anything. I feel so hopeless.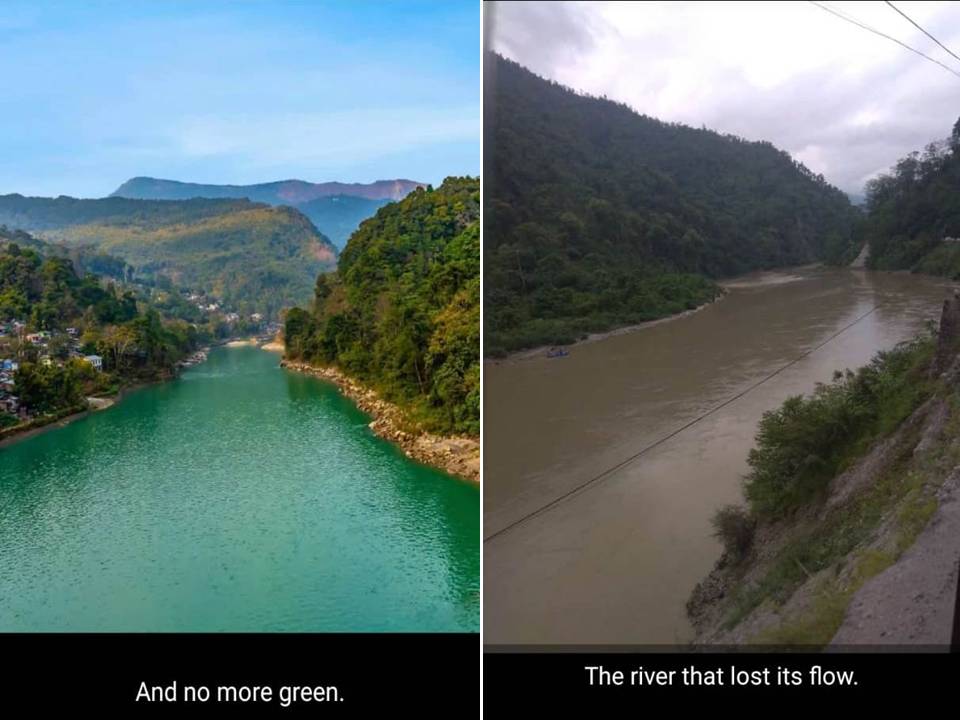 TheDC: How has that effected rafting in Teesta
Shanti: These dams have changed our river. It has become so unpredictable. The rapids have changed due to the river constantly rising or slowing down.
From the dams, they release the water without any intimation, earlier we knew the rapids, now we don't.
People enjoying a leisurely day at Beni (where Teesta and Rangeet meet) have been washed away as the river came gushing down after the dams released the water without intimation.
When tourists come, we take the tourist to the river, and when the river is low, we try to kill the time. But experienced tourists are unhappy. Earlier tourists would see rafts floating down the river and they would want to experience the same. Today the road and the river have diverged, tourists willing to try rafting have drastically declined.
All we can do is hope for a better system to be put in place when the dams release their water so that tourist experiences and safety is not compromised with.
TheDC: What are your thoughts on more female rafters?
Shanti: Honestly, I feel like more woman should join, but due to the lack of training, they don't join. Teesta is not a swimming pool. I have spent my entire life next to her, I learned swimming with her, I learned boating, and then rafting with her. It took a lot of hard work and patience for me to become a certified rafter and rescuer. Having said that, there is always someone willing to teach to those who actually want to learn the skills.
TheDC: Any message to the youngsters, especially those female youths who may be reading this?
Shanti: I fully support those youths who are charting their own course, not listening to what people or the society says about them.
To the young girls out there – be good, we can do everything, we can help others, learn skills, it will help if you help others.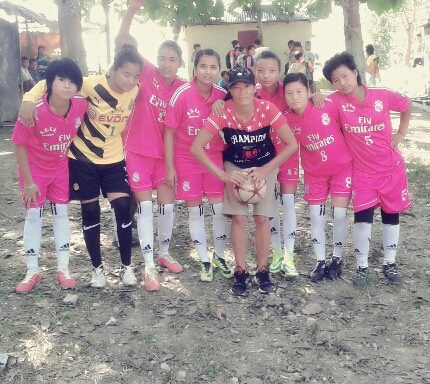 In addition to her rafting and rescuing adventures, Shanti is a football coach too, and currently she is training around 20 children under her. She also trains them swimming.
We wish Ms. Shanti Rai Good Luck in her journey forward, and thank her for being such an inspiration. She has truly proven, there is no limit – one can achieve anything one puts their hearts in.
Anyone who wants to reach out to her, she is usually found rafting from Labarbotey to Malli Bazar. She can be contacted through GTA Tourism Way Side Inn near Chitrey, Teesta.