On June 21st, 2015 we had posted a WAKE UP call to then powers that be in GTA, highlighting how Lodhoma Suspension Bridge was another accident waiting to happen
Therein, we had written.
"We are all well aware of the tragic accident of 2011 in Bijanbari, where the bridge collapse had caused the death of over 32 people. Similar fate awaits the people in Lodhoma. The bridge which connects Lodhoma to rest of Darjeeling is on the verge of collapsing, and if immediate actions are not taken, then very soon the bridge can collapse."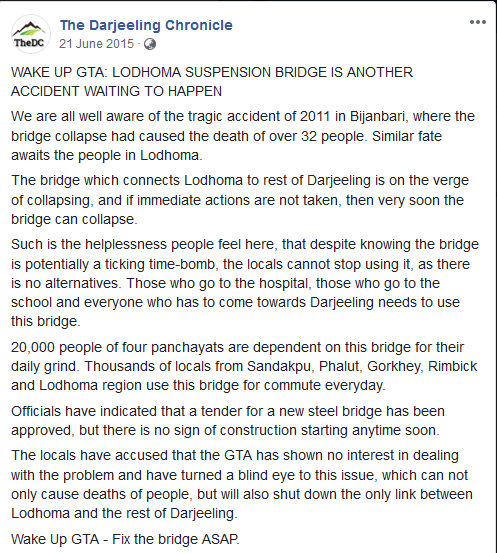 Following this, on June 29th, 2015 the then GTA Sabhasad from Rimbick-Lodhoma samesty Prakash Gurung had clarified that Rs 7.99 crores for a new steel bridge had been sanctioned, and we had reported the same, mentioning,
"Yesterday GTA Sabhasad from Rimbick-Lodhoma Samesty Prakash Gurung said, "a new steel bridge has been already been sanctioned at the cost of Rs 7,990,9638 [Seven crores, Ninety-nine Lakhs, Nine thousand, Six hundred and Thirty eight rupees]"
He added, "the steel components are currently being assembled at Salugarah on war-footing and as soon as the rain eases up a little we will hopefully be able to assemble the bridge and install the same."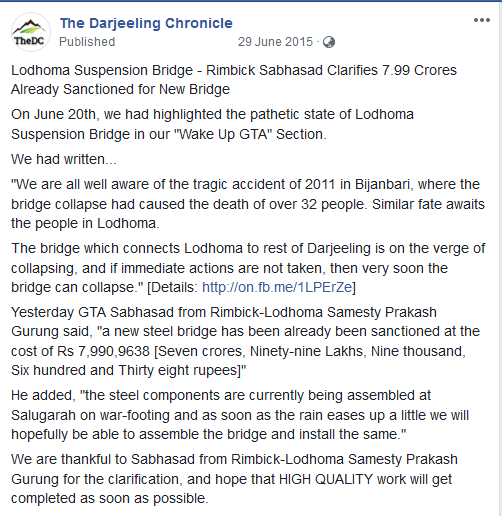 Despite all this, no work had begun, and in September 2015 the bridge had started to collapse. On Sept 18, 2015 we had reported,
"Our worst fears were realized yesterday when the bridge started to break apart.
According to the sources, the bridge started to crack up when a truck laden with good was trying to cross over. Thankfully the truck could stop in time, and was later rescued from the cracking bridge with the help of local villagers."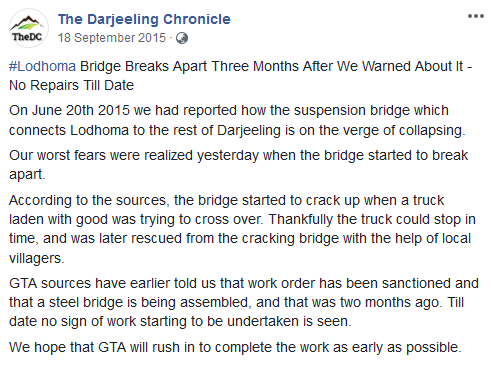 It took four long years, but we are very happy to report that the new Lodhoma Steel-frame Bridge is about to be completed and opened for public use.
The bridge is looking good.
We THANK all the powers that be, who did their jobs well and made it possible for this bridge to be completed.