The Amazon (lungs of the planet) is burning for the past three weeks and this crisis has sent shockwaves throughout the world. The New York Times on 23rd August reported that the hashtag #PrayForAmazons was the top trending topic on Twitter on Wednesday (21st August). It is to be noted that forest fire in Amazon (mostly in Brazil) is not a new phenomenon and is mostly set by humans each year to clear forest patches for agriculture, cattle ranching or for the establishment of industries. However, this year it is different. The National Institute for Space Research (Inpe) reported 74,155 fires in Brazil since January of this year, the highest since the institute started recording in 2013. The dramatic rise in forest fires has been linked to environmental policies of President Jair Bolsonaro (Brazil) which favours development over conservation. While the forest fire has done great harm to local biodiversity and human population around the Amazon, researchers are predicting that this event may even accelerate global warming. Amazon was already dying every year, with about 792,051 sq km forest cover lost since 1970, an area equivalent to that of Turkey. Deforestation decreases the capacity of a forest to sink carbon while accelerated forest fires emit carbon gases which are responsible for global warming. Increase in global warming due to anthropogenic activities is one of the major factors responsible for the extinction of species. Further, deforestation causes habitat loss of many forest species.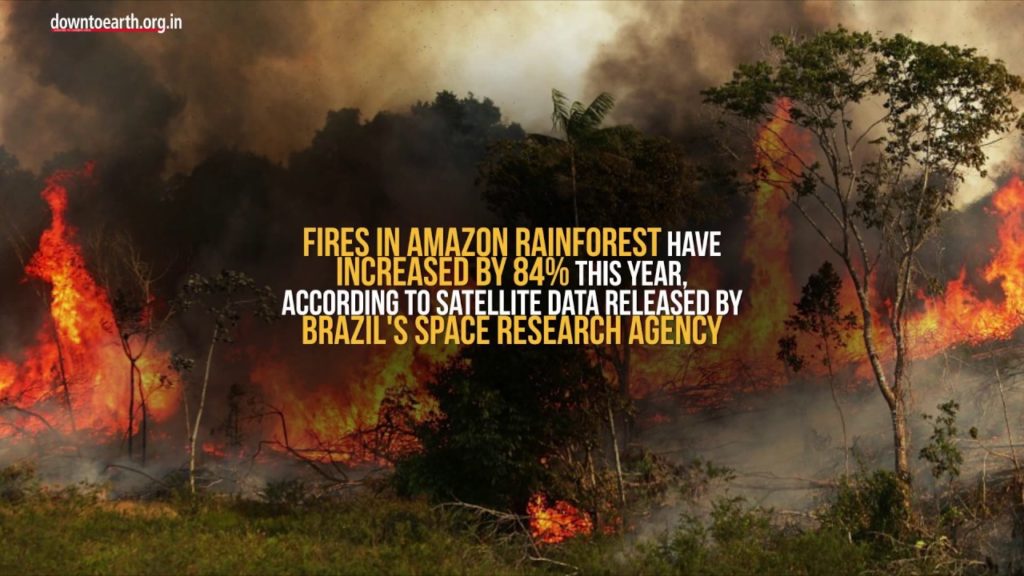 The Amazon forest fire has awoken a long-dormant, human consciousness towards the environment. The Amazon incident made many of us realize that we are in the middle of ecological crisis. The Earth has already plunged into 6th Mass Extinction also referred to as Anthropocene Extinction. Pimm et al. (2014) reported that the current rate of extinction of species is about 1000 times more than the background rate. The scientist estimates that about 0.01 to 0.1 % of total species are becoming extinct each year. Suppose if there are 2 million of species (lowest estimates) then we may be losing around 200 to 2000 species each year! Conservation biologist guarantees that habitat loss, over-exploitation, invasion of alien species, pollution and climate change are major factors driving species extinction. The evidence of the former two factors comes directly from the case of Amazon. Drastic global conservation measure is required to save our dying planet. However, with the presence of representatives like President of Brazil with his anti-environmental policies and Donald Trump, President of the US who firmly believes that climate change is a hoax, saving planet earth may at this juncture may be difficult.
Scenario of ecological crisis in Darjeeling Himalayas
The Amazon crisis has also triggered discontentment among Darjeeling hill population. News on Amazon fires is doing rounds among local people and media houses in the social media, especially in Facebook. While we may be actively campaigning to support Amazon, we may not have realized that our own home, the Himalayas is burning, slowly each year, right under our noses.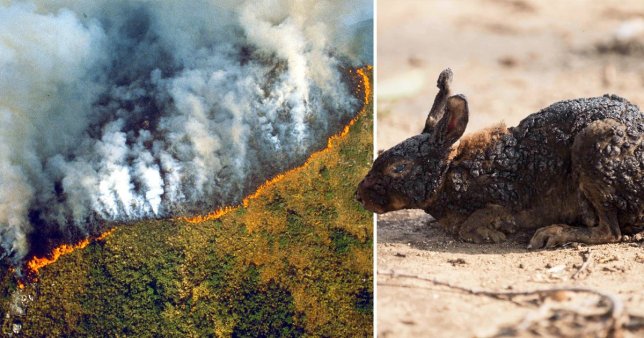 The report prepared by over 200 scientists and analyst at Integrated Mountain Development (ICIMOD, Katmandu) suggests that mountains may see 5.4° Fahrenheit rise in temperature over the end of the decade. If the rate of carbon emission increases even higher, the rise could be about 10°F. Robust scientific data are required to completely understand the mechanism of climate change on biodiversity and human livelihood in Darjeeling Himalayas. However, there is enough evidence to ascertain that climate change is affecting the hills. We know that the temperature of Darjeeling had increased by 0.001°C per year in the period between 1901 and 1996, and at a faster rate of 0.01°C since the 1950s, ever year.
Analyzing the perspective of the local communities on climate change provides secondary evidence.  Chaudhary et al (2011) showed that about 84.4% of people in the villages adjoining Senchal Wildlife Sanctuary and Singalila National Park believed that temperature was rising. According to the study, people had observed early flowering of plants, the early arrival of birds, drying of spring, range shift of plants, early ripening of their agriculture plants, decrease in the snow cover of the mountain peak and arrival of new agricultural pest and infestation in their area. Such phenomena are repeatedly being reported from all over the world by scientists. Acharya and Chettri (2012) reported that climate change has caused changes in phenology and range shift of many species of birds, herpetofauna and butterflies on the neighbouring state of Sikkim. Changes in precipitation pattern is another effect of climate change. We saw extreme cold temperature and snowfall in Darjeeling and adjoining areas at the end of 2018 and the beginning of this year. It was one of the coldest winters, which perhaps most of us had ever seen. However, to fully acknowledge the role of climate change, in this case, needs further scientific validation.
Recent changes in climate may possess significant harm to biodiversity and human livelihood. However, Darjeeling had already plunged in deep ecological disbalance almost around 178 years ago when Dr. A Campbell first started experimenting with tea plantation in the Lebong area and with its success intensified tea cultivation all over Darjeeling hills. Around 17,500 hectares of land falls under the tea estates which amounts to an approximately similar area of forest logged in the past**. The tropical and sub-tropical forest where most of the tea estates now exist has been merely reduced to patches between tea garden. Further, the plantation of exotic Cryptomeria japonica (Dhuppi in Nepali) by replacing our indigenous temperate broadleaved forest has been a major blunder of British India. Habitat alteration and degradation due to agricultural intensification are one of the major factors contributing to the extinction of species. Several studies have reported a low diversity of forest specialist birds, butterflies and amphibian in tea gardens when compared to the adjoining forest area. The plantation of C. Japonica makes the soil acidic which is unsuitable for the growth of native plants.  A mixed forestry approach with the aim to plant broadleaved trees in C. japonica was introduced in 1991 in the hills. However, much of the forest remains strictly monoculture of C.japonica. The introduction of mono-culture tea and C. Japonica cultivation had a great negative effect on local biodiversity. For, example the endemic Small Woodbrown butterfly had been described by Elwes and Moller in 1888 to be very common in areas Ghoom and Tonglu. This species has now become so rare that its only sighting was after 120 years when we rediscovered it in a remote forest corner of Sikkim. Rai and Schemerbek (2018) reported that monoculture C. Japonica in Takdah forest range had lower species diversity than mixed forest. The level of ecosystem services derived from both is controversial.
Apart from climate change and habitat alteration, Darjeeling hills have been infested by invasive plant species like Lantana Camara, which has a black history of being known as "the forest killer". To our shock, this species is being used for fencing in agriculture as well as tea garden areas. Its controlled growth causes the replacement of native vegetation. Its growth is however unmanaged.
The signs above show that biodiversity in Darjeeling Himalayas posses a significant threat. The loss of biodiversity results in the decrease of ecosystem services which we human receive from the environment. The Fire in the Amazon may represent an accelerated phenomenon of ecological crisis but almost unseen, the crisis lurks over Darjeeling, like all parts of the world.  Concrete scientific research is required to further strengthen the level of the ecological crisis we are facing. It is up to the local citizen and the government the bring in robust measure to tackle such crisis. However, like the examples of policies cited above, Darjeeling sometimes is subjected to anti-environmental friendly policies like 1) Construction of tourist lodged in Tiger hill, the only habitat of endangered Kaiser-i-hind butterflies; 2) Intensification of tourism by permitting vehicles other than the LandRover in the Singalila National Park; 3) Construction of Dams in the Teesta river bed, etc, are examples of such policies. Its high time we realize that we are also subjected to a global crisis like Amazon forest fire and only by changing our approaches we can save the environment.
 **(Since tea industry is one of the major source of economy in Darjeeling and supports huge population, the endless debate on economy vs conservation may make way here. My prime intention is to address this article in ecological viewpoint and I have continued to do so. I acknowledge the contribution of the tea industry in shaping our economy).
Writes: Sailendra Yakha Dewan