There is a famous story about this king Satyavrata, who wanted to ascend heaven in his human form. He found a willing partner in Sage Viswamitra – who through his immense powers managed to send Satyavrata to heaven without dying, but Indra, the king of heaven, refused to permit a human to enter the realms of heaven, alive – for it was against the law of nature. Amid Indra's refusal, and Viswamitra's iron will — Satyavrata by now known as Trishank, hung upside down between heaven and earth and there he has remained ever since – in a state of limbo.
This story has a modern-day parallel in how politics are unfolding in the Darjeeling region.
We have a group of wannabe politicians who want to remain in power, without having the necessary public support or mandate. A chief minister with an iron will and immense power who is doing everything to make their wildest dreams come true on one side versus the general public who have taken on the role of Indra, and won't allow them to get elected to power.
In between all this, lies Darjeeling today – in a state of limbo.
Today, no one knows where the final authority rests – is it with the district magistrate, with the nominated chairman board of administrators GTA, with the minister of hill affairs, or the minister of North Bengal development department?
Everyone knows the final say rests with Mamata Banerjee – the chief minister of West Bengal, but no one knows what is the proper order and protocol of power, when it comes to administration inside the Gorkhaland Territorial Administration (GTA) region.
Undemocratic death of democratic institutions
Darjeeling is perhaps the only place in India where elections to Panchayat haven't been held for close to 20 years now. The last Panchayat elections here were held in the year 2000. Had it been anywhere else, people would have hit the streets demanding their democratic rights to a grassroots government, but not so in Darjeeling – where protesting can get you killed, arrested, tortured, and your homes burned down.
So, in the absence of elected Panchayat, grassroots governance has suffered immensely. Various central and state government projects have not been implemented to the extent they could have been. Funds meant for the development of rural regions, have been diverted to earlier Communist Party on India, Marxist (CPI-M) and now Trinamool Congress (TMC) frontal organisations.
For instance, in rural regions, the homes for the needy are built using Pradhan Mantri Gramin Awas Yojana (PMGAY) funds. The beneficiaries for this scheme are selected through the Panchayat where they have all the data regarding various individuals and their financial conditions.
In Darjeeling, the PMGAY funds have been diverted to the so-called caste specific 'Development Boards' – there are 15 of these. These 'Development Boards' are comprised of TMC loyalists who have been nominated to their offices without following any democratic processes or norms. So when PMGAY funds are diverted through them, there have been massive spike in nepotism and favouritism. Those who are friends and relatives of the 'Development Board' members have received first choice in getting funds sanctioned for their homes to be built. Next comes the TMC party members. Those deserving are made to wait for their turn.
For the general public, earlier these 'Development Boards' supplied sub-standard building materials, and later asked for certain percentage as "cut money", but despite numerous protests against this in rest of Bengal, no one in GTA region will protest – because democracy doesn't exist here, and chances of you getting ill-fated will rises exponentially with ever decibel rise, demanding your rights.
So, even in the smallest of rural development projects "Cut Money," favouritism and nepotism rule roost, leaving people to suffer.
As for Gorkhaland Territorial Administration – it has functioned without an elected body since September 2017, when Mamata installed her loyalists as Board of Administrators to run the body, instead of holding elections to it. The same problem that afflicts rural region due to lack of Panchayat elections today afflicts the entire region.
Darjeeling Municipality, established in 1850, is the oldest mountain municipality in India. But since June 2019, even this Darjeeling Municipality is being run by the sub-divisional officer (SDO) instead of an elected body, because the West Bengal government decided to dissolve the current board, after majority councillors joined the BJP.
Today, Darjeeling is perhaps the only place in India where none of the democratic institutions are functioning, and all institutions are being run by nominated TMC loyalists or bureaucrats.
In the absence of elected officials, people are completely clueless where to go to with their grievances. But hey! don't let these bother you, after all these are not "signs of fascism".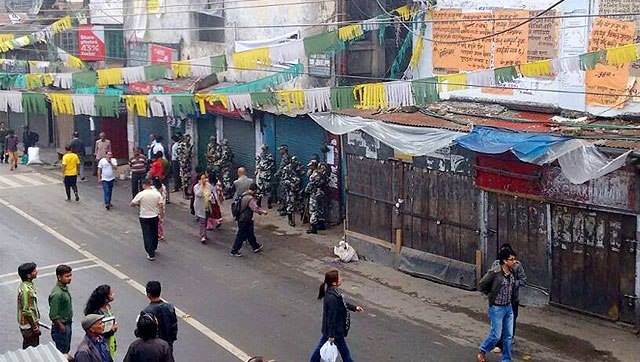 Wasted opportunities in Bengal
West Bengal is today, what late demographer Ashish Bose would have called a "Bimaru" state. A state with immense potential, but stifled by policy paralysis, stagnant growth and lack of employment opportunities, attributable to the inept and corrupt politicians and bureaucrats.
Writing for the Outlook, Zia Haq had said in 2017, "West Bengal, though, offers reasons for despair. A rich, industrialised state in the 1960s, it has slid down the ranks, letting states like Andhra Pradesh and Maharashtra take its place. One reason: de-industrialisation. Between 1998-1999 and 2004-2005, Bengal recorded a fall of 4% in the number of people employed in the industrial sector."
A chart presented by Outlook captures how, West Bengal, once a pioneering state in India, has today been relegated among its poorest. In 2014, West Bengal had a per capita income (measured as Net State Domestic Product and not as part of GDP) stood at Rs 38,000.
Even if we attribute a highly unlikely 10% per capita income growth, compounded annually for the past four years, the average per capita income today comes to a measly Rs 55,635.
The per capita debt burden in Bengal has risen exponentially from around Rs 2 Lakh crore in 2011 – when TMC came to power, to Rs 4.35 lakh crore in 2019 – a raise of around 233% in mere eight years.
Darjeeling hills, Terai and Dooars are one of the most resource-rich regions in India, and it has the potential to become a key economic zone for Eastern and Northeastern India. Every year, this region contributes around Rs 20,000 crore to Bengal exchequer, but only gets back around Rs 5,000 crore in the form of funds for projects and government salaries. Rs 15,000 crore is drained out of here to pay for Bengal's ever growing debt interests.
If the resources of this region can be kept here itself, instead of sending down south to help pay for rest of Bengal's debt, the Darjeeling hills, Terai and Dooars region have the potential to become one of the most prosperous regions in India.
Hopelessly hopeful
Amidst all this, people are still very hopeful that the Central government will finally take a note, and do right by them. BJP's promise of a "permanent political solution" in their election manifesto found wide resonance among the people in the region. It's not just the Gorkhas, even the Bengalis from the district are longing for a permanent political solution to the long-pending demands of the people here.
Peace along with right to governance away from the shackles of debt ridden West Bengal, will help this region to live up to its true potential.
Is the Central government ready and willing to take Darjeeling hills, Terai and Dooars out of the present state of Limbo?
Time will tell.
This article was originally published here.