Pushkar Chhetri, joins Adwiti Subba Haffner in a captivating interview as he talks about his life after the ill-fated accident 20 years ago that left him with a horrific spinal cord injury, rendering him paraplegic for life (paralyzed from the waist down)! Read the full interview of this incredible man who even under dire circumstances has lived like a pukka unbeatable "Gorkha" with courage, grit and "Khaile haar nakhaney" (indomitable will) admirable attitude.
Until 1995, Pushkar Chhetri was full of life, vibrant and a peppy young man. At 25, he was a competitive bodybuilder, an artist, a soldier, a husband, a father, a teacher…. in a split second, flash of an instant the accident snatched away cruelly the use of his legs – he faces life every day now, wheelchair bound but with an attitude that will actually inspire you to be a better person.
In this world of spawning complexity, his outlook in life is astonishingly simple and refreshing as he encounters one challenge after another – tremendous power lies in plain grit and courage and keeps the heart alive! Read on about Pushkar's admirable attitude and how he keeps forging ahead with an optimistic viewpoint despite his handicap and give yourself this opportunity to be truly inspired.
"Hope springs eternal in the human breast;
Man never is, but always to be blessed:
The soul, uneasy and confined from home,
Rests and expatiates in a life to come."
– Alexander Pope, An Essay on Man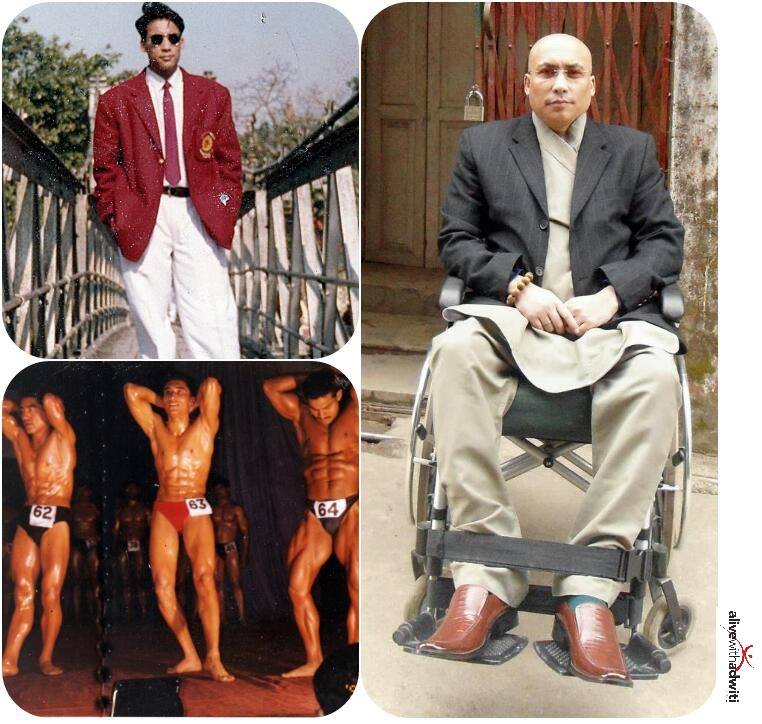 Adwiti: Pushkar, can you please tell me briefly what your life was like before the accident? How did you meet with the accident and what were your hopes and dreams before this ill-fated incident?
Pushkar: Before the accident, I was a teacher of Mathematics and Physical Education at West Point School, Darjeeling in 1995. I had successfully completed my B.Ed in Physical Education in 1994 from Jadavpur University Kolkata.
My hopes and dreams were a little bit different than most, I suppose. I was a bodybuilder, an artist, a soldier and sometimes a writer, along with being a teacher. I wore many hats.
My career was taking off in all angles, because of my active participation and interest in various fields. In 1989 I took part in the Republic day parade in Delhi and was awarded the Governor's medal for NCC. In the year 1990, I was privileged to work in the Border Force Security for a year while completing my college degree. 1992 and 1993 I won third place in the DGHC bodybuilding contests and was selected to participate in the national championship Mr India 1995, sharing the stage with the great Indian wrestler Khali. It was a charmed life. I was enjoying every bit of center stage, drama and had high hopes of bringing more trophies for my hometown.
While working in West Point School I was informed that my result was declared by the University, so I went to Kolkata to receive my course result on 7th May 1995.
I boarded a night bus to go to Kolkata. I met with the accident on the way there. The accident happened at mid-night near Raigunj killing eight people and my spinal cord was broken at D-2 and D-3.
Adwiti: After the accident, you were rushed to the hospital, did you have any kind of insurance? How were you able to cover the considerable sized hospital bills?
Pushkar: Oh how I wished I had insurance, it was a big drain on our already fragile financial situation. This is where the community helped and the sheer kindness of the people of Darjeeling who came forward to assist me for my treatment has been very encouraging. I am so thankful.
My father was working as a watchman in Municipal Boys' School Darjeeling and he was in the verge of retirement at that time and my son was just two years old. I stayed in Siliguri for one year for the treatment.
My friends and well-wishers helped me a lot for my treatment collecting donations by organizing different fundraising events, for this, I am forever grateful!
Adwiti: When did you realize that you were paralyzed/paraplegic and what was your reaction to the trauma?
Pushkar: I was unconscious and only woke up at the hospital in and was stunned and in a state of total disbelief when the doctor told me I would not be able walk again in my life because there was no treatment for spinal cord injury.
My family took me to Siliguri for better treatment. I was under a neurosurgeon Dr M Chang at Santi nursing home. Then I went to Bangalore for better treatment. After staying at Bangalore for three months I went to Vellore for eight months for rehabilitation. At Vellore, I learned everything about my injury and how to manage my daily routine as a disabled person.
My ex-wife helped me a lot during my treatment. I was totally dependent on her for many years. My family and my in-laws helped and encouraged me very much. I was not frustrated with my accident and I tried to push myself along with everyone's support. I started giving tuition to kids for my livelihood. I tried for a job in different Government Offices but in vain. So I started making a humble livelihood with tuition classes. But in the course of time, I had to leave my wife due to some personal circumstances. So I started living with my parents.
Adwiti: Once the first phase of the "thrill of survival" subsided and you were resigned to the fact that you had to be dependent for everyday activities and things that you had taken for granted, how did you feel in terms of emotions, moods, frustration and how did you fight these feelings?
Pushkar: Frankly speaking, it was in my nature to think positive, to be positive. I believe that whatever is supposed to happen will happen. No use crying over spilt milk. The moment I realized that I was never going to walk again I was naturally in a state of shock and sadness, but I quickly realized that thinking about the accident, and what I could have been would only sadden me further and decrease the quality of my life.
So I gathered myself and my resources and decided to live fully- the most I could. Depression was never in my emotional vocabulary. This can happen only if you lived in the past or the future. The only time is the "present" and this is how I deal with everything. This has worked for me. I don't indulge in self-pity or feeling hopeless. I exercise every day that releases the "feel-good' hormones and keeps me fit and energetic. I just believe in life as it is, I have learned to fight and win and keep that deep desire to make it happy and enjoyable life! Hey, I work like a dog too!!
Adwiti: Darjeeling is a developing place, the major earnings are from tourism, are there any facilities built for people with disabilities at all?
Pushkar: Darjeeling is the place for everyone except for the disabled, actually our whole nation is unconcerned and apathetic to the disabled people. We almost do not exist for them where infrastructure of the towns and cities are concerned. We do get Rs 750 every month have 75% concession on railway transport (we have the travel bug! ).
Being a disabled person we are faced with so many difficulties in Darjeeling, mostly in infrastructure. Darjeeling is a tourist place and many people come to visit but few disabled people dare to visit, I think it is because of the infrastructure. It is really hard to go to most public places for us. This place can be healing and soothing because of the views but what can we do?
All the govt. offices are not accessible to the physically challenged people. Even if I want to go to the hospital in Darjeeling to visit some patients I have to climb at least 50 steps. There are no ramps for the wheelchairs! we are treated like second class citizens!
Adwiti: Are there any support groups of any kind for people going through similar experiences like you within the Darjeeling district area where one can share their ups and downs with, discuss their experiences, share ideas, and provide emotional support for one another? Perhaps a help line? If anyone suffered a setback like you where and whom can they approach?
Pushkar: We have very few organizations or communities in Darjeeling or in Darjeeling District to support people like us. But generally, people of Darjeeling are very helpful. Some organizations like the Marwari Samaj ( local NGO) are distributing different kinds of equipment for handicapped people every year. They have donated a couple of wheelchairs to me many years back.
We did have a handicapped people organization for a brief period but it disintegrated quickly. I and some disabled friends of Darjeeling tried to revive the organization but in vain. Here are some NGOs like Hope and Sparsh for disabled people or children. I think there are many like me in Darjeeling but I don't get a chance to see them or meet up with them, because I don't see them around in town. I always hear that someone has died due to spinal cord injury or someone is in depression due to the injury, but they have never reached out to me or that there are no facilities to help people like us in need ( emotional, physical or fiscal).
We do not have any governmental organizations that assist us with our problems ( most important of all ) employment. This is a very important factor, because how much can we live with charity and Rs. 750 that we get, but we are capable enough to do some office work in some governmental organizations.
Adwiti: What is the biggest challenge that you faced during these past few years and how did you pull through? Because of your experiences do you have any suggestions to the community leaders what would it be?
Pushkar: Money, mentality and mobility, in other words, "surviving" itself, everything changes after you lose mobility, you become dependent completely on external help. But I took all these challenges as examination and life lessons. I always think about the present. The time is only now. Thinking about the past and the future is useless. Still, challenges are on the way and I know I have to overcome them with a smile, exercise every day and a good dose of Darjeeling humour!
According to the act of 1995 in India, a quota of 3% is reserved for the handicapped people in the government sector. I have tried so many years to get a job through this but in vain. After many many years of trying, struggling and striving I am not sure what suggestions I can give or make.
Adwiti: I remember our North American Darjeeling chapter helping you with some funding? Please give us a brief idea of the procedure that you chose for your back. In the western countries such dire circumstances can be taken care of by insurance why do you think we, in India, are lacking in that department and how would having that has helped you?
Pushkar: Yes North American Darjeeling Chapter helped me a lot during my second stem cell transplant at Brain and Spine Institute in Mumbai. Actually I learned about stem cell transplant in 1997 when I was in CMCH Vellore. The doctor had told me that only the possible cure is stem cell transplant and it will change the life of a spinal injured person in a few years. So I waited for it for many years.
In 2007 I learned through the internet that stem cell transplant is started in different countries. So I started to look deeper inside the internet for stem cell treatment. But the cost of treatment was beyond my reach, it was more than 50,000 US Dollar for one transplant and it takes more transplants in the course of time. So I was patiently and anxiously waiting for the treatment to come to India. When it arrived finally, I went to Mumbai in 2011 to know more about it. And I went for the transplant in Surana Sethia Hospital, Brain and Spine Institute under Dr Alok Sharma.
My family helped me for my first transplant but I had to go for the second transplant in a few months. So I asked my friend Sameer Roka who is in the US. He introduced me to North American Darjeeling Chapter. Nima Bhutia and Doma Norbu Didi came forward on behalf of NADC. I was relaxed and very happy. I am very much grateful to NADC and my friend Sameer Roka for their support and care for me.
Adwiti: Who is your inspiration? What drives you to be better each day and to move forward in your life?
Pushkar: Mostly my inspiration is my mother. She is a very stubborn and bold but a very kind-hearted woman. Because of her, I learned to fight and enjoy life. Why become a coward? Why choose to be sad when you can be happy? I haven't lost all my abilities, I have lost my legs. She is 76 years old and my Father is 86 years old and still, they believe that their son will walk one day and I believe that too.
Adwiti: Despite your accident, you have managed to financially support yourself as much as you can. What kind of jobs did you do to support yourself and how are you managing now?
Pushkar: All these years despite my accident I have managed to financially support myself by various self-employment sources. Right now I am running a cyber café named Hi-Tech (91-8016270824 ) in Darjeeling, It has been more than two years and I am thankful to my friend who believed in me and allowed me to run her Cyber Café in Gandhi Road Darjeeling.
Now I also run a travel agency called Mandala Tours (91-8016270824) and Travels. I work very hard from morning till late at night but I am very fortunate to have friends, family and well-wishers who have supported me during my early days and until now.
I have faced many ups and downs during my life and being a disabled person was my biggest setback. Initially, I was worried and scared about my life. But time has been the healer for me. I believed in myself and I took my life positively. All is about the present, the past is already gone and the future we don't know yet. I just stay positive and happy and moving forward.
Here is a poem I wrote:
It has increased three fold times,
The burden in my hand,
As it has now become futile,
To push my legs and try to stand,
It was the impact of one mishap,
That has demarcated my life,
Between the worthy past,
And the future full of strife,
There were days in my past,
When my gesture were beyond extremity,
There was a hale of strength inside of me,
That challenged my dreams with vanity,
It was that cursed mishap,
Which still rises my fear,.
It bereaved away my life and dreams,
And now haunts me as a nightmare,
From the moment I woke up,
From my fetal unconsciousness,
I found myself bodily impaired,
And tears washed down my face,
Though I feel the pinch and pain,
On the parts where my senses work,
But my nerves running down,
Have been cut off with the fetal jerk,
Now I have totally lost the flair,
To follow the natural law of living,
Inspite of being firm and conscious,
I have become a different being.
Though my eyes are dry now,
my tears well up within,
But the last drop of doleful sign,
Can always be seen,
Now I have become accustomed and learnt to compromise,
But my spirit shall never die,
To stand on my feet and rise,
I still have faint belief,
In what they say are miracles,
That one-day my tears of mishap shall forever stop to fall.
©Pushkar Chhetri
In this world, there seems to be an asymmetry of praise and appreciation. We, at times, honour some undeserving figures into legendary proportions and then ignore many whose struggles in life has been quietly courageous and real, they are sadly relegated into mere postscripts or that they go totally unnoticed.
Today I invite you to celebrate this unsung hero who is quietly making a difference in the world. Despite his physical limitations, Pushkar lives an inspiring life where his indomitable will and attitude towards living has given people around him new hope and a new outlook in life. A person's courage is revealed when he/she fails, falls in life but gets back up with renewed vigour and courage, to fight and win again.
Send your wishes to Pushkar Chhetri, let him realize that he is not alone and that his spirit is symbolic of all of us going through challenges and that we admire and honour his journey. Wishing Pushkar great success in all his endeavours.
Writes: Adwiti Subba Haffner. She is an entrepreneur, social worker, writer, freelance journalist, world traveller, mother, wife, meditation teacher. You can find her on Facebook and website.