On World Environment Day, we extend our gratitude and appreciation for all organizations and individuals working every day to make the environment cleaner for us. Organizations across Darjeeling have been working hard to create awareness around plastic pollution and how it is impacting our earth and everyday lives. The Himalayan Cleanup (THC) has today become one of the region's popular environment event. Here, we share a report sent by THC.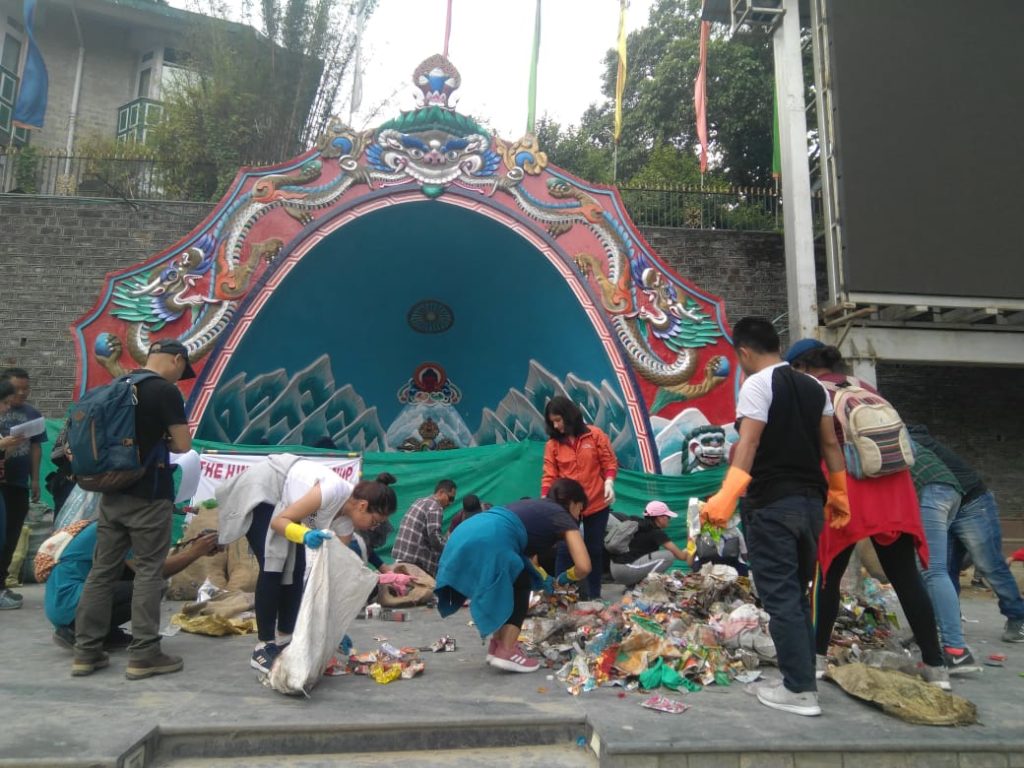 The Himalayan Cleanup (THC) is an annual event conducted on May 26 across the Himalayan states of India by the Integrated Mountain Initiative and Zero Waste Himalaya. It was initiated in 2018 in conjunction with the 'Beat Plastic Pollution' theme of World Environment Day. The main objective of the cleanup is to bring attention the problem of waste in the mountains, specifically single use plastic waste.
In 2018, the Himalayan Cleanup cleaned up 250+ sites from the 12 Himalayan States, with participation of 15000+ volunteers mobilised by more than 200 organisations. It brought to fore the issue of waste in the mountains at the local, national and international level, through a day dedicated to cleaning up our mountains and understanding what is causing the mess. It highlighted the need for a mountain lens to waste management. 'It is just a beginning to know what's in our waste and then reflect on how to reduce them"(Deependra Sunar WWF India)
With the success of THC 2018; the solidarity and volunteerism across the 12 Himalayan States of India (IHR) and the focus it brought on waste, the cleanup was continued on May 26 across the IHR. This year the cleanup was organised across 10 Himalayan states with more 90 sites being cleaned up by around 80 organisations who mobilised around 5500 volunteers on May 25 – 26, 2019.
Important sites that were cleaned up on the day were the Pangong Tso Lake in Leh (which at an altitude of 4,350 metres was the highest site cleaned), Jim Corbett National Park in Uttarakhand, Seven Sisters Waterfall and Tashi View Point in Sikkim along with many others towns and villages in Nagaland, Manipur, Meghalaya, Himachal Pradesh, Arunachal Pradesh and Tripura.
Tiger Hill, 8 Mile Khola, Mall Road and Mahakal Dara, Camellia School to TV tower, Railwayline, Kurseong, Lanku Valley, Kalimpong Municipality, Gorubathan were the major cleanup sites in Darjeeling and Kalimpong.
"The Himalayan Cleanup this year opened our eyes to the enormity of the waste problem that has engulfed our beloved hills of Darjeeling. We realised that it is a difficult and steep climb uphill but our experiment and experience this year of building synergy with the community showed us that it is possible indeed to solve the problem. We are mountain folks after all and overcoming adversity and climbing uphill is ingrained in all of us" Utsow Pradhan, Tieedi, Save 8 Mile Khola campaign.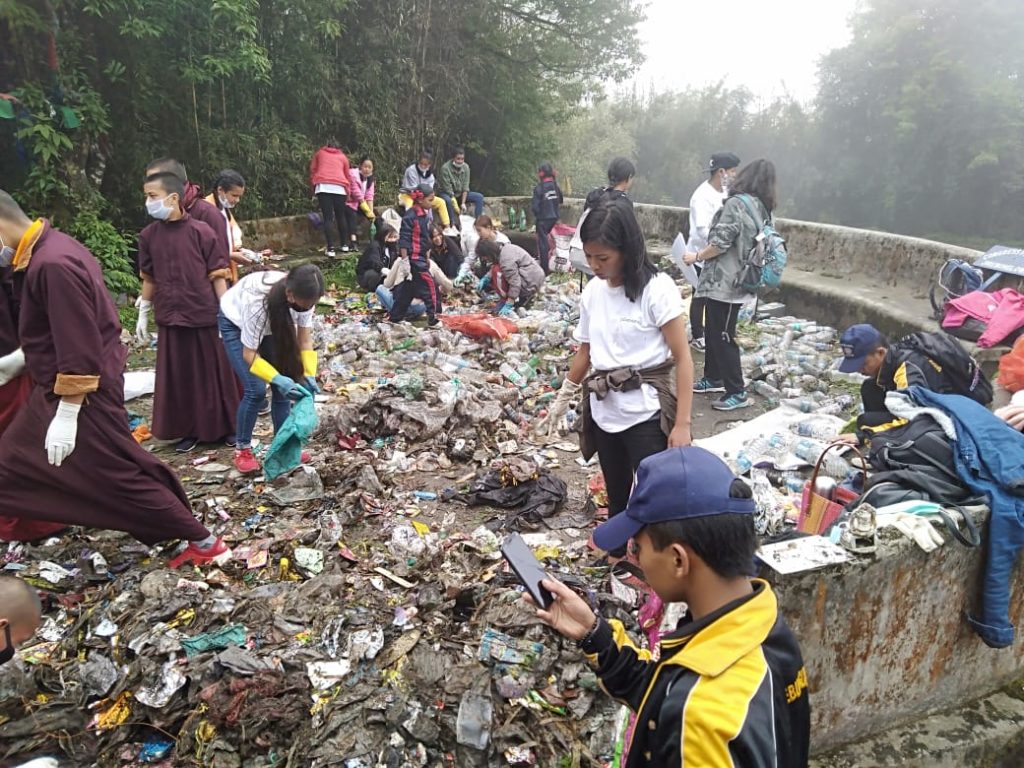 The cleanup was organised following uniform protocols of conducting a waste and a brand audit after proper segregation of the collected waste. The main categories were PET bottles (water/ soft drink bottles/ oil), Multilayered plastic (chips/ biscuits/sweets/shampoo/gutka), TetraPak cartons (juice,milk,lassi), Other plastic items (shampoo jars/buckets/ containers), Single use plastic (plastic bags/straw/ plastic spoons/ plates/ styrofoam cups and plates), Glass bottles, Tins/ Cans and other metal items, Paper, Cloth/ Textiles, Others. The different categories of waste were then counted by numbers and also weighed separately. Brand audit was conducted for the branded plastic items, as the top polluting companies emerged during the cleanup, volunteers also took pictures of those waste and post on social media tagging the companies.
For disposal of the waste, all recyclables were given for recycling to the scrap dealers, and support from the Governments, Local bodies were sought for transport of the ultimate discards of the unsegregated waste to the nearest dumping site. Some resorted to make eco-bricks of multilayered plastic collected since there is no existing solution as yet. The Himalayan cleanup was a zero waste event where no single use bottled water and packaged food was consumed by the volunteers.
The Himalayan level data generated forms valuable inputs to any policy level exercise and towards advocating for extended producer responsibility with companies whose products create maximum waste in the mountains.
The cleanup provided space for participants to get their hands dirty and reflect on the challenges of existing consumption patterns and waste so that they move towards sustainable lifestyles. With the campaign being conducted simultaneously across the mountain states, it generates enough participation and publicity to continue bringing the mountain's waste issues to the forefront of the nation's attention as well as influence community and local bodies waste management practices towards sustainability.
"While auditing, had a sense of guilt realising how much we are adding to the plastic waste…infact our kids have vowed not to chew gum from now onwards" Bibaychana Sharma, Himali Boarding School Kurseong.
The data from the cleanup shall be compiled at a Himalayan level to generate an understanding on the types of plastic waste that are polluting the mountains, which should lead to improved and sustainable waste management solutions in the long run.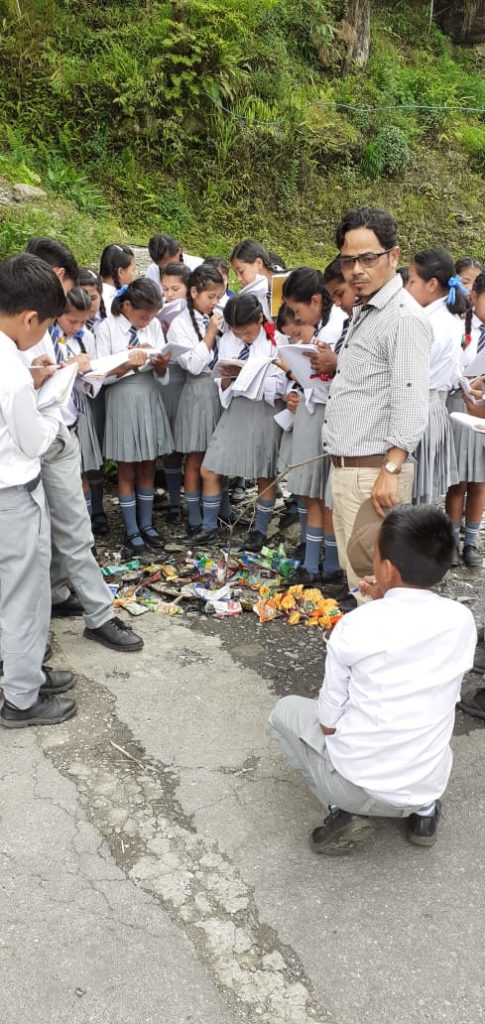 Multilayered Plastic, PET Bottles, TetraPack and single use plastic topped the waste audit in the Darjeeling and Kalimpong Himalaya. The Tiger Hill cleanup hosted by Scavengers, and Mahakal Dara cleanup hosted by Zero Waste Himalaya brought about plastic waste that are used for religious purposes. This plastic waste at religious sites have been a recent phenomenon and needs to have specific solutions designed for it. There needs to be a comprehensive planning and action around it with the involvement of all the stakeholders.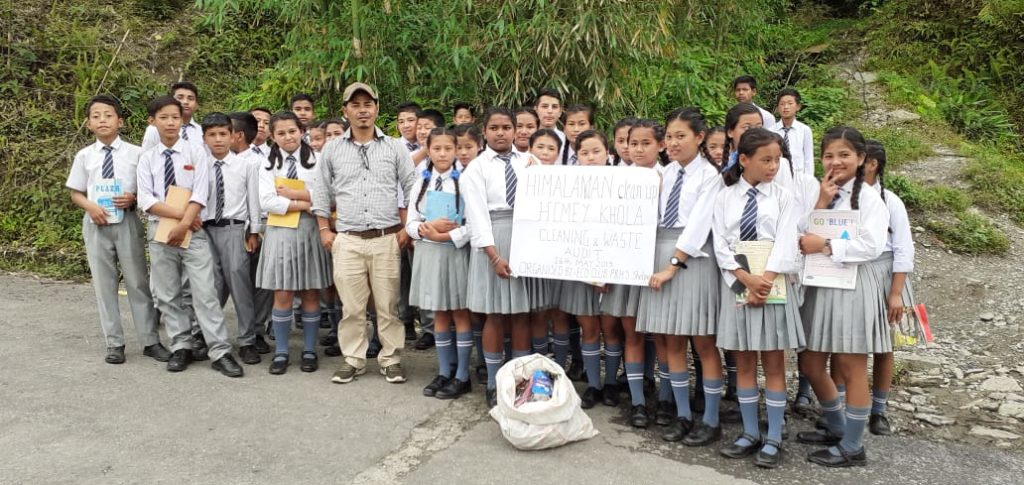 Scavengers, Anugyalaya DDSSS, Eco Club,Panchabatti HS School, Shelpu, Mount Carmel School, Kalimpong Municipality, Himali Boarding School Nature Club, Loreto Convent, Camellia School, Gyanoday Niketan, West Point School Darjeeling, Sai Sundaram School, Dilaram, GreenHill English School, Salesian College, Sonada, Gaun Chemek Saamaj, Vineeta Gram Samaj, Sai Samiti Ward No 9, Mukh Band Kam Suru, OKC Monastery, Sinchel Mandir Committee, Congress Primary School, MTB, Ghoom Degree College, Southfield College, ATREE, WWF India and DLR Prerna, Reyso, Earth and Home were the participating organisations besides many individuals who join the Himalayan Cleanup in Darjeeling and Kalimpong.
"For our children there must be something to look forward to, for that, we have to realise that we are destroying our natural resources, tiring out our land instead of using it to increase its usefulness by being wasteful. We are supposed to hand down an amplified, prosperous and beautiful world to the children and not the other way around" Shivangi Hamal, Camelia School, Darjeeling.
"We need to be responsible to minimise our plastic waste, for that we need to start somewhere and there is no better time than now" Roshan Sharma, DRDC, Swacch Bharat Mission.