Himalayan Cleanup Campaign in the past has revealed many dreadful facts, research scholar Noel Giri analyzes some aspects of this
"The world is changed by your example, not by your opinion." – Paulo Coelho
Today, July 3rd, we are celebrating International Plastic Bag Free Day. Plastic is one of the things that have become an integral part of the lives of all of us. Now, we have range of forms, types and purposes of plastic. However, due to the growing negative impacts of plastics, lack of proper management and lack of alternative concrete arrangements to reduce the growing interest in unbalanced use, today, the problem of plastics has become a daunting challenge from dustbins to globally. We don't have to tell anyone about the various negative impacts of plastics in our water, land, environment, health etc. Almost everyone is aware of the negative effects rather than the positive ones. Unfortunately, the problem of plastic pollution has become more complex today due to the lack of willpower towards the solution of plastic pollution.
From India's perspective, the plastic (polythene) industry in India has been developing since 1957. By 1979, plastics had become a marketing brand in our country. The use of plastics seems to have gained momentum since 1994, when soft drinks were first introduced in plastic bottles. Since 1994, the use of single use plastic and other form of poly-bags has increased exponentially.
According to the Central Pollution Control Board (CPCB) report 2018-19, India produces 3.3 million metric tons of plastic waste annually. The seriousness of the situation in India due to plastic pollution and its adverse effect is, about 90 percent of plastics falls under single use plastic category.
On the occasion of World Environment Day 2018, the Prime Minister of India Narendra Modi had announced a complete ban on single use plastics in India by 2022. He also reiterated this announcement on the occasion of Independence Day on 15 August 2019. In addition, addressing the G-7 Summit on 26 August 2019, the Prime Minister made same announcement on the global forum. Unfortunately, by 2021, the government's move to ban single-use plastics is often ineffective.
Since 2018, "The Himalayan Cleanup Campaign" has been organizing every year under the joint venture of Zero Waste Himalaya and Integrated Mountain Initiative (IMI). The main objectives of this campaign is to give priority to the citizens living in the Himalayan states towards sustained environment of the Himalayas and its importance; collection of various waste, proper waste management measures and proper assessment of generated waste (especially plastic waste in various forms).
This year too, the first phase of the "The Himalayan Cleanup 2021" online campaign was held from May 26 to May 30. This year's camp, in view of the Coronavirus pandemic, was to assess and evaluate the waste generated in our homes; named as "The Himalayan Cleanup from Home". Launched by a total of 368 entries from about eleven Himalayan states and Union Territories of India the five-day "The Himalayan Cleanup from Home-2021" campaign was attended by about 184 participants who have successfully submitted data and waste audit report on five days of total household waste category, degradable or non-degradable waste forms, various category of plastic and successfully audited the various types brands and manufacturers of plastic waste. Participants in the first phase were from the Himalayan states and Union Territories of India viz. Nagaland, West Bengal (mainly Darjeeling, Kalimpong and Siliguri), Meghalaya, Ladakh, Sikkim, Assam, Himachal Pradesh, Jammu and Kashmir, Arunachal Pradesh, Mizoram, Tripura.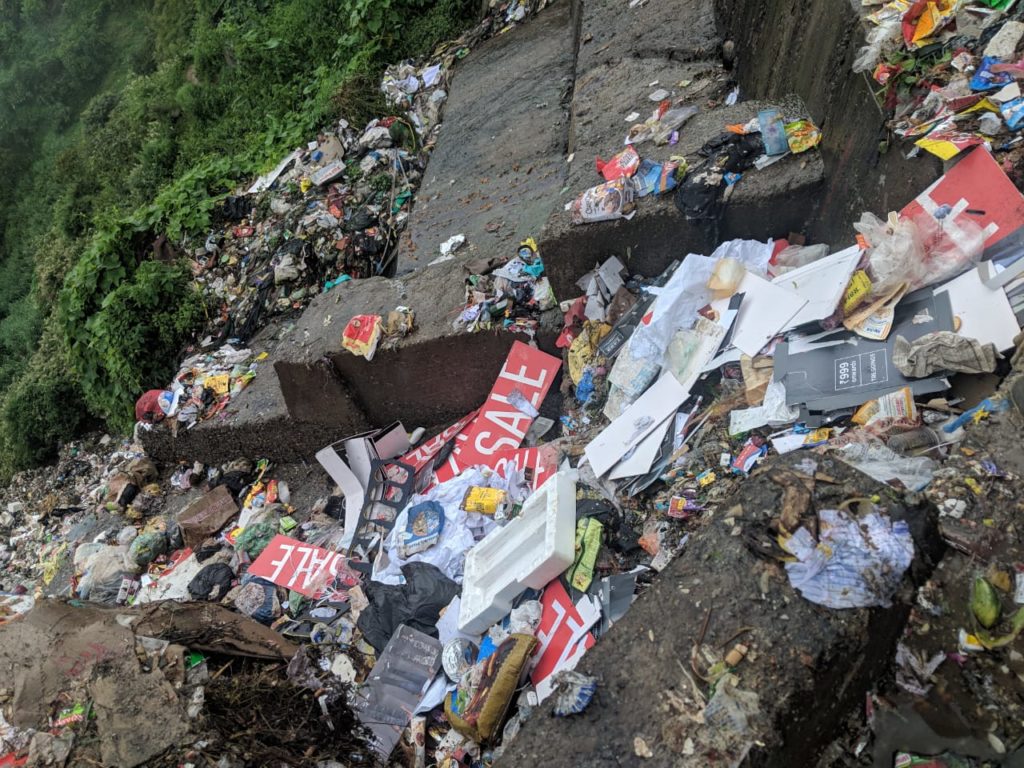 The following conclusions have been drawn from the waste audits and studies conducted on waste, especially domestic waste; on which we all need to pay attention:
It is found that 80 percent of the garbage coming out of our households is plastic.
60 percent of plastic waste is found to be multilayered plastic.
Only 32 percent of the plastic waste is recyclable plastic, while 68 percent of the plastic waste is non-recyclable plastic.
While 58.8 per cent of the plastic waste produced from our homes is only packets / packages of various food items; 16.7 per cent of the plastic waste is known to originate from items used in our personal health and hygiene.
In addition, the audit of various manufacturers and brands in the garbage has revealed that Hindustan Unilever, Asian Thai Food, Nestle, PepsiCo, Hindustan Coca Cola, Choudhury Groups Foods (CG Foods India) and Parle Products are known to be the major polluting companies and brands in our pristine mountainous environment.
Similarly, in a brand audit conducted in 2018, Coca-Cola, Nestle and PepsiCo were identified as the major polluter brands in the mountainous region.
Plastic waste problems can be initiate in a large scale to a low or even individual level as follows:
Proper solution and management of plastic waste at individual level can make our daily routine somewhat balanced and eco-friendly. Let us get in the habit of eating home-cooked food instead of junk/ready-to-eat food items.
Let's do our shopping locally rather than the items available in the package in bigger shopping malls. Let's carry our own bags when we go to the market or to buy and sell.
Get into the habit of buying large quantities at once, rather than buying small items over and over again. This will get rid of unwanted small plastic packages.
Now is the time to make the various brands and manufacturing companies in our daily lives more accountable with waste issues. Different brands and manufacturers need to take their plastic packages (which are mostly multilayer) for proper disposal or management. At the same time, it is time to hold various brands and manufacturers accountable for arranging degradable or eco-friendly packaging.
We buy the items that come in many packages concerning our health, hygiene and convenience. Unfortunately, many packages do not bears proper labelling. It is the right of the customer to have accurate information about the ingredients he/she buys and the manufacturer must provide that all sorts of information accurately. However, manufacturers are making a lot of revenue without providing proper information on the composition of the items to be purchased. That is why accountability should be fixed against manufacturers and brands.
In ​​addition, it is necessary to accustom oneself and the coming generation for environmental protection, awareness, eco-friendly lifestyle etc. We can also protect our environment by reducing the amount of plastic in our household waste. In particular, we need to keep practicing to avoid of 'Single Use Plastic', which is used only once and goes to the garbage. Plastic pollution is not only harmful to the environment; it is also harmful to our own health.
Therefore, let's not just associate plastic with our convenience. Let us consider plastic waste as common problem for all mankind and it requires every citizen to take serious role of individual in environment friendly plastic use and proper management of it.
Let's move towards making our environment and lifestyle more eco-friendly than plastic-friendly.
[Writes: Noel Giri, Sukhia Pokhri (Darjeeling)]