A former Product Head at an E-Learning company, Utsow Pradhan from Kurseong left a promising corporate career to find his true calling in permaculture farming. A pioneering social entrepreneur and one amongst the very few permaculture practitioners in Darjeeling Hills, Utsow is also a trained mountaineer from the prestigious Nehru Institute of Mountaineering, Uttarakhand. Along with some friends, he runs TIEEDI (Take it easy, easy does it), an eco-tourism project in Darjeeling Hills, and is associated with several environmental projects like river rejuvenation and anti-pollution campaigns.
Utsow was recently honored as a Local Environment Champion title by Scavengers Darjeeling – a youth-led initiative in Darjeeling. TheDC team spoke with Utsow to know more about him, his ideas and his journey.
TheDC: Congratulations Utsow on being conferred the title of Environment Hero for your pathbreaking work towards environment awareness. Can you share a little about yourself, your work, and what drew your attention towards nature and environment?
I was born in Kurseong and studied at the Goethel's Memorial School. After studies, I went looking for jobs in Delhi where I stayed for a couple of years. From Delhi, I moved to Hyderabad to join an education start-up in the e-Learning industry. I was working as the Product Head of the company overseeing production and delivery of learning across the country.
Growing up in the 80, we got a chance to play in Nature. During the winter holidays, we used to go swimming to Hussel Khola (local river) in Kurseong. Even during the dry winters of December, there used to be abundant water flowing in the river for us to go swimming, but the river now dries up by October-November.
On every visit, I saw the Hussel khola drying up slowly. The river was something close to my childhood memories and I felt a strong pinch to see it every year. That concern always remained in the back of my mind but I remained busy with work. At that point, I was managing multiple projects across the country for the company. The job was exciting, I was professionally growing, learning and discovering new opportunities in life. The idea of a drying river back in my hometown was something that hadn't registered strongly in my mind at the time.
During vacations and job-breaks, backpacked extensively across the Himalayan regions in Uttarakhand, Himachal, Jammu-Kashmir, and Nepal. However, I couldn't help noticing the dying ecology everywhere, no matter how well you manage your carbon footprint or avoid creating waste.
The first step is not always the easiest
In 2015, I finally quit my job, sold off my apartment, and backpacked across the Himalayas and Northeast region. I wasn't sure about what I would do next until I landed in Uttarakhand a few months later. There, I attended an introductory course on permaculture at the Himalayan Farm Project.
The philosophy of permaculture completely resonated with me and I was inspired by what was happening in the field. I realized that the idea of Permaculture was not something new; it was more about building a natural harmony with the understanding of the environment around you. That resonated with me; it was something that I identified with.
Following the course, I found out through my friends about the Permaculture Design Course (PDC) offered Darjeeling itself by Rico Zook along with Darjeeling Prerna for about 15 years now. The PDC is a 14-day course that provides a detailed immersion into the philosophy of permaculture.
Designing and Developing a forest
After the course, I decided to start a Permaculture farm in a family-owned piece of land. It was an abandoned factory site for hollow blocks set up by my father during the 1980s. The site was not an ideal choice for a farm or nature project as it stood right next to the highway point, was crowded, vehicles passing, polluted, noisy, with a drying river passing right through the farm site. But, we didn't have a choice.
Along with some friends, we set up the base and started working on the design. The first objective was to clear the wasteland, remove plastic pollutants, and revive plantation. We decided to pick up the most wasted part of the farm and began clearing up the area. It was true horror what we witnessed there, nothing short of molestation and disgrace of nature. The place was strewn with plastic, to that extent that we found plastic bags wrapped around the roots of a tree growing 3 feet under the ground. So far, we have collected over 3700 packets of plastic waste and planted over 500 trees in the first phase.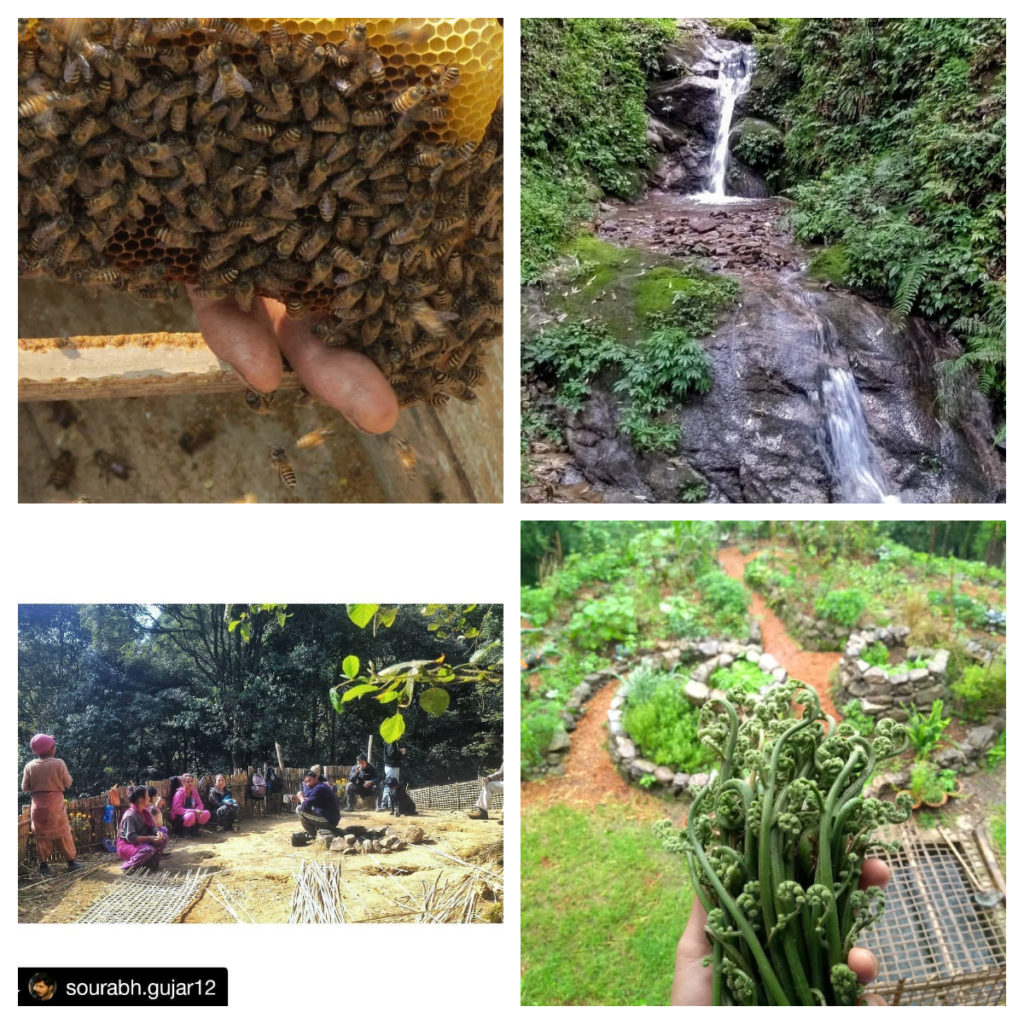 River Cleaning Project
The next step for us was to revive the stream that passed through the farm. Cleaning the river required larger public participation and willingness from the neighbors. When we moved in here, most people living around this area did not have a septic tank for toilets. Even human waste from the toilet was directed straight into the stream. After consultation with the people, we helped in building septic tanks for all households. From the collected waste in the tanks, we have built a system to generate compost and cooking gas.
TheDC: Is TIEEDI Forest Garden a social initiative or an NGO?
No, we are not an NGO. Very consciously, we have registered TIEEDI as a private company to make it sustainable and help people make a livelihood and support local entrepreneurship ideas. The general philosophy around the idea is that you can even convert shit into compost and find a lucrative idea with it.
The TIEEDI Earthy Dwelling farm listed on TripAdvisor has some terrific reviews of your eco-tourism project. Some people call it a spiritual experience and most of them vouch on your hospitality and authentic Darjeeling experience. Can you tell us more on this?
The eco-tourism project was a small experiment that has become quite popular with young travelers. We have received good reviews on TripAdvisor that brings us the opportunity to connect, host and meet wonderful people from around the world. We train local youth in different eco-tourism vocations and trades like homestay, hiking, and guide service to help them earn a livelihood.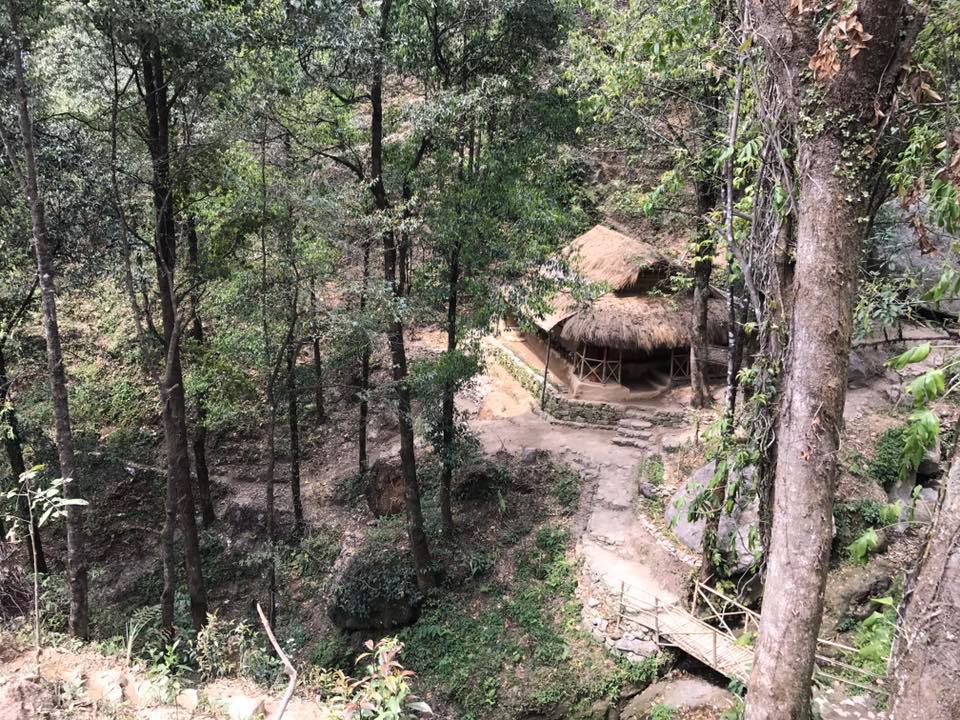 While we are reviving the place, we also started exploring eco-tourism ideas and began with building small mud-huts in the site. We are currently researching ideas to revive traditional building methods using bamboo, mud, and natural resources. We are excited to learn about the indigenous tradition of treating construction bamboos with Haldi (turmeric) and Chuna (Limestone powder).
We have recently started working with local organic farmers in the region and helping them to organize under different co-operatives. We participate in the weekly Sunday Haat market in Siliguri where we sell locally grown organic vegetables, fruits, local handicrafts, home-made pickles, and different local items. We also speak to 'conscious' buyers and try to promote the products.
TheDC: As a full-time profession to permaculture farmer, how challenging was the job switch from the corporate to the agriculture sector?
For me, the biggest challenge was to try and change people's mind. Most people were bemused and some thought we were acting smart having lived in the cities. Even though we were from the same place, we were still outsiders when it came down to convincing people to change something they have been doing all their lives.
So, from the very beginning, we were conscious not to take a moral high ground on anything, even though it was seemingly wrong. The idea is to inspire people to engage rather than force feed them the 'right way'.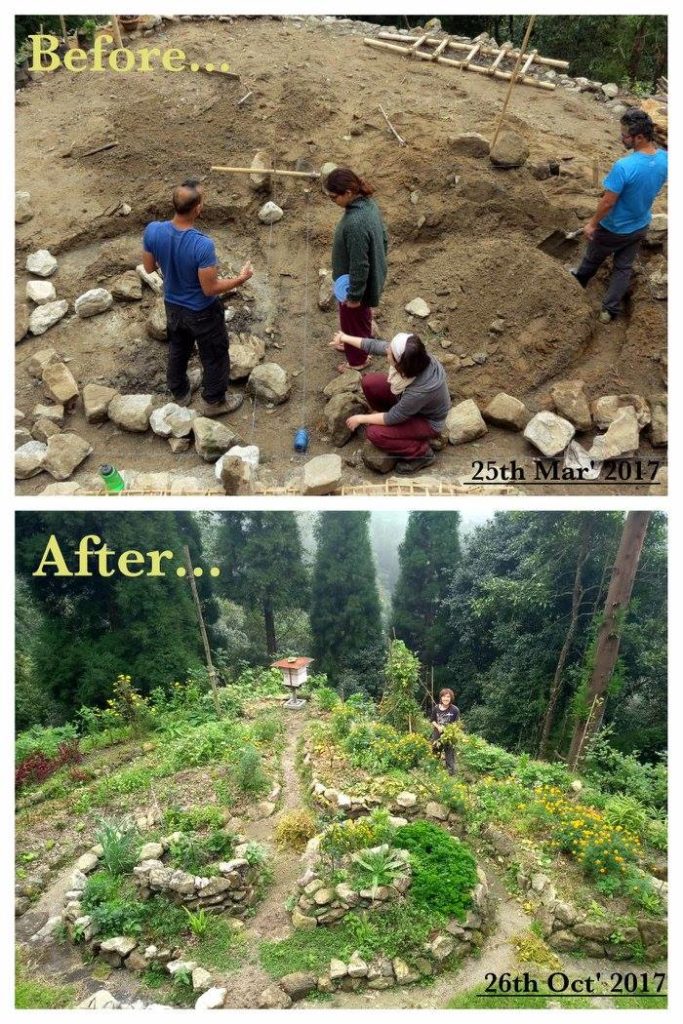 TheDC: What is the Next Big Project you have in mind?
We have launched a project called 'Save 8 Mile Khola' project, a community initiative towards rejuvenating and restoring one of Darjeeling's last living rivers. It will be a catastrophe for the already fragile ecological system if this critical river dies. As part of the project, we regularly clean up the river beds, clear off the plastic waste, and educate people.
But to take up a project as big as cleaning 8-Mile river is too big for the community alone. The government agencies must intervene in the efforts and meet the public mid-way. Both the public and the government need to shoulder the responsibility to bring about this change.
TheDC: How do you assess Darjeeling on the front for environmental fragility?
The situation of Darjeeling is extremely fragile due to the unplanned urbanization, dying water bodies, and rivers, changing climatic conditions. Recently I was attending a conference where the experts were discussing the pollution level in Darjeeling, which surprisingly was worse than Kolkata on many measures.
The problem is not just the creation of waste, it is also the disposal of waste. In most Indian municipalities, we simply dump waste from one place to another. But the waste is never disposed-off completely but ends up piling in another place. We recently met with the bureaucrats and municipal officials to work out on a long-term solution to the waste disposal issue in Darjeeling, rather than finding a new dumping site to temporarily fix the issue.
In our farm, we collect about 100 kgs of organic waste ever alternate day from the nearby areas to use in our compost. But, besides the little organic waste we collect, there is a huge amount of other wastes. That will require an industrial level of waste disposal and processing system which only the government can help with.
TheDC: How do you involve the community such such initiatives?
For us, the journey has been a fantastic earning experience and wouldn't have been possible without the goodwill and support of many good-hearted individuals and organizations. People have gone out of their way to accommodate us. We collaborate closely with Salesian College to conduct public awareness campaigns, workshops, and train students on various aspects of environmental protection.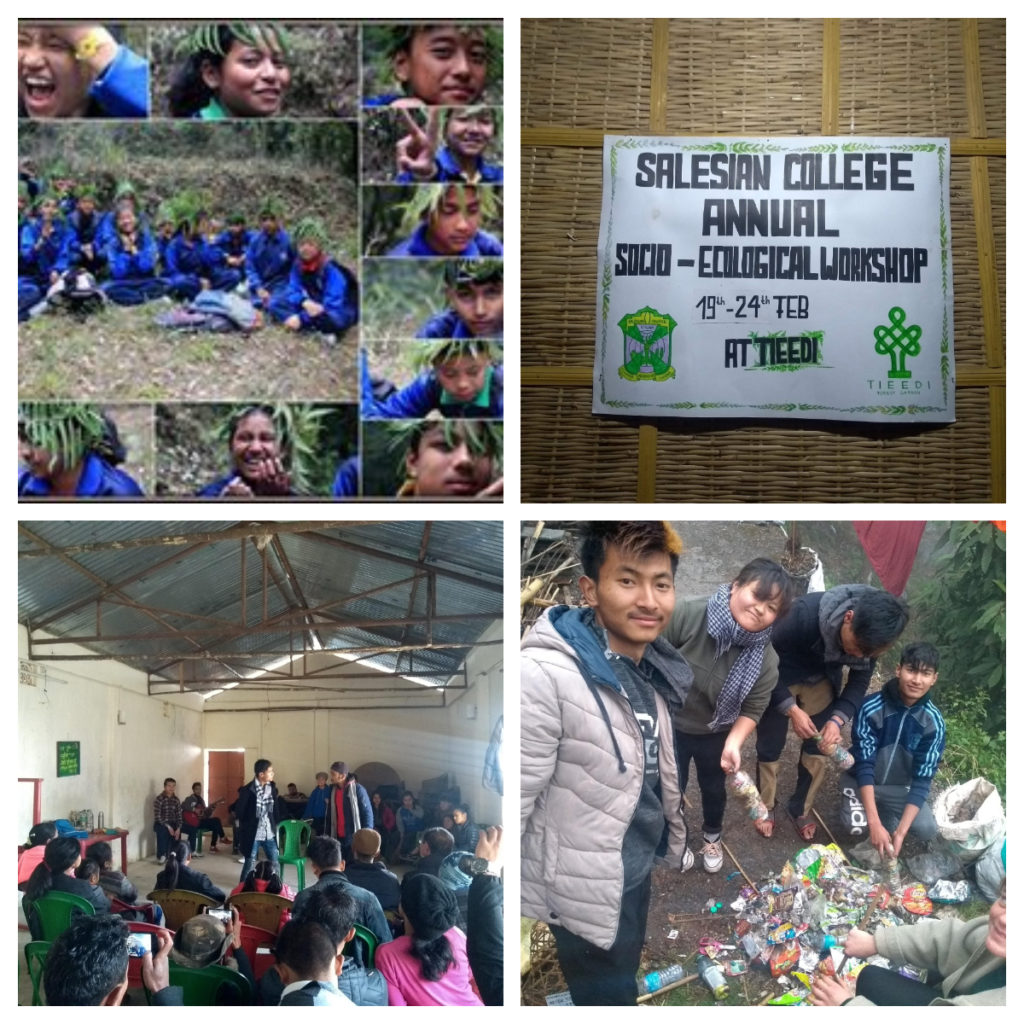 We love working with the students as they always bring some fresh perspectives and great learning opportunity on the table. Their young energy and unique project ideas are always fun to implement and impactful. Recently, we launched the 'Plastic eco-Bricks' project where we went around different villages encouraging people to collect plastic wastes. For every 300 grams of plastic packets collected, we would pay Rs 5 we collected through donations from amongst us only. The initial findings from the project are exciting and highlight the promising potential for such community-led initiatives in Darjeeling Hills.
We also have support from businesses like Himalayan Java Cafe who donate us their ground coffee waste for the compost. Local mill owners provide us rice husk and many other people who help us in different ways every day. My basic understanding is for any social idea to succeed, it has to grow organically from within the community. Force-fed ideas or good and bad doesn't work until the people see the change for themselves.
TheDC: What message do you want to deliver to the youth and the community at large?
The change has to be self-motivated which only comes when people understand the gravity of the situation. Awareness and self-realization happen only when people begin to see the change happening around them.
The Darjeeling Hills, as we know is already grappling with various issues, political, social, economic, and thousand others. One critical issue in the list is concerning Ecology and Environment protection. We must not forget that the biggest resource we have here is our environment, the flora, fauna, and the natural eco-system in the Hills. The environment is the foundation on which everything stands for us. If we must make sure that the ground where we are standing is solid, many other problems will be reduced if we have this taken care of.
Once, after a tiring workshop in Darjeeling, a group of students from Salesian College had recorded a song called 'Haamro Darjeeling' at the end of the day. The beautiful lyrics and music were composed on the spot and published on Youtube. It is a simple song but resonates the kind of ideas we discuss and the strong connection we feel with our Darjeeling Hills.
TheDC wishes to thank Utsow for his contribution to the society and we are sure that his efforts will inspire many young people to do their bit towards the environment and community at large.