Bishnu Thapa, a teacher by profession and an environmentalist by nature, is on a mission to rejuvenate the natural springs and streams of Darjeeling.
A reluctant student of Bioscience, Bishnu Thapa, wanted to take up Physics or Chemistry to brighten his job and career prospects. "It was not until my Masters Degree program that I realized what I was studying is actually a part of the environment I was living. Establishing the connection between my academics and real-life situation allowed helped me to understand how I could use my studies to help my place and community." From what began as a humble effort to revive streams in his village, Bishnu Thapa is today collaborating with the WWF to rejuvenate 5 water bodies each in Kalimpong and Darjeeling areas.
For his contribution towards preserving the environment, Thapa was recently honored as a Local Environment Champion by Scavengers Darjeeling, a leading platform for supporting various youth-led initiatives in the region. TheDC spoke to him to know more about his projects and share his inspirational work for society.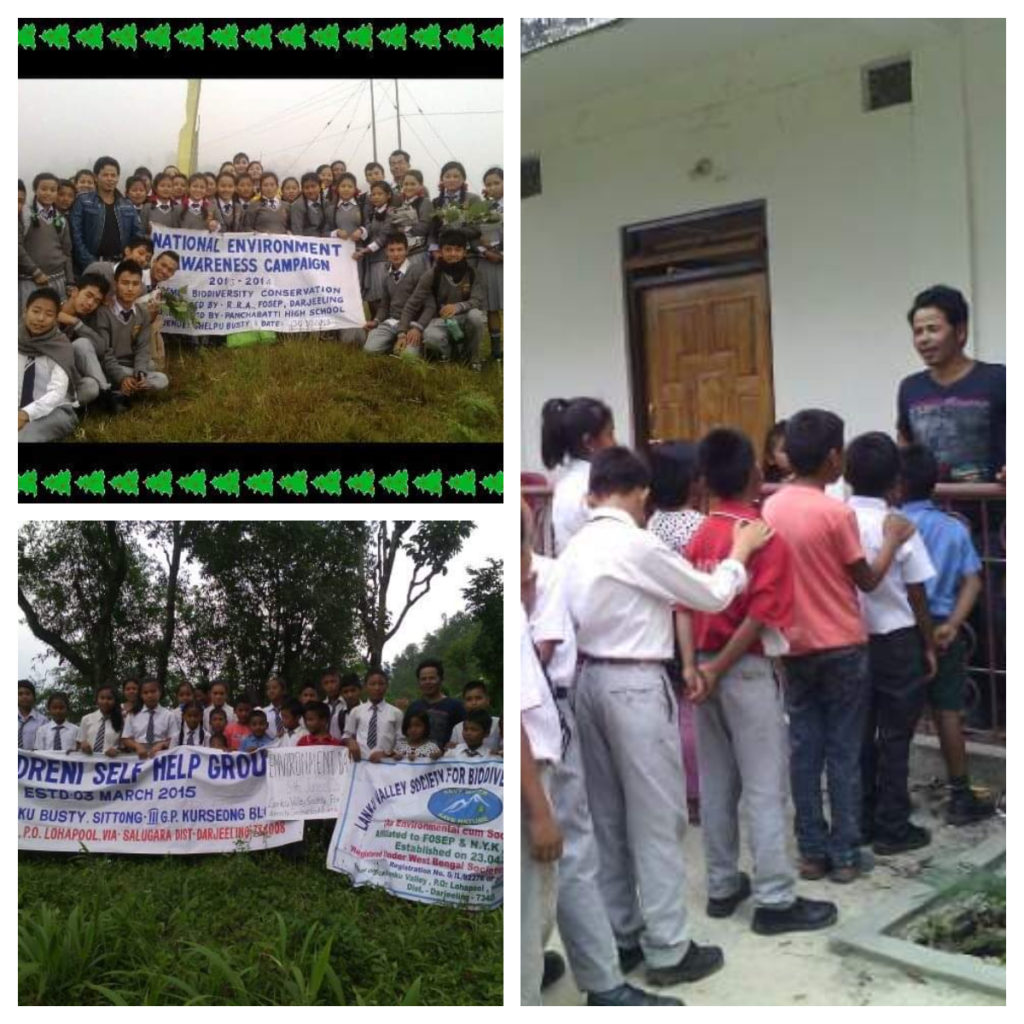 TheDC: Congratulations on the recent honours as Local Environment Champion. Can you tell us a little about yourself?
I was born and brought up in Lanku valley, Sitong-3, under Kurseong sub-division. After finishing my primary schooling from the village, I attended the Scottish Universities' Mission Institution (SUMI) in Kalimpong for high school.
After graduating with B.Sc Honors in Botany from Darjeeling Government College and a Masters Degree from North Bengal University (NBU), I followed it up with a B-Ed course.
At present, I am a teacher at Panchabatti Higher Secondary School, Sitong. I feel fortunate to be in the teaching profession which allows me to interact with young people and the community to exchange ideas and undertake different initiatives at the ground level. In school, we organize a workshop every month on different environmental issues where students actively participate in the discussions.
TheDC: What led you to choose this untrodden path as an environmental activist?
Having born and lived in a rural environment, I have always been drawn towards nature and observe it more closely. Living in in a place like Darjeeling naturally creates a close bond and we are fortunate to witness both its wrath and beauty of nature from close quarters.
To be honest, like many other students, Bio-science was my last choice of subject for graduation and wanted to study Physics or Chemistry honours. But as fate would have it, I ended up B.Sc Botany honours subject. It was not until my Masters program that I understood how my education related to the plants, trees, and the eco-system around which we lived. This new perspective brought me closer home to nature and I could relate my education to a larger purpose that can benefit the society as well.
The change was organic within me and I began to share my concerns about the dying rivers and environment with friends and people in the village. Drying water source is today the most critical issue faced by the entire Darjeeling Hills at the present. But, there is very little awareness about why the sources are drying. In most cases, it is human beings who have contribute most to the problems.
Lanku Valley Society for Bio-Diversity Conservation
Together with some friends and people from the village, we registered an NGO called Lanku Valley Society for Bio-Diversity Conservation and started taking up small initiatives at the local level. We started working on reviving the local streams and water sources in the village. Gradually, we were able to build a network with individuals and organizations working in similar fields.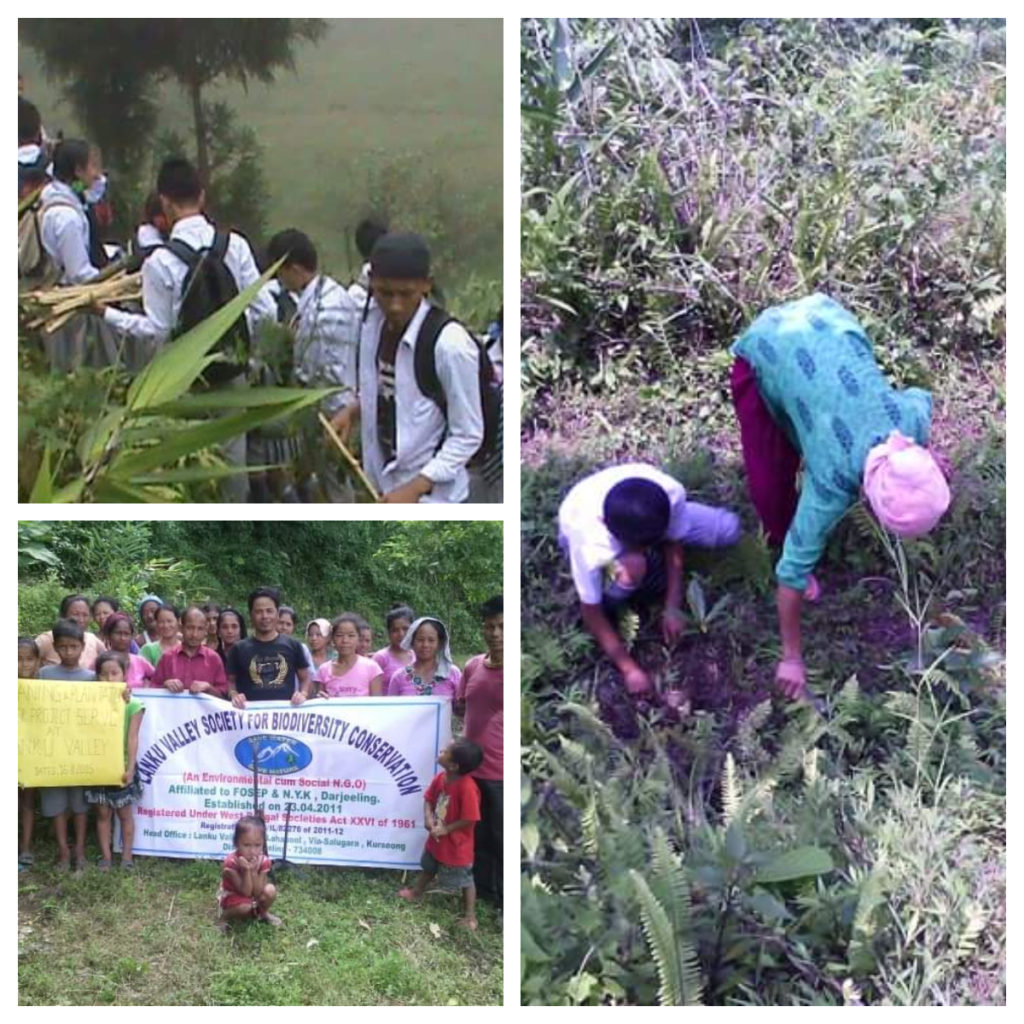 Meanwhile, I attend 'Environmental Awareness Program' and also worked for a project for the Ministry of Environment. We conducted environment awareness programs in various schools across Darjeeling Hills for about three years.
Then, we collaborated with the World Wildlife Fund (WWF) in a project to create nurseries for sapling production and to distribute them around the villages. Along with some friends, we created the nurseries in our own backyards and undertook the plantation activities. Altogether, we planted about 33,000 plants in about the three years during the project.
WWF stopped funding the project as we could not maintain and scaled up the nurseries. Many friends quit midway as the task was and it became difficult to sustain without enough land, resources, or proper infrastructure setup for the nurseries.
TheDC: What are some current projects you are working on?
The is no dearth of work to be done if you are working on environmental issues. With very few people working on the ground, there is always so much work waiting to be done.
Besides working on initiatives for our NGO, I also work in close collaboration with various individuals and organizations working in Darjeeling Hills. It is rewarding to work together with like-minded people on initiatives like the Zero Waste Himalaya towards raising awareness on the impact of pollution on the environment. I am also in constant touch with WWF and engaging them with ideas that are favorable to implement in the region.
Biodiversity Management Committee (BMC), Kurseong
In 2016, we formed the Biodiversity Management Committee (BMC) Kurseong, a government body under the West Bengal state Biodiversity board. According to a UN mandate and under the guidelines of India's Biodiversity Act 2002, biodiversity committees are formed at every administrative block of the government to look into environmental issues.
When I checked online I found that there were BMCs formed in Mirik, Kalimpong and other places, but not in Kurseong. I immediately took up the proposal with the BDO office and we formed Kurseong BMC with the help of the district administration. I am currently the Chairman of the committee comprising representatives from local administration, government officials, MLAs, MPs, and prominent local environment activists and organizations.
One of the first projects we took after formation BMC was preparing of People's Biodiversity Register (PBR), a comprehensive document with every information on biological resources; right from plants, insects, micro-organisms; their genetic characteristics, climatic adaptation, and all traditional knowledge associated with the biological eco-system of the place. The report must be prepared at every gram panchayat level.
Our BMC will be eligible to apply for funded projects only after the PBR is prepared. For Sittong valley, I have completed documentation for plants, mammals, birds, and fishes; and currently working on other species with the help of some volunteers.
Biological diversity Heritage Site tag for Namthing Pokhri
The one important mission we are working towards is to get Namthing lake declared as a 'Biological diversity Heritage Site' which will pave ways for various ecological conservation projects around the lake.
The Namthing lake, as you may know, is one of the last homes for the rare and endangered Himalayan Salamander. As one of the most primitive living species, Himalayan Salamander is a highly sought after pre-historic specimen studies by biodiversity researchers. To get the heritage site tag for Namthing, would mean protecting the lake against human invasion and offer huge potential for conservation activities and research projects in the area.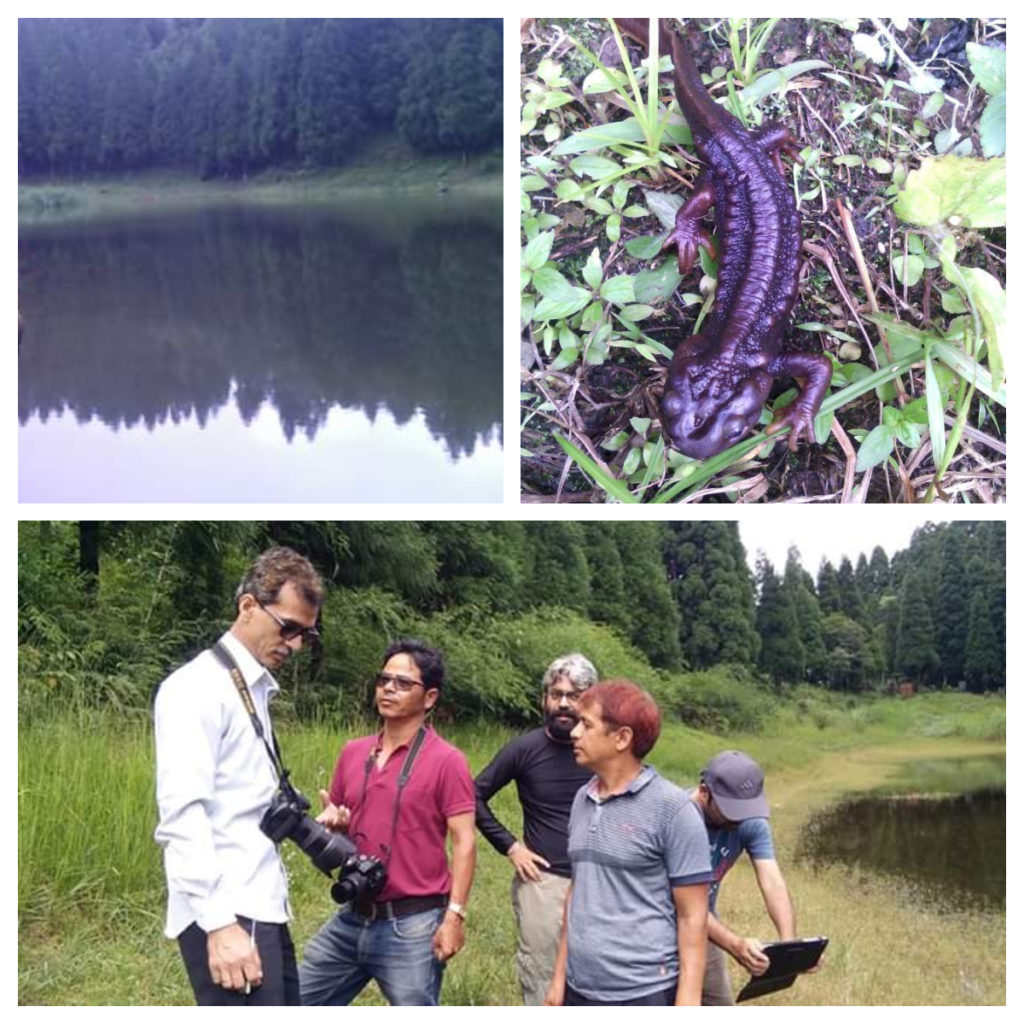 During the WWF plantation project, we did some plantation activities around the lake. At present, we are working to raise awareness about the lake, organizing workshops and site visit for students. Recently, I also invited people from the state biodiversity board in Kolkata to video-shoot and make a documentary on the lake. We keep appraising the authorities and local administration about the fragility of the ecosystem and need to protect the area.
The District Magistrate, who is the highest authority of the BMC has assured us help and forwarded the request. I am hopeful that we will soon hear some positive developments for the lake.
Spring-shed Development Programs
I am currently implementing Spring-shed development programs in Kalimpong and Darjeeling. Spring-shed development program focuses on reviving small streams, water bodies, and innovative practices of groundwater augmentation. The idea is to reduce surface runoff of rainwater and allow more water percolates down to recharge the underground water. In the mountain regions, it is a climate adaptation strategy for the villagers dependent on springs for their water needs.
When I was undergoing the training for spring-shed development program in Dehradun, I came to know that the project has been successfully implemented across most Himalayan states of India, including Jammu-Kashmir, Himachal, Uttarakhand, and North-east. In most of these states, the government funded 100 days rural employment scheme (MNREGA) was being successfully used to build large-scale water-she projects. In neighbouring Sikkim, the program is known as 'Dhara Vikas' and has proven to be great success.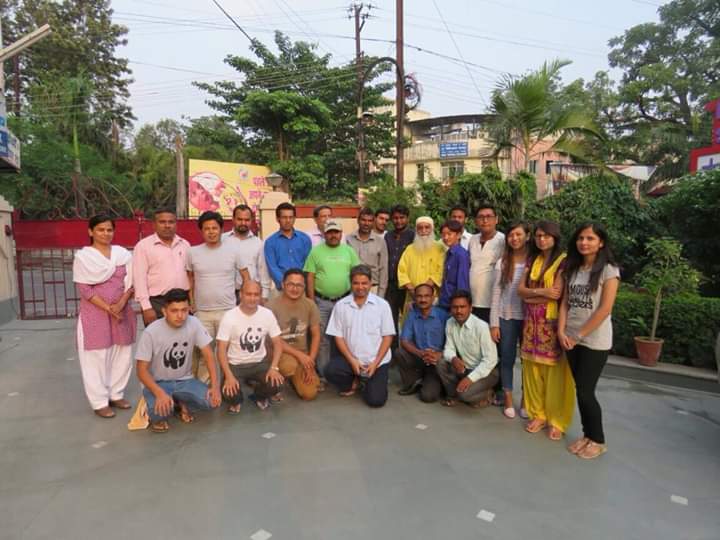 Motivated by all the inspiring change stories, I went to meet our local BDO in Kurseong with a proposal to implement similar projects in Himalayan regions of the state. However, it seems the officer was unaware of such projects and rejected my proposal despite pleading request. I was deeply hurt, humiliated, and the discussion ended with a bitter note.
However, I continued to look for options in my own capacity. Thankfully, the WWF has come forward to support us and we are working hard to make it happen.
TheDC: We mostly hear about Darjeeling's ecological environment being extremely vulnerable. How bad is our situation and what are the major problems?
Darjeeling biodiversity health is not just fragile today, it is in ICU. We are hanging on a loose knot, not knowing when the cardboards will collapse on us. Sadly, very few people and organisations are concerned about the environment issue. The issue is yet to become a political concern and the nature continues to be exploited unabatedly.
Everybody knows of the water problems in Darjeeling, the glaciers are drying, and the underground water level has gone down. If you are from Darjeeling, you will understand when I say that the snow-clad Himalayas in the background of Darjeeling have changed its color over the years.
In the name of tourism development, the continue to cut down trees. Politicians and bureaucrats who are in a rush for development do not realise the impact of unplanned construction on the environment. Recently, even in Darjeeling there was a proposal to beautify the Chowrasta by clearing parts of it for constructions. It sounds very interesting on paper but the consequences of such decisions on the environment will be irreparable. Thankfully, people protested and they stopped the destruction.
In the past, people have built swimming pools over natural habitats of salamanders leading to their extinction from the region. The arrival of the unplanned concrete structures drove the pre-historic salamanders to extinction, along with a thousand other species of plants, insects, and micro eco-systems. The idea here is not to be critical of development but emphasizing on the need to do proper impact assessments and minimize the risks. We cannot not be destroying a natural water source to build swimming pools and compromise our own existence. If we do not realize it now, we will end up exploiting Namthing lake as well.
As an environmental activist, it is disheartening to see such blatant exploitation of nature every day. Many varieties of insects, birds, and animals we saw as kids are no longer seen. Look at the Red Panda, Snow leopards, or the Hornbills we saw as kids. Our children only seem them in pictures now.
TheDC: What do you think is lacking in our approach to the environment? What are some challenges you have encountered in your journey?
The biggest need of the time is a change in India's Environment Policy of India. People who are framing the policies are unaware of the ground realities. The disconnect is the precise reason for the idea that constructions and buildings are the only indicators of development. If you ask me, our bureaucracy and political leadership must be educated on such issues. It must be a mandatory learning as part of their job orientation.
For me personally, convincing people to change had been a major challenge. Unlike other fields where your returns is tangible and immediate, the returns of any investment in nature remains largely intangible. Most people prefer to invest their time and knowledge in something that gives them monetary and immediate returns. Like being a politician, doctor, engineer, or even a soldier. What is the point of wasting time planting 100 tress which seemingly doesn't yield any personal benefit?
In villages, people are innocent and many people take undue advantages for them. Suddenly, they would stop supporting an initiative because someone spread a rumor against it, or people stop attending programs, and some even go to the extent of stopping a project. Here, we need to be flexible enough to adapt our goals and objectives as the situation demands.
Unlike doctors, engineers, writers, religious and political leaders, there is very less reward and recognition for an environmentalist. In fact, we are considered as impediments to development many times. It is ironical that our environment, on which everything else stands, is in such critical situation, but still hasn't made it to the discourse of the mainstream policies and politics.
TheDC: What message do you want to give to the youths and people reading this interview?
The point to understand that we are all working in different fields to find peace and comfort in our lives. But ultimately, what we need for survival is the air, water, and the ecological system around us. No amount of development and progress will make sense unless we have the environment intact.
We must not forget that our environment and nature is the basis on which all of us exist and stand. Without a supporting environment, all our success and ambitions are meaningless. So, we must all try to be a little more conscious about the nature around us and must personally do out bit. We are enjoying our lives at the cost of natural resources. Buy 2050, as some experts feel, human actions will be wiping off most of the earth's marine life and will be running out of oil and gas.
It is high time we realize that human ambition and greed has almost rendered the earth hollow. We must correct our wrongs by doing whatever is possible at our own personal level. If you cannot do much, we can begin by carefully disposing our waste, save water, and natural energy.
TheDC once again congratulates Bishnu Thapa for his pioneering initiatives in Environment preservation and wish him best of luck for his efforts.