Gods must indeed be crazy, with a wicked sense of humor too. A politician went to appease God and got 8 stitches in return, while a biopic on PM Modi is still waiting for EC approval to be released, biopic for another equally mercurial politician is all set to hit the theaters. Here's my pick of the week
Oops, Shashi Tharoor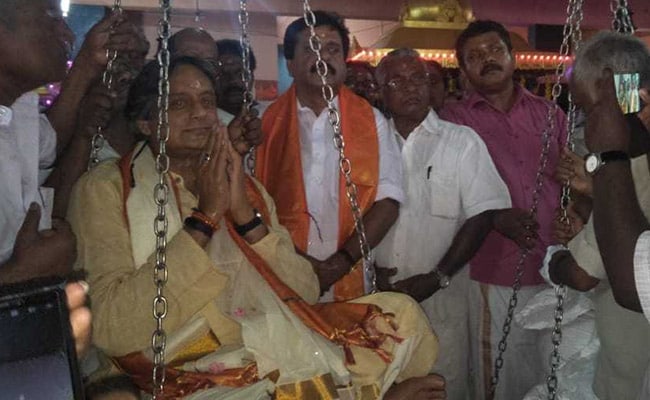 This season, we have been seeing seemingly atheistic Congress politicians including Priyanka Gandhi making the rounds of Hindu temples. A few days ago, I-am-so-British, MP Shashi Tharoor decided to visit the famous Lord Padmanabhaswamy temple in Thiruvananthapuram, Kerala to conduct thulabharam, a ritual generally where the devotee is weighed against offerings, which are then distributed. But when Tharoor sat on the scale, the balance broke with the heavy iron handle landing on his head, and he landed on mother earth with the fruits and sweet offerings. Maybe the balance was very old and unused for a long time or the divine did not accept his offerings.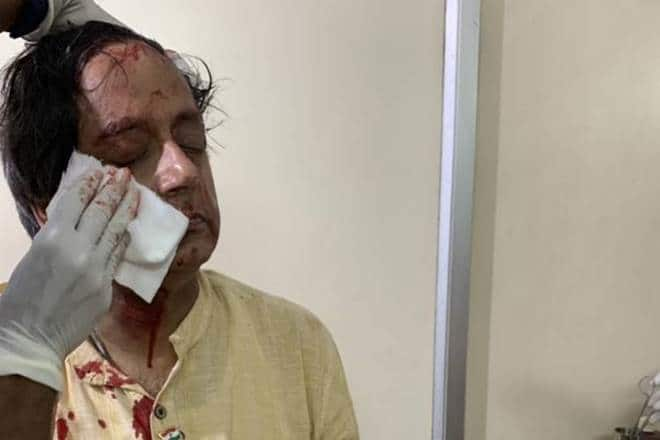 Poor guy had to receive around eight stitches on his head along with a leg injury. All the plans of the day of releasing his manifesto and party workers celebrating prayers to Lord Vishnu went for a toss.
Meanwhile Rahul Baba in a bid to woo Wayanad, Kerala performed Pooja at the ancient Vishnu Thirunelli Temple. Dressed in traditional Kerala Hindu attire, he performed rituals as homage to the martyrs of the Pulwama attack!
Funny earlier all these people berated BJP for being Hindu-centric, now Congress is all out to prove their Hinduism during elections time.
'Baghini' Banerjee biopic and bloodshed
While the release of the Vivek Oberoi starrer film "PM Narendra Modi" hangs in the air, a biopic on Mamata Banerjee seems to have raced ahead all set for release on 3 May. To start with the Bengali film is called 'Baghini, Bengal Tigress'. Reminds of those Durga Puja pandals where Didi B was portrayed as the goddess sitting on a tiger slaying the demon.
The trailer begins with comparing her contribution to that of the tall figures of the 19th century from Bengal, such as Raja Ram Mohun Roy, the socio-religious reformist and Ishwar Chandra Vidyasagar, the revered philosopher-reformer-writer. If I were a Bengali I would definitely protest.
The filmmakers say that the film portrays women empowerment. Well I can say the film is aptly named as the tigress under whose rule many hill people of Darjeeling were ruthlessly attacked and lost their lives.
CPM and BJP leaders have approached the Elections Commission to ban the trailer but till date it continues.
In a recent TV interview, Miss Banerjee claimed that Bengal was No 1 in every way and TMC will win all 42 seats. Well, Bengal has emerged as No 1 in poll violence across the country. Last 24 hours have shocking reports of bloodshed, murder, violence and intimidation by TMC troublemakers against voters, party cadres and candidates of opposition parties of Bengal. Police personnel played mute roles to the disgraceful violation of voter's rights, offering no protection. What kind of democracy are you leading, Miss Banerjee? Is this that why you sounded so confident about grabbing all the 42 seats? Why does violence follow you everywhere?
Bolti Bandh
Politicians are going berserk with their bittering and battering leading to defamatory charges being launched right, left and centre. A line up of a few sexist culprits:
Samajwadi Party leader Azam Khan referred to BJP leader Jayaprada's underwear as being khaki in colour. Retaliated by MP Dimple Yadav (the wife of Akhilesh Yadav. President of SP), as trivial matter. How disgusting!
SP leader Firoz Khan said that she (Jayaprada) will ask for ghungroos for her ankles, show her moves and thumkas and and the evenings of Rampur will become colourful. He also said that he is scared that people from his domain will go there to enjoy the colourful evenings. How cheap!
BJP Minister Mahesh Sharma had also gone on record for saying that if Mamata Banerjee did a Kathak dance with the Karnataka CM singing a song nobody will even listen. How funny!
Some have been directed by the Election Commission Board to shut up. The bolti bandh recipients are: Yogi Adityanath and Azam Khan for 72 hours, Mayawati and Maneka Gandhi for 48 hours. So what have they been doing during this time? Adityanath visited temples. Mayawati sent her nephew Akash Anand (who says 'Jai Bhim') to speak on her behalf while Azam Khan's son Abdullah claims that his father was targeted for being a Muslim. Maneka chose to stay at home and read books.
Strange death of a great son

On Tuesday, 39-year-old Rohit Shekar Tiwari was found dead in his home in Delhi. Stinking of murder, according to the post mortem report the cause of death was asphyxia caused by strangulation or smothering. Rohit was in the news for many years. He was the 'illegitimate son" who fought a paternity suit for six years to get Narayan Dutt Tiwari, ex CM of UP and Uttarakhand to acknowledge that he was Rohit's biological father. ND Tiwari kept denying and even dodged attempts at blood sampling for a DNA test. Finally he had to and the results proved that Rohit was indeed his biological son.
Tiwari then accepted Rohit. The reunion was followed by a marriage between then 88-year-old Tiwari and his once lover and Rohit's mother Ujjwala Sharma, a Sanskrit professor– forty years after they had their affair! Rohit was a son determined to bring respect and honour to his mother.
He had also suffered a heart attack when he was 28 years old. Not too many sons could have taken on the might of a veteran politician to get justice. The struggle did take its toll on Rohit with depression and alcohol dependency.
But, why would anyone want him dead? Strange things happen in Delhi's high profile political circles.