Yesterday, Darjeeling Hills witnessed one of the biggest events since the outbreak of Coronavirus pandemic. Thousands of people participated enthusiastically in the Darjeeling Marathon, endorsed by well-known celebrity and fitness enthusiast, Milind Soman, his wife Ankita Konwar, and a musical concert by singer Kailash Kher. The event was organized by Darjeeling Police to 'motivate the people and spread positivity' in the Hills.
The events of the day included marathon runs in different categories, concerts and various programmes. Politicians, activists, local organisations, and people from all walks of life participated in the festive-like event like there was no waiting for another day. Thousands gathered for the Kailash Kher concert, thousands ran the marathon and thousands again queued up by the road to watch them people run. People lined up along the road and almost everyone had a chance to take a selfie with the running-machine Milind Soman.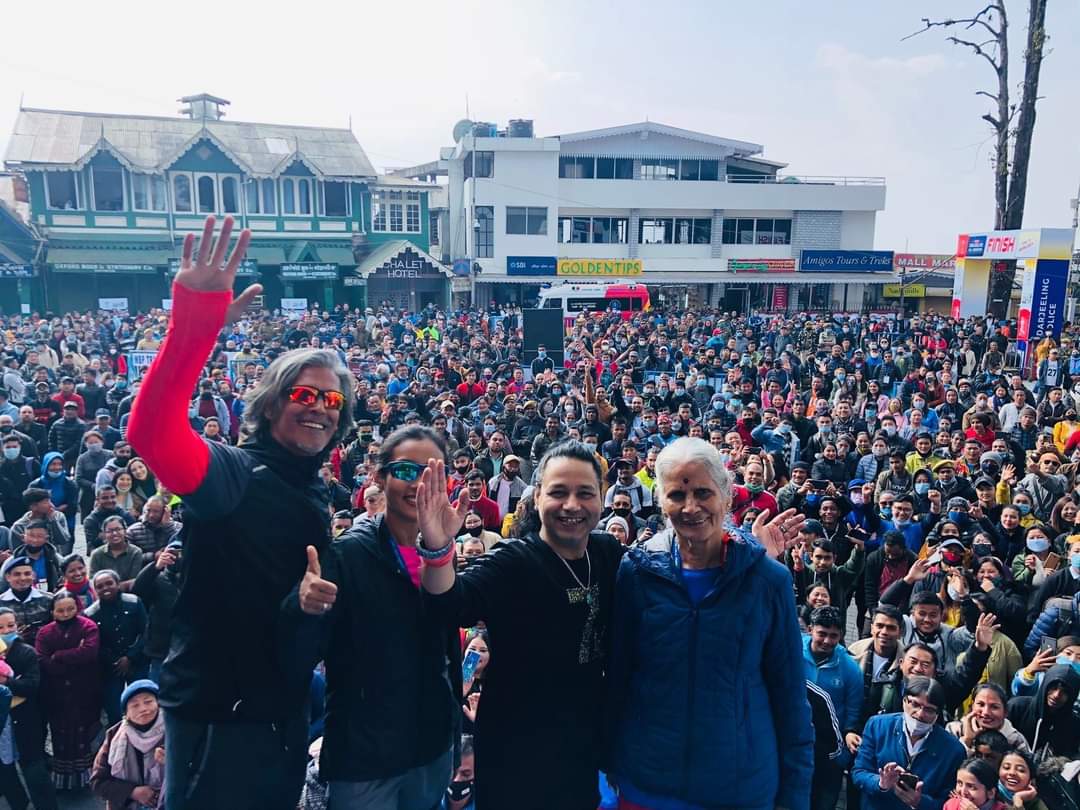 Talking about numbers, there maybe some other cardinal data that may go on to rub the part of our brain that is associated with interest. As per the official records of the West Bengal, 119 people were tested positive of COVID-19, and one died due to COVID, in Darjeeling District just a day before the event, taking the total number of active cases to 786. In Kalimpong, 11 people new cases of COVID were recorded, raising the total number of active cases to 44.
These numbers may have lost significance in our lives to cause us anymore fear, but can we say the same about their relevance? Have we altogether accepted that COVID is gone or have normalised the threat of COVID-19?
What happened in Delhi when it chose to let go off the guards and the current spike in the number of cases should be a warning bell for us all. The city was recently mulling over imposing another lockdown to control the rising cases.
In recent times, Darjeeling had more or less returned to its usual state of affair. Most people seem indifferent or casual about the deadly virus. It is a point that one of my friend raises – "If people themselves are normal right now, what is wrong with a marathon?"
But then, it is important to note that there is a vast difference in people choosing to subject themselves to a certain risk, as against a Government authority choosing to do it for the people. Just because drinking alcohol is legal and most people consume alcohol, it doesn't rationalise a highly influential administrative authority to endorse the same.
In fact, this is the time when the government departments and local administrations should buckle up harder and try to compensate for the casual approach adopted by the people – educate and aware them instead.
The large sea of people at Chowrasta and across Darjeeling yesterday could well be 99% a fun filled safe experience, which is actually a very unlikely possibility given the circumstances, but then let us suppose. Let us in the same line suppose that for the remaining 1% of chance it was a gateway to the biggest COVID explosion in Darjeeling. Given the choice, the authority should be choosing to work against the 1% possibility that may exist for any number of times that are given to choose.
The visuals of today reminded me of the lockdown period when the same Police department held people by their collars and even dragged them to the station because they were violating the COVID protocols. There were instances where people were afraid to even visit the nearby shops to get their necessary groceries. People might have even been served some good fine tuning of the Sarkari roll. The Police department distributed masks to arouse the sense of humiliation in those people who were walking around without their masks on.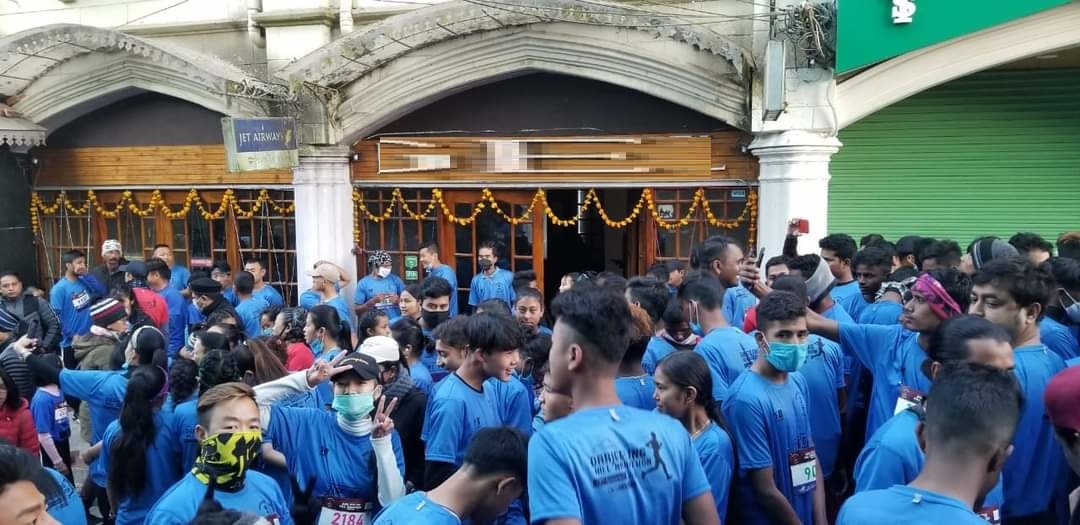 So now, just because the Government has relaxed the lockdown, should the same organisation be organising such a massive mass event? Does duty only follow from Government orders or do the sense of moral obligation and the public welfare too play a role? Even Amitabh Bachchan hasn't stopped saying – "COVID-19 abhi khatam nahi huwa hai. Aise mein humaara farz hai ki hum satark rahein. Jab tak dabai nahi, tab tak dhilai nahi" – when you call Jio numbers.
It is for once, a matter of thought to put behind the entire episode of the greatest marathon in Darjeeling of all times. I was initially disappointed of Milind Soman to have agreed to endorse such an event. But then again I realised, that is what he does. It is his profession. So next question would be, where did all the money come from to organise such an expensive event? The Government has been crying about a cash crunch created by the Coronavirus pandemic. Many arrears around different offices remain pending. Promotions, increments and regularisations too remain postponed. So, as such, is it wise for any department under the Government to be spending the public money for such events? If so, what benefits do they derive against the costs incurred. Who are the stakeholders of the event and who share the blame if tomorrow even one person directly or indirectly gets infected or dies as a consequence of this gathering?
The event also saw many political leaders in the hills actively involved in the organising part and also saw their presence in the opening ceremony. Could this be one of those many pre-election gimmicks blinding people by the glitz and glamour? Obviously, tell our people that something is healthy or beneficial to the hills and its people, or just define it in a way that it apparently makes Darjeeling a nice place, people start exchanging their brains for peanuts. So, moving ahead of a particular administrative body, you may have seen some "non-political" organisations having their volunteers riding their bikes and cycles, side by side, or some organisation solely focussing on environment endorsing plastic-free event.
The bigger question here is whether these organizations and volunteers were under some political pressure, or maybe even driven by the idea of self-benefit of some sorts.
Or did the marathon organizers get swayed by the recent political rallies and gatherings into assuming that the COVID-19 pandemic is no longer a threat?
It would help if the political parties realize the existing threat and danger due to COVID-19 and communicate the same within their party cadres and the society at large.
Too many questions can arise here and an equal number of arguments. I am all ears to all the defendants of the event. But just a request, please don't tell me that it was to promote running as a way to develop health and immunity. Neither that all the people present there were tested, wearing mask and following proper protocols.
We, the people of Darjeeling are simpletons. There is a definite urge inside me to add so many things here. But I will stop myself here and allow you to fill that space.