I am not sure how many of you have heard of Kalyan sir from St. Roberts, but for me, he is a legend, as he personifies the amazingly weird things that people in Darjeeling tend to say randomly. Even though I didn't study in St. Roberts, this conversation between Kalyan sir and one of his students is one of my favourite Darjeeling conversations ever
Kalyan sir: Chora Apple khako chass?
Students: Khako chu sir
Kalyan sir with a sly smile: Dasai ma ta hola…
Another one from Kalyan is an all-time classic.
Kalyan sir: 'Oie toh kaa baschas?'
Student: 'Lebong ma, sir'
Kalyan sir: 'Lebong kaa?'
Student: 'Ground ma, sir'
Kalyan sir: 'Ground ko bich mai?'
Student: 'Haina alik tallo pati, sir'
Kalyan sir: 'Pu ko Ama chinchas?'
Student: 'Ko Pu ko Ama, sir?'
Kalyan sir: 'Tyo kya, nali ko utta pati ghar cha ni…. Agu Fendo ko ghar ko tallo pati…. Sidi ko terso ma'
Student: 'Lyaaa Sir, thah bhayena ni'
Kalyan sir: 'Tyo kyaa dharja bhako ghar… chindainas?'
Student: ……..
Kalyan sir, halka hasdai… "mo pani chindina"
To people from outside this conversation would not make any sense, and we wouldn't blame them, as the conversation doesn't make sense to us either… but laugh we all will, as that is the typical weird stuff that people in Darjeeling tend to say. I call these random conversations, that has no start or end, or meaning either.
However, some are deeply philosophical, such as the phrase "Sukeko jiu ma lukeko kala" used to describe a person who may look thin, but is talented nonetheless; and then there are a few "Ghicheko le thicheko" types, who are often described as "Anna ko dushman, dharti ko bojh" that is precisely how my Mom refers to me as.
Angry people get called many names and are described in many ways, but those who are thin and get called out with someone or the other saying to them, "Random body Vandam chaal na de ta… " to which they tend to retort, "Bruce Lee le bodybuilding garnu pardaina som… Hariyoi chadne garera dinu na parosai… You don't want to puke green, do you?" Mollifying them is easy though, "Aaaaannnnnn riss kada maan kamulo na gar na som…" is how we used to end such conversations. However, some would be, "Danger of the Khatra" and would refuse to back down, generally their "halka dhamki" would be "Hatta-patta ris uthdaina ki… tara uthyo bhane ankha dekhdina"… Abuiieeee sundai dar lagne hai.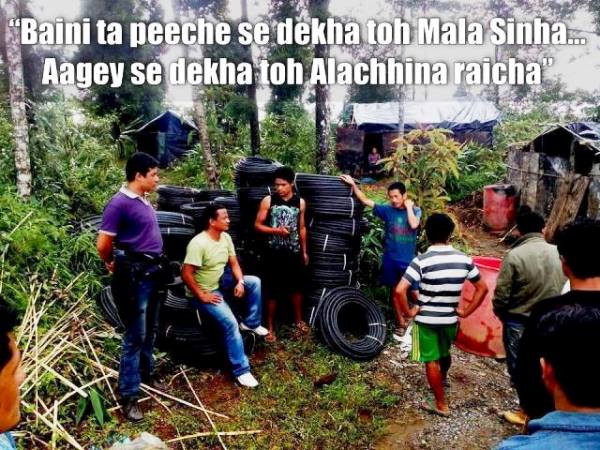 Then there was this guy who used to claim that… "Adhi-peg beer raw khai deko thye ki… Oralo hirda hirdai, Ukaalo ladi pathaye chu…" Not sure how one can drink half a peg of beer, and get drunk, but in Darjeeling apparently we can raicha.
Girls, they get the compliments as well as some of the most sarcastic comments, like this dude was pursuing this girl, and the girl rejected him… feigning ignorance I asked him what's going on bhanera, and with a Geeja (gums) dekhne smile he goes, "buiiiieeeeee kurai na gar bro… baini ta piche se dekha toh Mala Sinha… Agey se dekha toh Allachina raicha…." Then there was this other dude who was also equally in love with a girl who rejected him and he says, "baini ta khubsurat dkokha raicha ni… thobra na sobra, chaal chai Priyanka Chopra…"
I am not sure if this happens anywhere else, but in Darjeeling even jokes get modified and made and remade… take Jal Dewta ko story for example… it imparts such a nice lesson in morality and honesty, but in Darjeeling we have a series of Jal Dewta jokes… in fact we have branched out to Soup Devta, Gu Devta and what not.
So here is my favourite Gu Devta joke, on the lines of Jal Devta story.
A long long time ago a man was cleaning a public toilet, and his jharu (broom) fell in the safety tank… since it was his only jharu, this guy started to cry… "abo mo kesle toilet safa garnu bhagwaannn…." bhandai
His tears moves Gu Devta to action and out he comes with a Golden Jharu… and asks this man, "Yo tero jharu ho?"
Man is honest, so he says, "haina prabhu"
Impressed, Gu Devta goes back again and comes out with a Silver Jharu… and asks this man, "Yo tero jharu ho?"
Man is honest still, so he says, "haina prabhu"
Gu Devta is further impressed, he goes back again and this time he takes much longer, but comes back with the Golden Jharu again and asks, "Yo tero jharu ho?"
Man says, "Haina prabhu"
Gu Devta gives him a wicked smile and goes, "Teroi jharu ho, dhuyera hyer na"
Another twist in the tale I love is that of the Lion and the Rabbit…
So there is this Lion in a forest who in mutual understanding with other animals, is eating only one animal per day, and each animal who is supposed to be eaten is expected to present himself to the lion's den… One day it's the Rabbit's turn, who is "ooobbbbeerr batthey"…
On his way to the lion's den he sees a well and when he looks in he sees his own shadow, which gives him an idea to get rid of the lion. He arrives at the lion's den much later, and the lion is pissed off… so he threatens to eat all the rabbit in the forest… The Rabbit says, "I was on my way here when another lion wanted to eat me… I ran and came here so that you'd eat me and not the other lion."
Pissed off the lion says, take me to that lion… and the rabbit is thrilled… so they arrive at the well and the lion looks in and sees his own reflection… he roar at the reflection, and cuz its a well, the echo roars back louder… this makes the lion even more pissed off, and rabbit is waiting… "Abo chai ham falcha esley" bhanera…
That is when the unthinkable happens, and instead of jumping in, the Lion grabs the rabbit by the ear and says, "Malai chai ko jasto lagcha?… BG?… Yo katha ta mile class 5 mai padeko…?"

Tag line – "Chalo padayein, kuch kar dikhayein"
Such awesomeness and "kahani mein twist" won't happen elsewhere.
Darjeeling is such an awesome place where music thrives and almost every teenager is in a band. During our times, it was the same… "Hagne-Padney" used to be in some sort of band, and if someone asked you "timro band ko naam chai k ho?" we'd usually answer "Rubber band."
These days darlagdo-darlagdo naam bhako bands can be found everywhere in Darjeeling… As a close friend of mine says, "barkha ma cheu palako jasto, darlaagdo naam bhako band palako cha aajkal Darjeeling ma"… here are some samples – Twisted Carnage, Wrecked Destiny, Infernal Bloodshed . However amongst these, stands out hamro gaon ko band, "Jhyampal" even their songs are like that… and they sound like dhunga ma jhyampal hirkako jasto. I can't wait for them to grow out of "band" phase of their life.
Then this phenomenon of falling in love, while koi moreko ma rungnu janda, is I believe typical Darjeeling thing. I don't know why this happens, but rungnu janda, people tend to flirt with each other. There is always one or two folks who tend to fall in love over 13 din ko rungai… Accompanied by tea, angethi ko aago, Hazare in tass and thari thari ko guff… rungnu becomes more of a celebration of life instead of mourning… I think its a good thing…
All said and done, Darjeeling and its people live with this amazing sense of humor and that is perhaps what inspires us to creativity and thus is home to amazingly talented individuals. The beauty of Darjeeling is as much in her people, as it is in the scenery… and even though politics may divide us, it is these weird sayings and phrases that keep us bonded together…
Lets spread this cheer as much as we can.