Not many from Darjeeling region have heard of Nilu Yuleena Thapa… but in the fashion world, her name stands out as being one of the leading fashion bloggers from India.
From being an Electrical and Electronics Engineer by education, to becoming one of the leading fashion voices of India… coming from the dusty back lanes of our own Kalimpong to becoming one of the five bloggers chosen to lead the campaign for Lakme School of Style… From being rejected for a shoot as she did not loon "Indian Enough" to being celebrated for her looks and her Gorkha heritage… Nilu has come a long way… and TheDC team is honoured to be presenting her 1st interview in our beloved hills
Name: Nilu Yuleena Thapa
Mom: Subarna Thapa
Dad: P.K Thapa
School(s) Primary + Higher school(s): Primary: St. Joseph's Convent Kalimpong, 10+2: Dr Graham's Homes, Kalimpong
College (s): Reva Institute of Technology and Management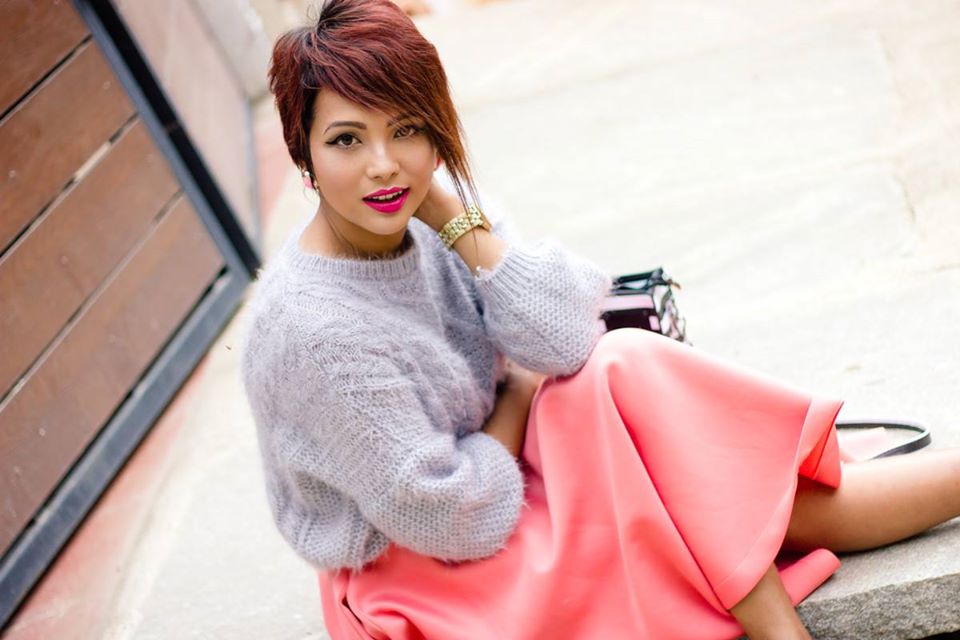 Q. What got you interested in fashion blogging
A. I wanted to document my daily life so that I would have something to look back to in the future and BHLM is actually a personal blog. But since I love styling, the flow of the posts leant more towards fashion than it did towards my day to day activities and eventually BHLM fell into the Fashion and Streetstyle genre.
Q. You are one of the more successful fashion bloggers in India today, how did all that happen
A. I'm glad you think so! I don't consider myself successful at all. I still feel there is so much to learn, so many things to try! In my head, nothing has changed since I started blogging 2 years ago and I don't feel any different except for the happiness I feel to see the increase in responses from our good readers. I'm passionate about blogging, it makes me feel alive and makes me happy. I did not start a blog to monetise from it and I still don't run advertisements on my site as I feel it spoils the aesthetics of my blog.
To me BHLM is a part of me, an extension of my imagination made visual through the posts that I create. I've always blogged with passion and I want to be proud of every post that has been published and will be published. I believe it is the passion with which My Team BHLM and I work, that shines across each of the post I make. I'm so fortunate to be blessed with parents, who inspite of me getting a degree in Electrical and Electronics Engineering, stood by my side when I decided to leave it all, to pursue a career in a field many people are yet unaware of.
Q. When and how did you actually decide that you wanted to take up fashion blogging as a profession
A. It used to be difficult initially, handling a full-time job and still managing the time to shoot, edit and make blogposts regularly besides having the time to think about concepts, scout for locations to shoot, the types of looks I wanted to feature, handling my household chores and so on. But one day, I realised I should not try to put my hands on everything that I felt I could do and should in fact try to excel in one thing that I felt I was good at.
Making the decision to quit my job was the most confusing as well as the best period of my life. I realised I was happy when I was a blogger since I have the liberty to do what I want to do and how I want to do it. And today I'm glad I took that decision, because I believe in living everyday as if it was your last and the decision that I took some months ago has made me a happier person.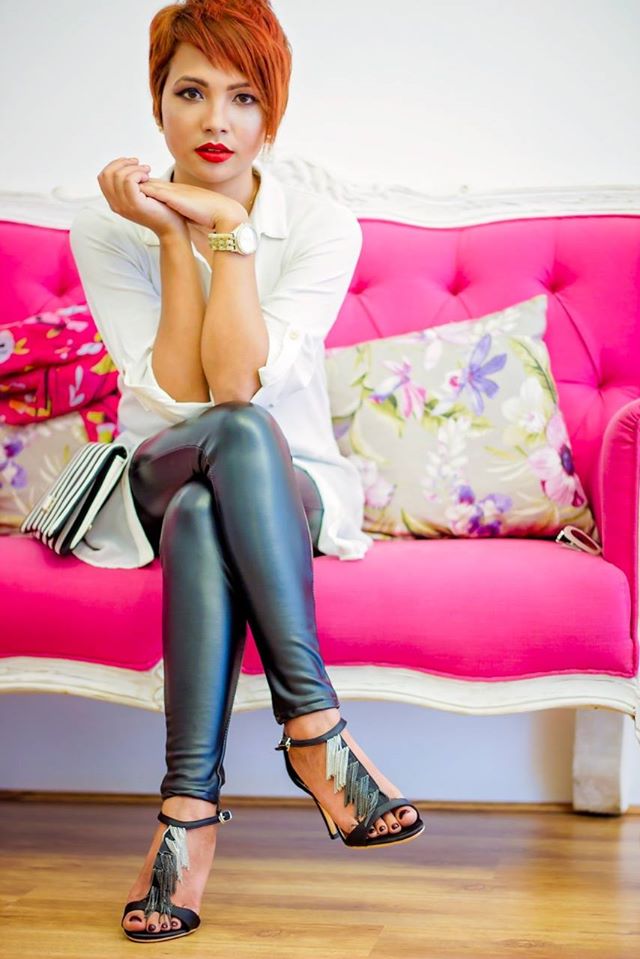 Q. Challenges you faced in your journey
A. Time.
Q. How did you overcome them
A. Since I work from home now, I plan my schedules and concepts in advance and try as much as possible to execute them as planned.
Q. Did coming from the hills help or hinder your journey
A. I've been in Bangalore for almost 10 years now and I would be lying if I say I don't love Bangalore and the people. The people are so cultured and friendly and they have never made me feel out of place, Ever! They have been so helpful to me during my college years, during shoots, during travelling and communicating in Kannada since I cannot speak in the local dialect yet. No, in answer to your question, coming from the hills did not hinder my journey, in fact, everyone loves our hills! So as you might expect, Tea and Climate is always the common topic of conversation!
Q. Did you have to face racism in the fashion industry for being from the NE or due to your Gorkha/Nepali heritage?
A. I did face one such instance, Yes, when I came to know (from some sources) that I was rejected from being a Brand Ambassador of a common clothing brand, in spite of having the highest number of votes, because I did not look Indian enough. But that was a long time ago and now I have a very good relationship with all the Fashion Labels I've worked with.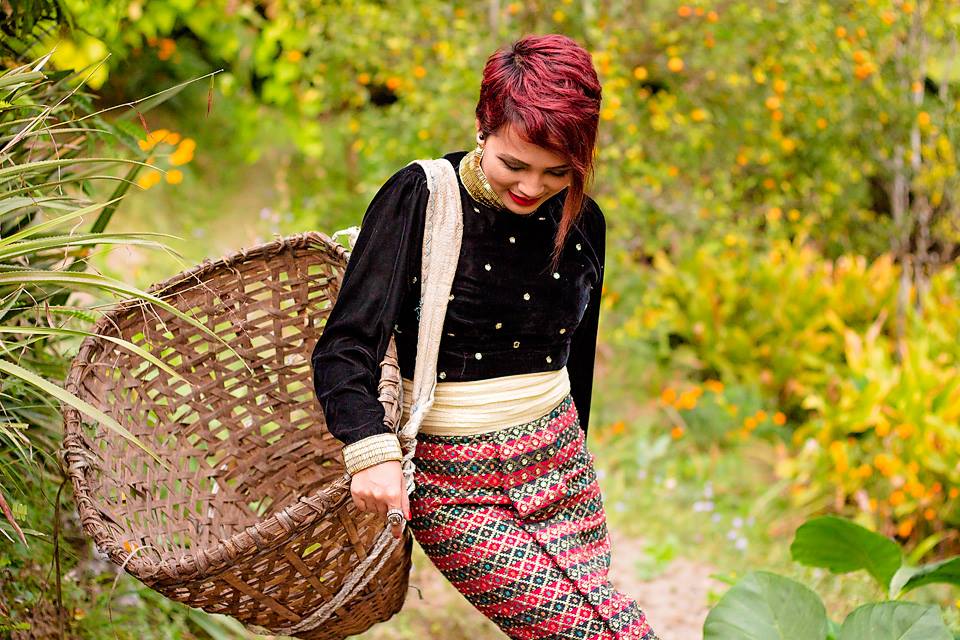 Q. Is it easier or more difficult for a woman to make a mark in the fashion industry, why?
A. I don't think the Fashion Industry is sex-oriented. I'm a sole proprietor since most of my content on BHLM is self-funded except for collaborations, sponsorships and partnerships at times. Since I don't have to associate myself with an organisation every time I work, I wouldn't really be aware of what people in the industry face. I have my own team which comprises of my partner/photographer and a cinematographer for my videos and I do my own editing, styling, makeup and writing.
All I want to do right now is create as many posts, videos as possible for it is so exciting to see your ideas and imagination taking form. When a project comes along the way, that excites and interests me, I become a part of it, like the Lakme School of Style, which is India's first video fashion Magazine, of which I'm one of the 5 bloggers chosen to lead the campaign. I've also partnered with other organisations overseas for projects which will be coming on BHLM in the future.
Q. What inspires you?
A. Everything! From the people, I meet to the movie I watch, to the songs I listen to! I just let my mind run free and when I'm struck by an idea which seems solid enough to be implemented, you would see it on BHLM!
Q. Any thoughts on including/promoting Gorkha ethnic themes through your blog
A. Of course! Everyone knows I'm a Gorkhali! But my idea isn't to promote myself as a Gorkhali but to promote Gorkhali as an Indian.
Q. Where do you see yourself in the next 10 years
A. I haven't really thought about it. I'll be terribly disappointed if I dream of something and it doesn't happen the way I want it to be. So I want to make sure that the life I lead today and the choices I make my tomorrow better.
Q. Word of advice for those who want to follow your footsteps
A. Have faith in yourself. Let me tell you something that is personal, When I was in school, I had those terrible middle parting hairstyle and I was extremely shy. I fell into those categories of teenagers that remained invisible, that no one knew about. I've been bullied, I've been laughed at. And I know, there are many many youngsters who are the younger version of me! But deep down, You know yourself. I knew what my strength was and I harvested it without letting anyone, anything affect me. If you believe in yourself, no one, nothing can hold you back. Do what makes you happy!
Nilu we are hopeful, that your interview will inspire thousands of our youngsters to follow their dreams. We are most thankful to you for giving us your time… we wish You luck in your career and hope to see you writing from the runways of Paris someday soon.
You can follow Nilu at: Webiste, Facebook, Twitter, Instagram