In a huge relief to the Gorkhas of parts of Assam, the Government of Assam yesterday issued a notification to include Gorkha communities as one of the 'protected classes' in Sadiya Tribal Belt for those who are permanent residents.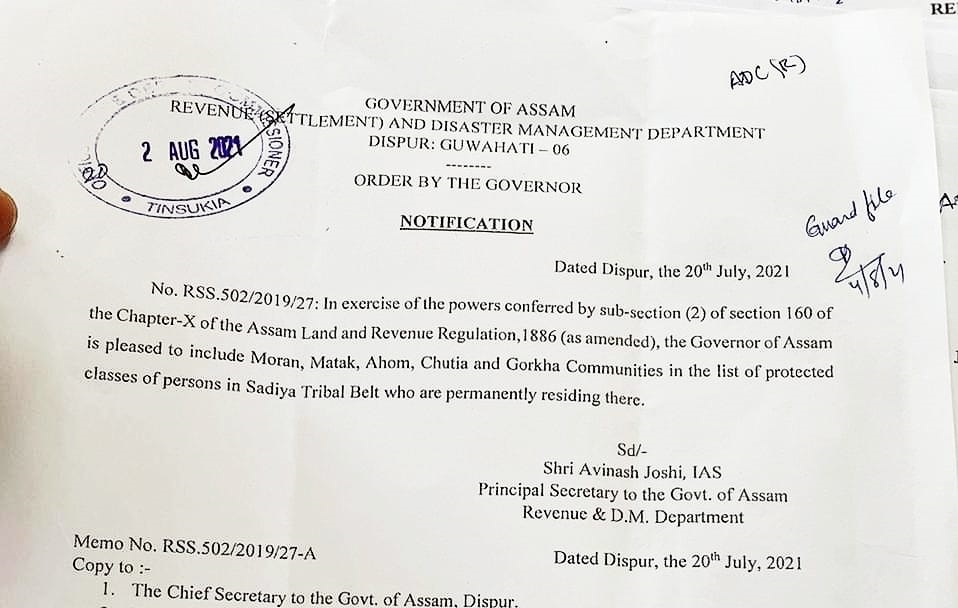 Despite having lived in the Sadiya Tribal belts for several generations, the Ahom, Moran, Mattock, Chutia and Gorkha communities did not have land rights. Identifying them as 'protected classes' will now allow them to rightfully own the ancestral lands where generations of the families have lived.
Chapter 10 of the Assam Land and Revenue Regulation, 1886 protects the land rights of the protected tribal classes from immigrants in regions notified as Protected Tribal Belts and Blocks. As per the regulation of 1886, no land of the protected tribal classes can be bought by a non-tribal non-protected class of people. Only the protected tribal classes living inside the Protected Tribal Belts and Blocks or outside in other regions of Assam could buy land from the members of any protected tribal classes.
Yesterday, Darjeeling MP Raju Bista had tweeted to thank the Chief Minister, Himanta Biswa Sharma, and the Government of Assam for recognizing Gorkhas as a protected class.
In his response to the tweet by the MP, the Chief Minister stated "You will be further happy to note that Assam cabinet took a decision today not to prosecute any Gorkha citizen under the Citizenship Amendment Act 1955 and also to withdraw all pending prosecutions relating to Gorkhas from foreigners tribunals."
It may be recalled that the Gorkhas who did not get the NRC were required to approach the Foreigners' Tribunals to contest their case.
The decision by the Government of Assam to exempt the Gorkhas from going to the Tribunals is much welcome news for the Gorkhas of Assam who have been long seeking recognition as one of the original inhabitants of Assam. The last yester, the Darjeeling MP has called upon former CM Sarbanda Sonowal regarding the issue and was given positive assurances by the Chief Minister.