A Fake CA has duped many in Darjeeling – with the help of a young CA from Darjeeling, we are exposing him today
What does it take to take up a fake persona? A little charm, lots of chutzpa, a calling card and fancy looking office and most important of all – gullible people, boat loads of them.
Recently we came across a very disturbing story, of a man who has been accused of masquerading as a Chartered Accountant in Darjeeling, using a fake membership number and operating under the name of a reputed firm outside of their knowledge.
The expose was made by a young CA from Darjeeling, who had been closely noticing the network of fake Chartered Accountants in the town. One such cases was that of an alleged fraudster who identified himself as Sandeep Jha, and had been operating an office at Unique Building, RN Sinha Road, Darjeeling, under the banner of CSP & Associates, a reputed firm based in Patna, while posing as a CA himself.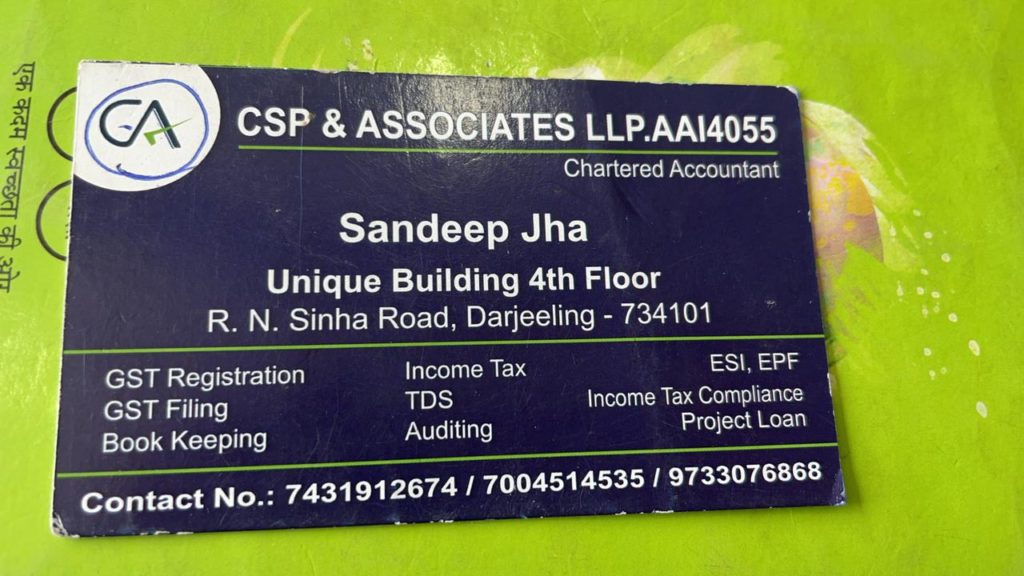 Sandeep Jha had for long been under the suspicion of the CA who exposed him, but there wasn't any evidence at the time to prove the case. However, the vigilant youth decided to take a chance after all and contacted the original office of the said firm in Patna to enquire if they had any branch in Darjeeling. They denied having any branch, office or representative in Darjeeling and expressed their shock and concern over the issue. He further went on to verify the CA membership number used by the accused at the ICAI website, which showed that the number actually belonged to someone else.
Apart from posing as a CA illegally and running a fake office, Sandeep Jha has also been reported to have misappropriated a large amount of funds of his clients since he started his operation in 2017.
While the young CA had hit the nail on the right spot, the timing was just a little late. The accused had already got alerted about suspicion being raised against him and left the town before any action could be initiated.
Meanwhile, CSP & Associates published a notice in a newspaper denying any connection with Sandeep Jha and stating that he had been illegally using their name and banner.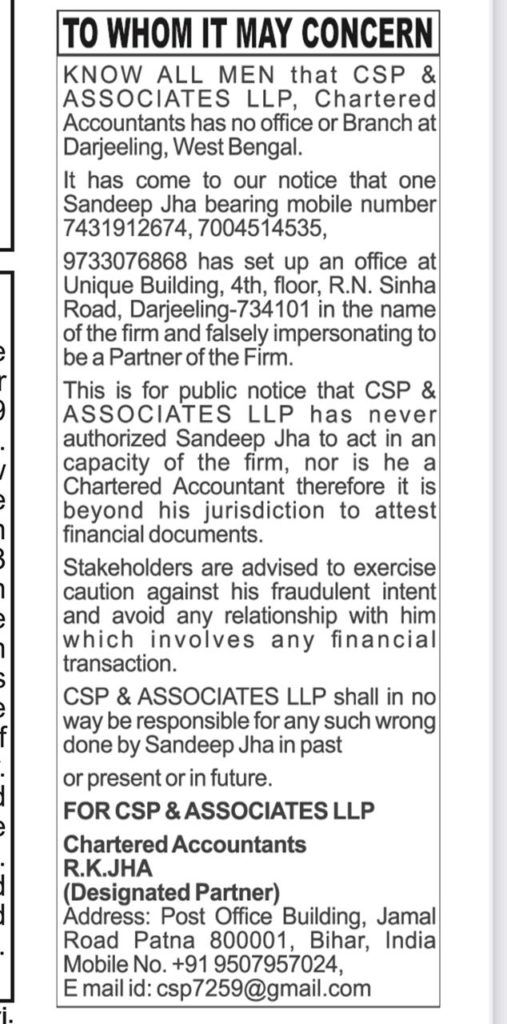 They also filed an FIR with the Darjeeling Police Station regarding the same matter.
TheDC reached out to one of the victims of Sandeep Jha, who narratted his experience as follows: "I had gone to Mr. Jha for income tax filing, which he did for me. However, later I came to find that the Challan that he had provided me with was fake and edited and that my filing hadn't been done at all. I went to his office with the matter, but the same had already been closed. His phone was also not reachable. When I went to another CA to get my tax filed again, I found out that the amount of tax had also been hugely inflated by Mr. Jha. I deeply regret going to him for my accounts."
When we tried to reach Sandeep Jha for his comments, he wasn't reachable.
The whistle-blower of this case suggests that there are numerous such cases in Darjeeling where people have been claiming to be Chartered Accountants and have been operating in the same capacity. It points to a massive negligence by the administration in encouraging the mushrooming of such scammers in the town. While he expresses his frustration over not having evidences against many such people, he also raises an alarm over how the finances of the people and also many business establishments are going into the hands of unscrupulous people.
We request the authorities to take proper cognizance of the issue and prevent the trend from becoming a wildfire and spreading to an extent where any amount of vigilance becomes useless.
We thank and applaud the efforts of the vigilant young CA from Darjeeling, who helped expose this fraud.