Guru Purnima is that full moon day when the first Guru came into existence. This is the story of who that Guru was according to the Yogic, Tantrai and Siddha traditions.
Shiva was a yogi, up in the Himalayas, who would meditate for years and would break his meditation only to do a cosmic dance of ecstasy.

In those times, many young men would go off to Himalayas to seek wisdom and many young men stumbled upon Shiva and watched him day and night. They were unable to understand him and he would be oblivious to human presence hence they left him, except for 7 young men, who waited on.

They kept observing him for months. He would not even acknowledge them. They begged Shiva that they wanted to have the knowledge bestowed from him, the universal secrets that he had, they wanted to learn. But Shiva denied and told them that they have to do penance. And they did as was told to them.

One Full moon day, after 84 years of astringency and penance, Shiva looked at the 7 young men, who had turned into Yogi's. Impressed by their persistence to learn cosmic wisdom, he bestowed them the knowledge he wanted to pass on and they imbibed it gracefully and became Sapta-rishis or 7 powerful gurus, who would now, distribute and pass on the knowledge to other humans.
This full moon day, when Lord Shiva became a teacher or guru, is known as Gurupoornima and Shiva is known as Adi-guru. Remember, you don't choose a Guru, a Guru chooses you. And that's what Lord Shiva did.

Today when you see our Shamans (jhyakri) dance to the tune of "saisela bonbo sey bonbo, saisela bonbo sey.." accompanied by the deeply resounding music of dhyangro, remember its the cosmic dance they are performing, with the same abundance and escstasy as Adi Yogi Bhagwan Rudra."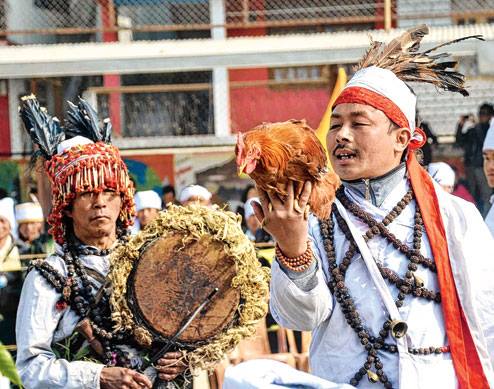 In our mountains we celebrate today as Guru Purney!! as it is believed that today the 1st Jhyakri (shaman) got his gyaan from is guru. Today our traditional shamans (Jhyankri, Fedangba, Bijuwa, Dhami etc) visit their Guru and thank them for their teachings and the nurturing they gave.
In fact, Guru Purnima is perhaps the oldest form of teachers day celebrations.

The fact that mountain people are predominantly nature worshipers, and have always been so, is reflected in our unique mountain customs and traditions.

Let us protect, conserve, propagate and celebrate our unique traditional mountain festivals.
Our's is a unique mountain culture, we should all strive to conserve this.