On one occasion, I recall asking Bhikkhu Bodhipala, "Bhante, what is the marker of a good Buddhist?"
I remember his answer vividly— "The strength of your actions determines who you are! Even a Hindu or Muslim or Christian can be a good Buddhist depending on her or his action(s)"
On another instance, I had asked him, "Bhante, what is Buddhism's stance on sexual orientation?"
His reply once again echoes distinctly "You are who you are! For the monk, of course, any kind of desire is forbidden. For a lay Buddhist, her or his sexual orientation is entirely her or his private affair. And no one has a right to judge!"
I knew Bhikkhu Bodhipala as a most rational thinker, one who never accepted even the tenets of his own religion blindly. He questioned existing customs, believed in the idea of a brotherhood cutting across religious, caste and ethnic lines and someone with whom you could converse with on just about anything.
In the morning of July 27, 2020, Bhikkhu Bodhipala, General Secretary of the Bengal Buddhist Association or Bauddha Dharmankur Sabha, Kolkata, breathed his last. He had been admitted to AMRI hospital at Mukundapur, Kolkata, after being diagnosed COVID positive. Bhikkhu Bodhipala, as he was known, was the great grandson of Kripasaran Mahasthavira of Chittagong, who founded the Bengal Buddhist Association in colonial Calcutta in 1892.
Born as Swapan Kumar Barua to late Sri Pradip Ranjan Barua and late Smt. Kumkum Barua in Shillong, Meghalaya, on December 20, 1968, Bhikkhu Bodhipala was a disciple of the late Venerable Dharmapala Mahathera of Chittagong. He spent his childhood and adolescent years in Shillong, educated at St. Peter's School and Brookside Adventist Higher Secondary School, and later at Raid Laban College. He moved to Kolkata in 1992 and at the age of 24, he voluntarily entered the monastic life by becoming a Buddhhist shraman and a year later, on June 22, 1993, he was fully ordained as a Buddhist monk.
Bhikkhu Bodhipala was, in many ways, a man whose persona far superseded his religious affiliation. He was an ardent traveler and believed that a Buddhist monk's role was that of an itinerant. Never for once, did he fix himself solely to one institution or monastery, believing that a Buddhist monk's sole purpose was to be able to reach to the masses, especially to those in need. Taking a cue from the life of Siddhharta Gautama himself as well as his own great grandfather, Kripasaran Mahasthavira, Bhante Bodhipala travelled all across North East and Eastern India, attempting to forge a solidarity between various practicing Buddhist communities, cutting across Theravada, Mahayana and Vajrayana forms of practice. Neither was his mission that of a proselytizer. Instead, he sought to practice the ideals of compassion, empathy and humanity. As president of the Kalchini Karuna Charitable Society in Jalpaiguri, Bodhipala worked among the marginalized and poor workers of the tea gardens.
In addition to embracing a life of celibacy and service to humanity, Bhikkhu Bodhipala was also academically excellent. He was a gold medalist from the Department of Buddhist Studies, Magadh University, Bodhgaya, from where he completed his Masters degree.
From 2001 to 2007, he served as head monk of the Bodhgaya Temple Management Committee (BTMC) under the Bihar government, the main custodian of the Mahabodhi Temple, a UNESCO world heritage site and the holiest of shrines to Buddhists world over. Thereafter, he returned to Kolkata and served as head monk of the institution established by his great grandfather and in 2018, became its General Secretary. Besides, he also served as the Assistant Secretary and Trustee of the International Buddhist Brotherhood Association, Assam.
Bhikkhu Bodhipala was a prolific writer, contributing many scholarly articles to the various journals published by the Bengal Buddhist association. He also regularly contributed to media platforms such as the Darjeeling Chronicle. He was also instrumental in forging a link between the Barua Buddhist community as well as various communities of practicing Buddhists of North East India. Having grown up in Shillong, he well understood the importance of mainstreamitizing the North-East as well as forging a pan-Buddhist network between the various communities of practicing Buddhists scattered throughout different parts of North East India. From Arunachal Pradesh to Sikkim and Darjeeling to Assam to Kolkata and Chittagong, he worked tirelessly towards this end.
Bhikkhu Bodhipala was a popular face at the various religious heads' meets convened in Kolkata and worked as part of the United Interfaith Foundation that worked towards spreading the message of religious tolerance amidst the debates that broke out over the Citizenship Amendment Act in India. During the time of COVID-19 lockdown that began in March this year, Bhikkhu Bodhipala, as General Secretary of the Bengal Buddhist association, was actively involved in organizing and providing relief to various lower socio-economic groups of the society. Such was his dedication to a life of kamma, that he often overlooked his personal health and safety, working ceaselessly to ensure that various food and other relief materials were disseminated amongst the needy and the poor.

His untimely demise is not merely a loss to the Buddhist world, but to our society at large. We pray for his nibbana, and hope to emulate the high ideals set up by him.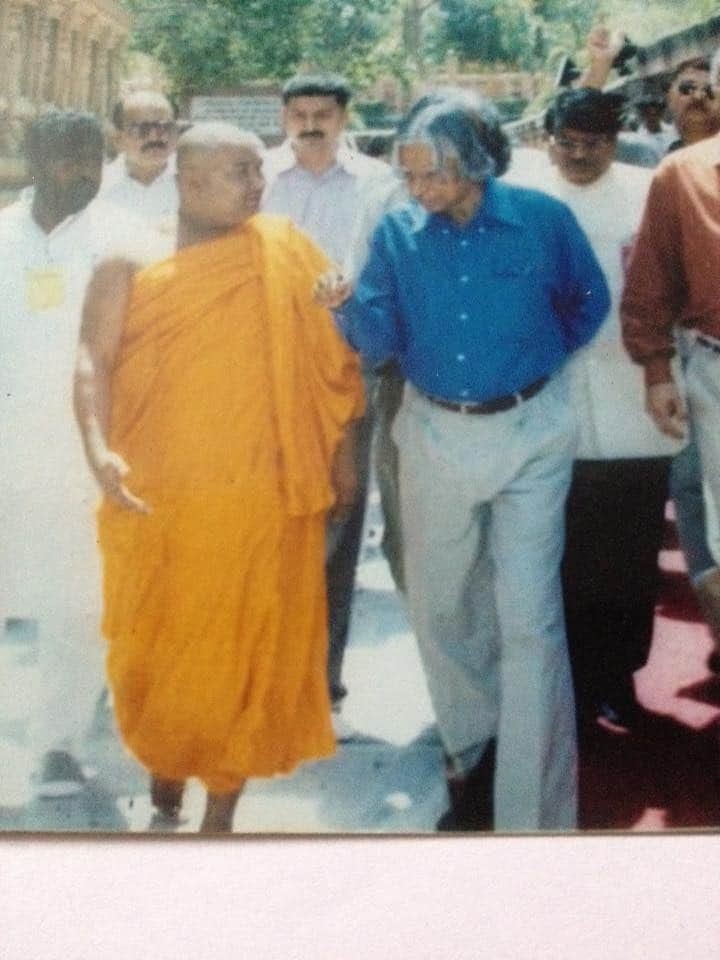 Bhikkhu Bodhipala with late Shri A.P.J. Abdul Kalam, President of India at Bodhgaya, 2003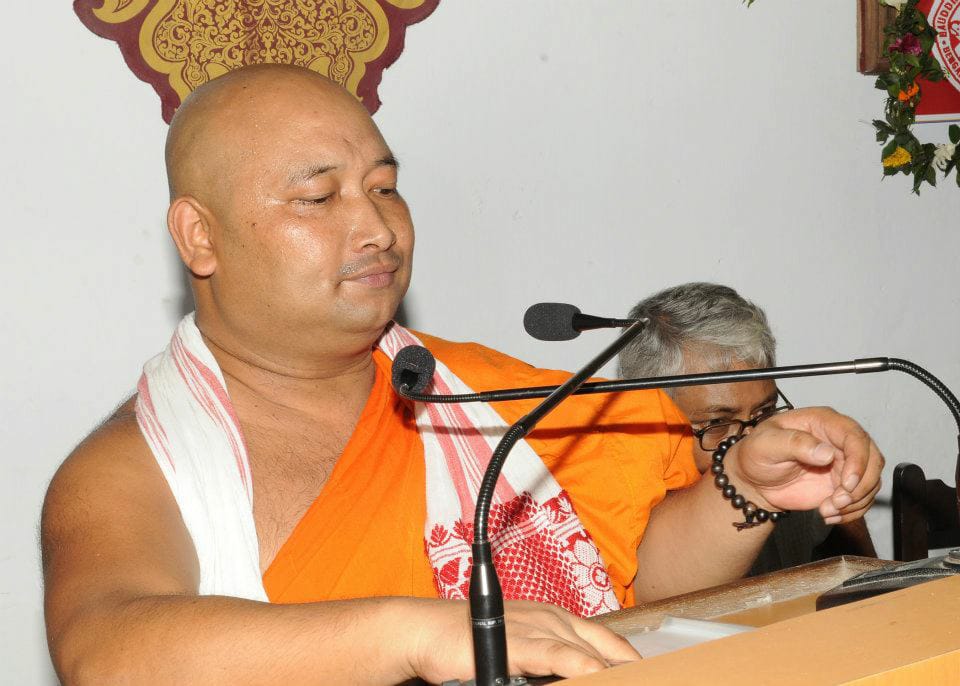 Writes: Parjanya Sen – is an Asst Professor of English and Literature in Sonada Degree College.