"But collective thinking is usually short-lived. We're fickle, stupid beings with poor memories and a great gift for self-destruction." ― Suzanne Collins, Mockingjay
The proposed 7th of August meeting, called by union Home Ministry to "review the issues related to Gorkhaland Territorial Administration" has got the political temperatures soaring in the Darjeeling hills, Terai and Dooars. While some see this as an attempt by the Bharatiya Janata Party to gain some political mileage prior to the upcoming 2021 West Bengal Legislative Assembly elections, others see it as an attempt to impose or reintroduce Gorkhaland Territorial Administration once again. Some are blaming Bimal Gurung, some BJP, some Raju Bista and some have even gone to the extent of seeing a conspiracy in the recent visit to Delhi by GNLF chief Mann Ghising and the timing of this announcement by the Union Home Ministry.
All arguments are valid, and invalid at the same time.
Valid, mostly because it relates to every individual's freedom of speech, which I hold sacrosanct, and invalid because most of what is going around is pure speculation and nothing else. So here's my two bit on the issue and what I think the letter was meant to be and what it will not be.
Amit Shah – the overlooked
Among the many Home Ministers of present and past, Amit Shah stands among one of the most powerful and influential. Although it's too early to judge his tenure, but many in the national political arena have started to equate his term so far with that of the great Sardar Ballabh Bhai Patel, and with good reasons. The decisiveness with which Modi 2.0 has moved forward on various issues concerning our nation for long, almost makes it appear that Amit Shah is in a hurry. Repealing of Article 370, introducing Citizenship Amendment Act (CAA), introduction of the Muslim Women (Protection of Rights on Marriage) Act, 2019 banning triple talaq, resolution to Bodoland issue and many minor and major bills introduced by the government in the past one year, all have trademark Amit Shah seal in them.
What I feel is that, anyone taking this invitation lightly, should study how abrogation of Article 370 to bifurcation of Jammu and Kashmir into two Union Territories of J&K and Ladhak actually happened.
The end result is apparent to many, but it took years of planning and patience for the Union Government to pull this through. I'd advise those interested to look into some aspects of it – despite being their ideological opposite, why did BJP formed an alliance with PDP in J&K? What was the significance of the then Governor of J&K state giving his accent to the application of the 103rd Constitutional Amendment 2019 to J&K, and how it eventually turned out, was just a platform to enable the Governor to later agree on behalf of the people of J&K to the abrogation of Article 370.
In India today, no one plays the long game better than Amit Shah.
So an invitation form the Home Ministry, no matter how insignificant it may seem, should not be taken very lightly.
The Beginning of the End
I think, I must have been in class 12 when someone gifted me a t-shit, which read, "everybody wants to go to heaven, but nobody wants to die." Same is the case with most of our politicians who apparently want "Gorkhaland". Today, GJM, GNLF, GTA2 administrators and everyone and sundry are claiming that "we will not accept any invitation for talks to GTA, we will only attend talks for Gorkhaland". Well it's like saying, what my t-shirt said, "I want to go to heaven, but I don't want to die".
After a hard fought andolan of 4-years from 2007 to 2011, finally the Gorkhaland Territorial Administration Agreement was signed between the Center, WB Govt and GJM representatives. The invitation, specifically to GJM is clearly for the resumption of the dialogue from where the center had left it in 2011. The File Number at the top of the letter, F.NO. 12013/01/2011-SR is a dead giveaway. In probability the invitation wasn't sent to other political parties, as they were not a part of the GTA Agreement. I don't think it had anything to do with the recent GJM representatives meeting the Home Minister or the GNLF representatives meeting the top echelons of BJP leadership.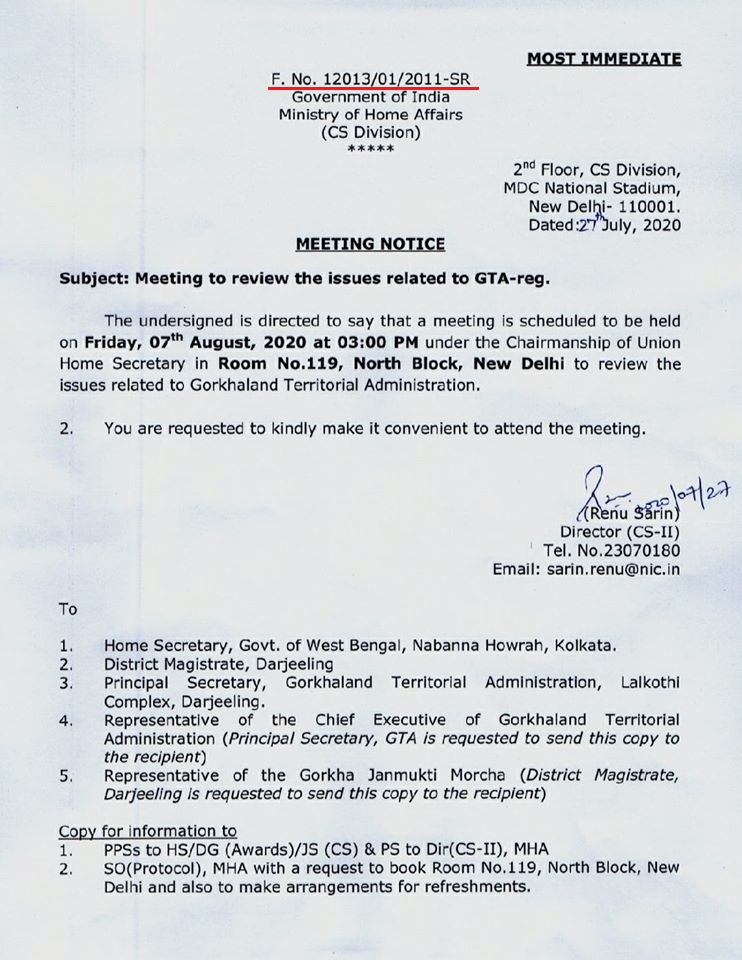 The review of GTA would undoubtedly reveal how ineffective, corrupt and useless this semi-autonomous body has been. It would also reveal, how this body has totally and completely failed to fulfill the aspirations of the people from our region. After due review, chances were the Center being one of the signatories would call for GTA's dissolution, as it has failed in all fronts, thus naturally paving a way for the talks to Permanent Political Solution.
But no, no one wants to attend this meeting.
So the Gorkhaland Territorial Administration performance, effectiveness and finances won't be reviewed, at least for now. Our politicians all seem eager to reach the destination, but without starting the journey.
Basic Talks
I guess, our politicians should owe up to their mistakes, and admit that what they have sought with the center the fabled "tripartite talks" will have to begin from the Gorkhaland Territorial Administration agreement of 2011. This is because that is what had been signed upon, so for the Center GTA will continue to remain the starting point for any future discussions, as long as it's tripartite in nature. West Bengal government is in no mood to attend any talks what so ever, regarding Darjeeling and involving Centre. So asking for "tripartite talks" itself is wrong.
What our politicians should have instead demanded for is "bipartite talks" – simple and straight forward. Talks between Centre and the Gorkha representatives concerning the demand for Gorkhaland state, or Permanent Political Solution for Darjeeling hills, Terai and Dooars.
Article 3 of our Constitution, makes the Central Government the sole authority over division and realigning of state. More often than not, state governments will always oppose division of the existing state, because it will divide the resources and the power sphere of the state and its politicians. There is a reason why the Doordarshan shut down broadcast of Parliamentary proceedings on the day voting for Telangana state was to take place. Most leaders from Andhra Pradesh were opposed to the formation of Telangana state. But that did not stop Indian National Congress from going ahead with the bifurcation of the state, despite stiff resistance from majority of the AP Congress leaders.
Similarly for Gorkhaland too, the decision has to be taken by the Center, so I don't see any point in demanding "tripartite talks," as WB State will never agree or consent to any parallel administrative set up be it a new State, UT or some other arrangement for our region. The demand should be for "Bipartite talks" and Center should be compelled to take a decisive action, in the greater interest of nation building.
Bureaucratic Gaffe
Politicians, even if they are of Amit Shah's stature do rely on bureaucrats for information, ideas and processes. This time around, whoever sent that GTA Review letter seems to have ignored the previous communications in this regard.
Responding to an RTI query on why the Govt of India was not conducting a "tripartite meeting" to resolve the Gorkhaland impasse, on the 9th August, 2018 itself one Mr. Krishna Kumar, Deputy Secretary of CS Division under the Home Ministry had responded,
"… the Govt of West Bengal vide letter dated 10.11.2017 replied that the GTA was one of the prime agencies for development and infrastructure work in the hill areas. The members of the earlier elected body had resigne in the month of July. The State Government as an interim measure reactivated this body by nominating some members. In absence of elected members in the GTA, the Govt of West Bengal is of the view that it is neither desirable nor even appropriate to hold tripartite talks at this stage. The proposal may be kept in abeyance for the time being,"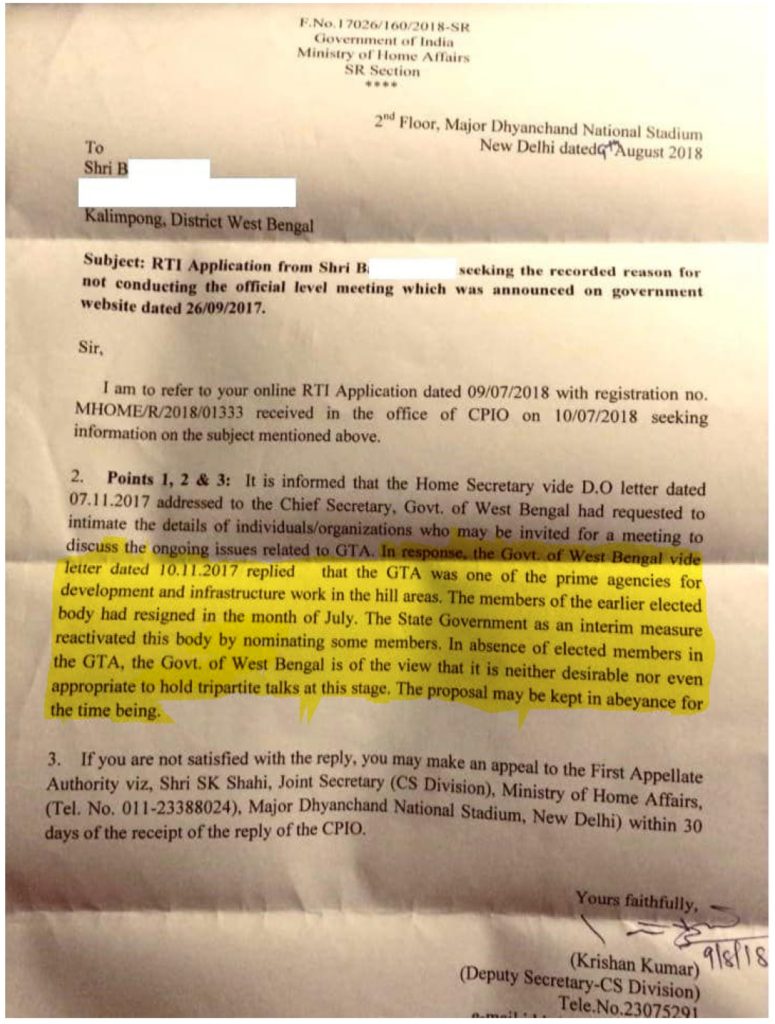 So, had the current JS Union Home Ministry done his research proper, s/he would have come to know that review meeting of GTA was not possible, as it did not have any elected members, and they should have informed the Home Minister prior to sending out the invitation.
So for me, the letter that was sent out was just another example of bureaucratic laziness, they should have done their homework proper.
They didn't.
What Next?
Well, I don't know about others, but this incident has given me hope. It has exemplified that the Centre is willing to talk over and discuss issues relating to Darjeeling.
You may disagree with me, but dig this, those who see this invitation as a BJP manoeuvre for political reasons alone haven't thought it through. Because let's accept it, as far as West Bengal politics is concerned, we are political not as significant as we like to believe. In a house of 294 MLAs, Gorkhas can influence 16 seats from Darjeeling hills, Terai and Dooars, that's indeed a lot, but not as much as losing those other 278 seats where anti-Gorkhaland sentiments are strong. Truth be told, BJP is set to gain much more if they turn a blind eye and deaf ears to the plight of Gorkhas in Bengal. But the fact they haven't done so, tells a story in itself.
I believe, the Union Home Ministry will do well to rescind this invite for official level talks to discuss and review GTA related issue. Rather, they should focus on calling for Political Dialogue with the proponents of Gorkahland statehood, and work towards finding a Permanent Political Solution – be it a new state of Gorkhaland or a Union Territory.
Political talks will give certain degree of immunity to those who are currently underground, and will also help in bring about the much needed honesty and sincerity in dealing with the perennial political problems. afflicting our region.
Rest Follows.