Prime Minister Narendra Modi, BJP chief Amit Shah and other top leaders including Rajnath Singh Monday released BJP Election Manifesto for Lok Sabha elections 2019. Calling them "75 promises for India@75," the party said the "Sankalp Patra" reflected "people's Mann Ki Baat."
In a section dedicated to the Gorkhas, the BJP Manifesto has promised two important points
गोरखा विषय का राजनीितक समाधान
हम 11 छुटी हुई भारतीय गोरखा उप-जातियों को अनुसूचित जनजाति का दर्जा देंगे l इसके साथ-साथ हम सिक्किम
विधानसभा में लिम्बू और तामांग जनजातिय हेतु आरक्षण लागू करने के लिए भी प्रतिबद्ध है।

हम दार्जीलिङ हिल्स् सिलीगुड़ी तराई और डुवार्स क्षेत्र का समस्या का स्थायी राजनीतिक समाधान खोजने की दिशा में काम करने के लिए प्रतिबद्ध है ।
We will recognise the 11 left out Indian Gorkha sub-tribes as Schedule Tribes. We are also committed to implement the reservation in the legislative assembly of Sikkim for Limboo and Tamang tribes.
We are committed to work towards finding a permanent political solution to the issue of Darjeeling Hills, Siliguri Terai and Dooars region.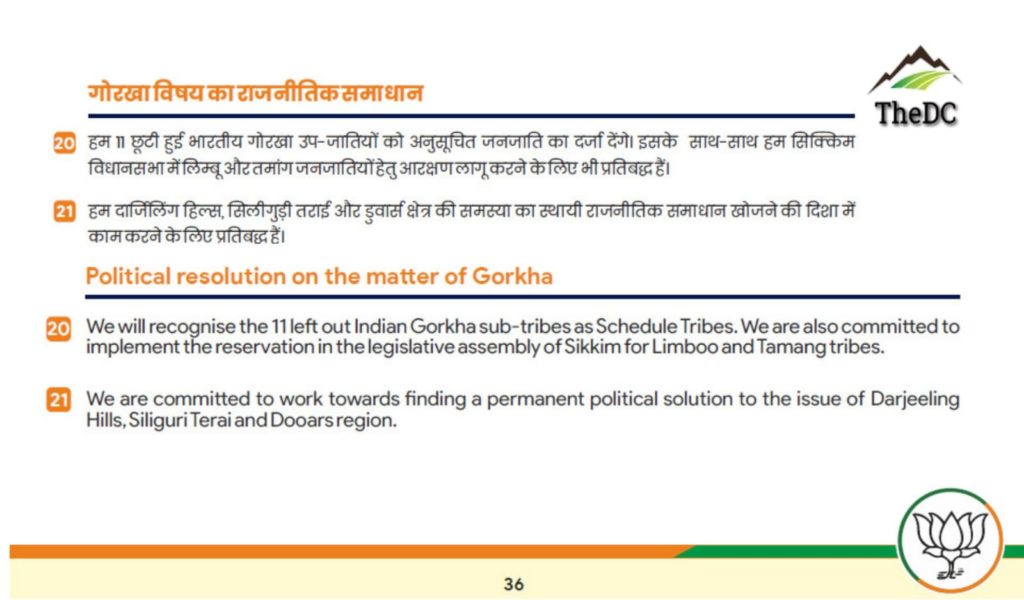 Addressing the gathering, PM Modi said our manifesto aims at 'One Mission, One Direction'. "India is a diverse country with different languages and culture, which is why we have tried to make our developmental processes multi-layered," said PM Modi. He added, "we have also tried to make our manifesto multi-dimensional."
Reacting to the development a GJM Bimal Faction leader said, "This inclusion of Gorkha issues as a separate section is significant. This goes onto show that the BJP cares for the Gorkhas deeply and is very aware of our aspirations, and need to find a permanent political solution to it. You may have noticed the word Gorkha doesn't even find a single mention in Trinamool. Their sincerity towards our community is made evident in their Manifesto itself."
Reacting to the BJP Manifesto, Mr Keshav Pokharel of GJM(BT) faction however said, "there is no mention of the word Gorkhaland or the long pending demand of the Gorkhas.. there is an ambiguity in the term political solution for the GNLF it's 6th Schedule and for us it's Gorkhaland."
"Regarding ST issue the manifesto only promises but doesn't deliver. Even after PM announced it in North Bengal it's still not done. Why only fake promises and no work," he added.