Old-timers of Darjeeling town recollect with great pride a certain Jungay Hawaldar who was distinctly hefty, a figure made more prominent by a pair of huge fox-tail-like moustache. His strict, vigil kept the town free of mischief and misdemeanour.
One day a group of heavyweight wrestlers came from the plains and exhibit their skills at the Government High School ground. Their great skill drew large crowds and after a few days the gatherings swelled to such an extent policemen had to be posted to ensure that everything went off peacefully.
These giants were not only skillful but could also lift and throw down a 100 kg man effortlessly. After hearing about the amazing abilities, Jungay Hawaldar's curiosity was so aroused that he too went to witness the spectacle. Jungay was watching the display with absolute wonder when suddenly his concentration was broken by the biggest of the wrestlers who threw a challenge to any 'hill man' to wrestle him. No one stirred for everyone was aware of the wrestler's tremendous skill , stamina and strength.
The stunned silence was broken when someone pushed Jungay Hawaldar into the muddy arena. He had never wrestled before! But he could not shy away and thereby lose his enormous reputation, besides there was pride, honour and prestige of the hill at stake. He decided to give it a shot and imitating the wrestler he spread his legs apart and waited.
The wrestlers in a lightining move slipped between Junjay's legs in an attempt to pull one foot and dislodge him. Jungay's was equally quick to respond and somehow managed to grip the wrestler's torso between his legs and thighs.
He increased his vic-like grip and when the stunned and silent crowd saw the wrestler was in tremendous pain they began chanting "Naa chhor tyaslai!".
The wrestler signaled his surrender but Jungay, unschooled in the rules of wrestling and spurred by the crowd's cheering, kept up the pressure till the fight ended in an unexpected anticlimax.
Jungay suddenly released the wrestler and moved as far away as he could. It was only after sometime that the crowd realized that Jungay had ended the challenge because the wrestler had soiled his clothes from the rear and the stink had hit the Hawaldar's highly sensitive nose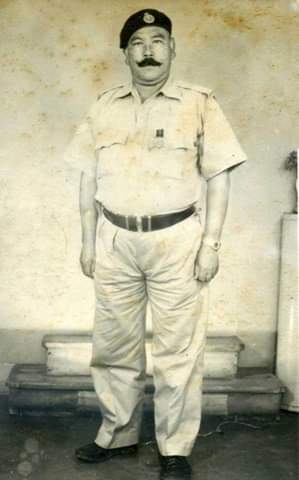 [Note: This story Jungay Hawaldar is taken from a book by Dr. Sonam B. Wangyal. One of our reader sent us this amazing Darjeeling story, with a note that this story was originally shared on facebook by Dipak Shrestha… we thank the reader who sent us this story, Dr. Sonam B Wangyal for writing it and Mr. Dipak Shrestha for originally sharing it]