We are so very proud of the Namaste Foundation volunteers, whose display of "Darjeeling Spirit" helped save the life of a man from Nepal.
On June, 8th, 2019, a man covered in blood had been brought to Eden Hospital, Darjeeling. He had been shot on his stomach, and he was bleeding profusely. The man couldn't speak proper, but the two men who had brought him there said that he had been collecting fodder along the Indo-Nepal border in Maneybhanjyang, when a bullet hit him. The Eden Hospital staff patched him up, but referred him to North Bengal Medical College (NBMC). Since those who had brought him were from Nepal, they didn't know what to do. That is when Eden hospital staff Bishal Chettri called Namaste Foundation and informed them of the situation.
Exemplifying true "Darjeeling Spirit" voulnteers from Namaste Foundation swung into action and rushed him to NBMCH in Siliguri accompanied by one of their volunteers Shankar Tamang.
At NBMCH, their Terai volunteer Suman Bardewa joined them and helped with all the formalities, and he was rushed to the operation theater. The bullet still being lodged in his stomach, and him having lost a lot of blood, his situation was critical.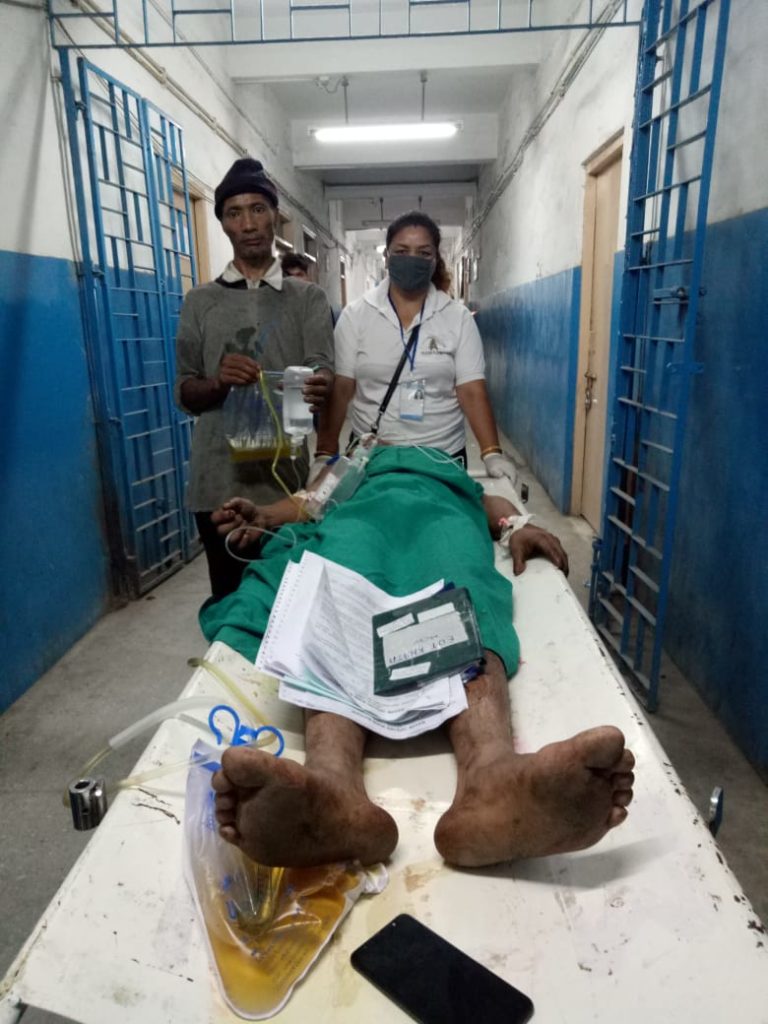 Till that point, no one was aware of who he was, or where from he was.
Following a request from the Founder Member of Namaste Foundation Pinky Biswakarma, we had shared an appeal on our Facebook page:
People from Maneybhabjyang – do you know him?

This is Mr Raj Kumar Chettri/Adhikari

Today he was brought to Darjeeling Eden Hospital with a bullet injury to his abdomen. He claimed that he is from Maneybhanjyang and said that he got hit by a bullet while collecting fodder (ghas ma janda) on the Nepal side.

He is critically injured, and he is currently undergoing surgery at North Bengal Medical College, Siliguri.

He couldn't speak proper to give his full details.
If anyone knows him, please contact: NAMASTE FOUNDATION at 8116312069 or 7001151248
Or Mr Suman Bardewa at: +91 82500 98165


Please SHARE, someone in your timeline may know him.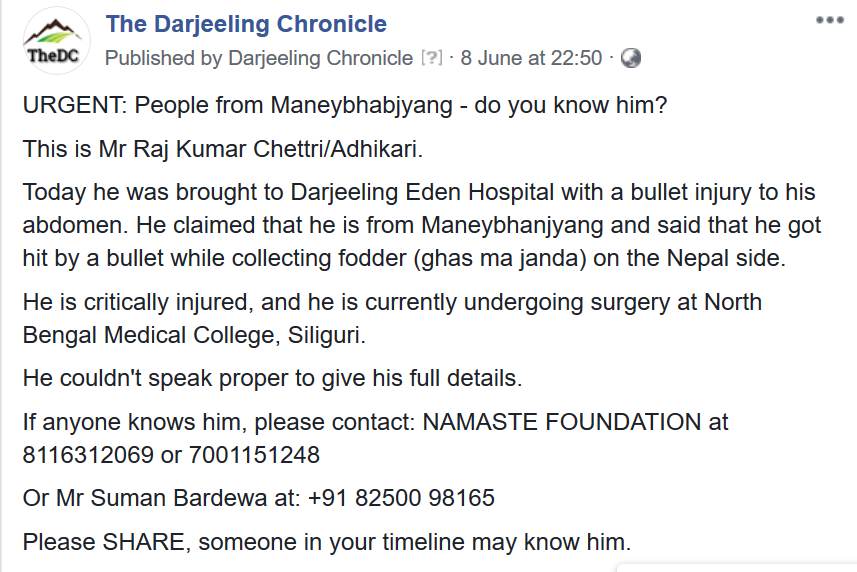 Thanks to all of our kindest readers, and their concern and care, the post quickly went viral, and garnered around 1.25 lakh reach, which included his family members.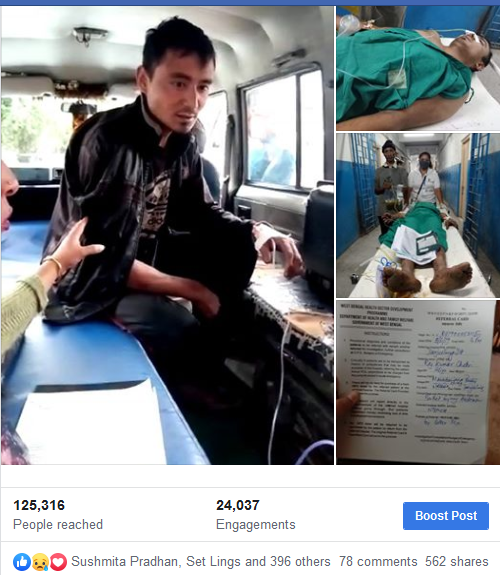 His operation went successful, thanks to Nehal Tamang a student of Evershine Institute of Hospitality Management, Siliguri who donated blood to him. Today as he is recovering from his operation, his family members could finally reach him. Finally after three days, we could ascertain that the individual who had sustained bullet injury is Indra Bahadur Chettri, and he is a resident of Maijugmai, village in Illam District of Nepal.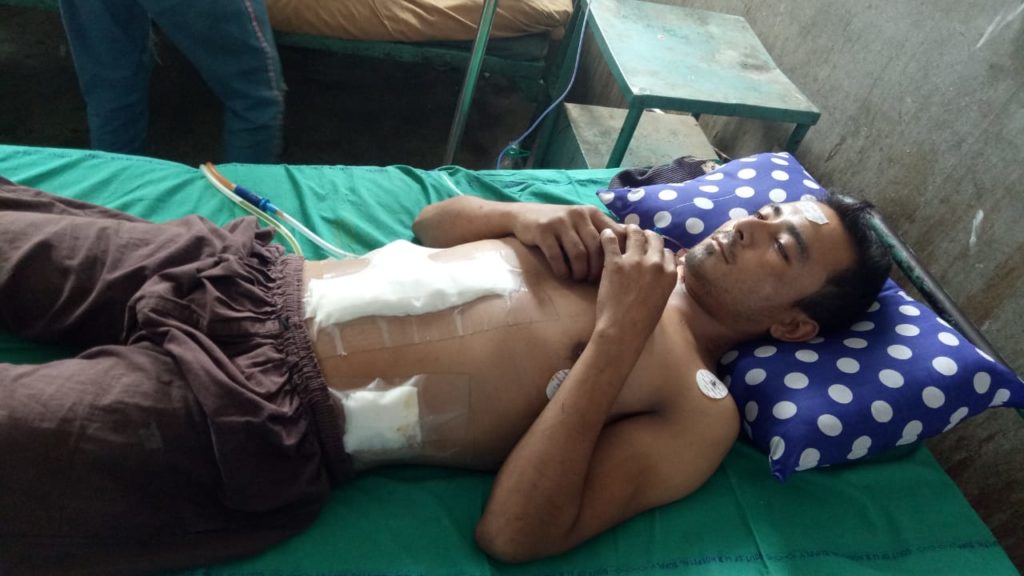 Due to the remoteness of his village, his mother couldn't travel to join him, but his uncle's son (kaka ko chora), accompanied by a friend have reached NBMCH.
They are being well taken care of the volunteers from Namastey Foundation, and they have THANKED everyone who helped their family member to connect.
On our part, we applaud the amazing efforts of the medical staff at Eden Hospital Darjeeling, NBMCH, Namaste Foundation volunteers, and all our readers, who joined hands to help save a life.
This is the "Darjeeling Spirit" that we all should always strive to maintain.
Thank you everyone, together all of you have continued to inspire. But particular THANKS to the two individuals who rushed him all the way to Darjeeling and volunteers of Namaste Foundation, whose kindness has won all of our hearts.
Anyone, wanting to connect with Namaste Foundation can do so at:

Facebook: https://www.facebook.com/NamasteFoundationDarjeeling/
Phone: (+91) 070011 51248