Though we grew up as Y2K generation teenager, the exchange of love letters was very popular in our school days. Each epistle of love used to have a rhyming quote. One such legendary quote in a love letter I recall is:
'Maasu is 'Maasu'
'Haddi' is ' Haddi'
If you will forget me
I will do 'raddi'
Some names of places were also specified in those quotes, such as-
Kalimpong is famous for flower
Darjeeling is famous for tea
I am made for you
And you are made for me
There was no Facebook or any social sites during those times, so a guy would usually send his photo with the love letter to assure the girl that how he looks like.
Love proposals and exchanges were made in two ways- (a) through a letter (b) through a mutual friend. This mutual friend who used to deliver messages, gifts and letters were often termed as 'Postman. Sometimes it used to occur so that these Postmen would try their luck on their friend's girlfriend or boyfriend and we used to come up with statements like- " Mero ta Postman ley nai pattai diyo ni…"
A boy's propose letter would usually begin with " Dear, Face known and heart unknown…" and end up with "waiting for your precious reply" which in reality would be traced with seven different carbon papers to hand it over to seven different girls. This is how we incarnated a belief…a belief that love could be traced.
In terms of letter writing, there was a popular saying in our school days, it went something like this- "Every boy in Darjeeling carries two love letters in his pocket- one written in English and other in Nepali."
During our school days, every relationship used to start with, "Timi mero true ho!" and end up with, "khutta chha bhaney jutta jatti pauchha"
During those days one's girlfriend was often referred to as, "chicks", "partner", "kachhi", "heroine" or "budi". But a common term that referred both to boyfriend and girlfriend was "Gas". So, sometimes if you would go out well-dressed then someone would ask- " Amamama… chitikkai parera gas lai bhetnu gaako?"
Stalking girls on the street was a mandatory activity in every boy's list. Stalking had various local jargons like "sight khelnu", "season hernu", "chick seeing" ( abruptly pronounced 'chiksing') which was followed by "jibro padkaunu". If a guy saw a group of girls coming from the other direction, he would poke his friends with a pointed lip directing towards the girls and finally release out the words- " Oie! Keta ho..dammi dammi season audaichha"
It is only in our place that a guy will call a girl 'baini' (meaning younger sister) and have the balls to say ' I Love You' at the same time.
During our school days if a guy was rejected by his desired girl then his other option would have been- " Timi sanga friendship bha pani garchu ni la!"
After getting paired up the three most popular spot where a guy would wait for his girl was "Bata agaadi", "Chowrasta" or " Rink hall"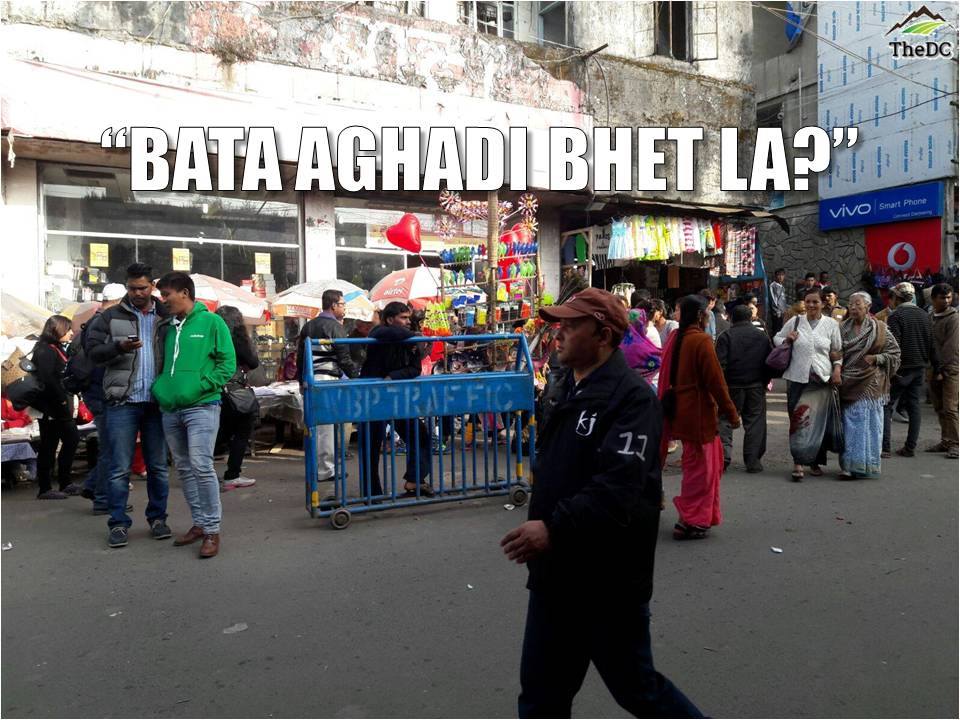 The most renowned dating spot of love birds ( often considered the Garden of Eden) would be- "Phool baari", "Back side", "Love Road", "Birch Hill Road", Aaloo baari", "Shrubbery Garden" and 'Graveyard'. And it was mandatory for the lovers to visit Tiger Hill and Japanese Temple once in their relationship era.
The best way of asking money to your parents when you had a date was "Hamro class ma ekjana keta serious chha…donation mageko chha" and it was obvious that you had to borrow clothes and shoes from your friends while going on a date.
A date was always accompanied by a pocket full of 'Boys mithai', 'bhuteko channa mattar', 'kagaaz ko thunga ma jhaal muuri' and ' noon ra dhulo khorsaani ma moleko suntala'
When there was a break up the person would tell his friends "Ghanta ko…mero ta Have a Break, Have a Kit Kat bhayo"
It would be worth to mention that we grew up in a romantic era of Bollywood, Hollywood and Kollywood as well. Movies like 'Dilwale Dulhaniya Le Jayenge', 'Kuch Kuch Hota Hai', 'Jab Pyaar Kisi Se Hota Hai', 'Hum Dil De Chuke Sanam' etc intensified our romantic ambience. It was a different fun to watch these romantic flicks with the desired girl sitting on "folding chair" of Rink hall with some spicy "bhola's aloodum" wrapped in newspaper.
The most thrilling moment while watching a movie with your girlfriend was felt when you held her hand and the next day you would tell your friends- "mailey ta haath samatey ni.." The next moment the other friend would say- "kiss chai garinas?" and you would catch blush on the cheeks and say- "abuii" kaha hau!!" and your friend would make a comment to ridicule you- "Sala Chicken"
It was all fun to recite some lines to the girls, for example, lines like- "badi badi seheron me aisi choti choti batein hoti rehti hai…(name of the girl) or lines like- "kuch kuch hota hai (name of a girl) tum nahi samjhoge". One of the most popular Hollywood romance tragedies of that time was 'Titanic'. It made such an impact amongst the youngsters that some of my friends would gently look at their girl and say – "Mo timro Jack, time mero Rose."
There are certain superstitions attached with love couples in Darjeeling, the most popular one was that the couples were not supposed to go to the temple or any religious place together. If they do so, the consequences would be that they will be separated in the near future. Acceptance and declination of love were predicted by steadily plucking off the petals of a flower uttering- "Loves me, Loves me not."
'Bench Literature' and 'Wall Literature' was an outcome of these romantic emotions. We would often find the benches decorated with words and letters like "P+S" or 'Pema + Pinky'. Even the walls of some rest houses and old buildings used to be covered with big images of a heart, often drawn with coal or brick with the name of lovers inserted in it.
To all those who never had late night hook up calls, who never had video chat, who never had instant message facilities, who never had image messaging facilities, who always shared a single umbrella on a drizzling evening, who sipped tea from the edge of a same glass and who has preserved the compilations of old love letters and ARCHIE/ HALLMARK cards and even to all those who are cranked with software and applications under where emotions are segregated by pinch of megapixels, love has always been a part of growing up.
Writes: Binod Pradhan, He is a lecturer of English at South Field College.