In July 2019, we had shared news highlighting the abysmal condition of Tungsoong Bridge connecting Dhootrey to Pokhriabong and Pussumbing valley.
We had written…
"Tungsoong Bridge on the Verge of Collapse
Toonsoong Bridge, a 280 feet long bridge on Balasun River connects, Tungsung, Balasun, Dhotrey, Rangbul, Pussumbing, Kalej valley etc. with Pokhriabong region. It, however, is in a miserable state today.
Every day students from Tungsung area risk their lives to get to their schools, walking across the bridge that can collapse anytime now. People going to Pokhriabong bazar have to risk their life through it too. With the Tea Garden shut down since 2015, the people of the region have to go to Pokhriabong and other places for livelihood and every day what they have to go through is this death trap.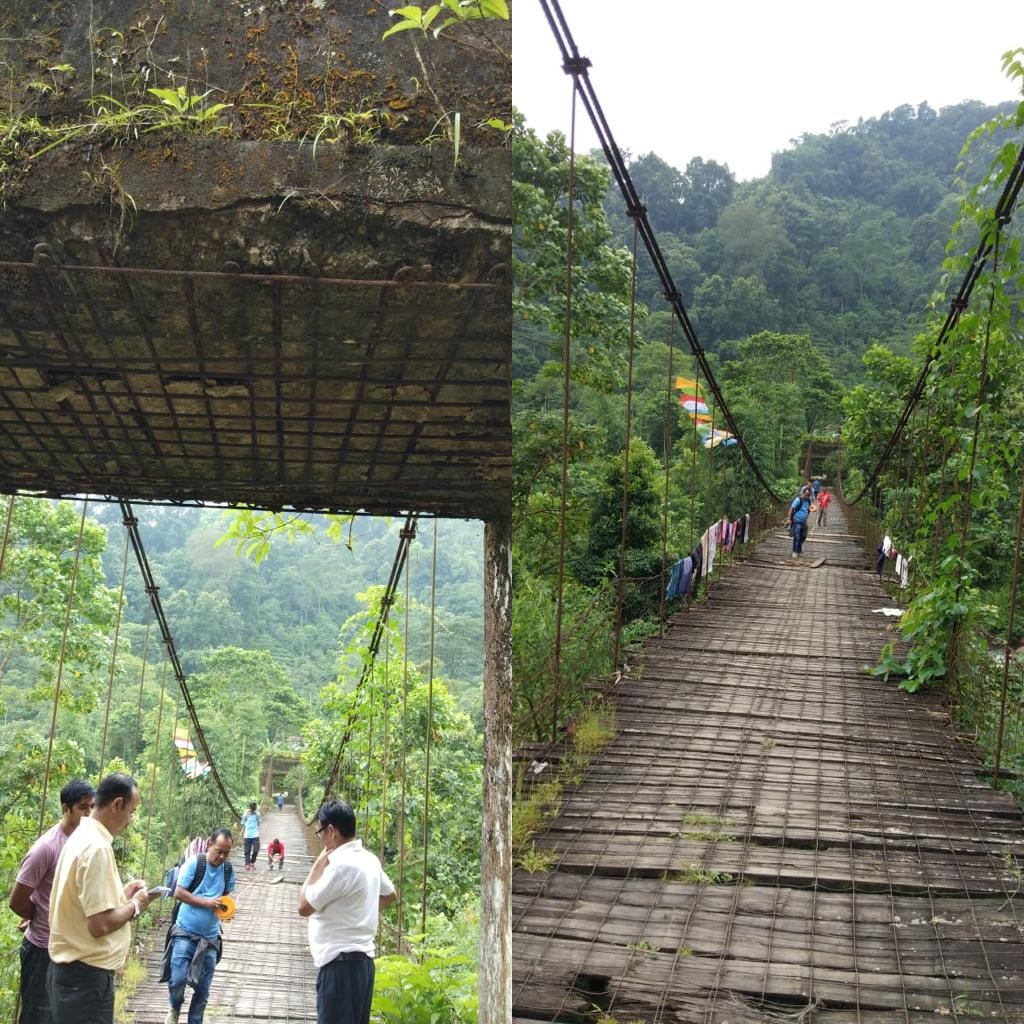 People from surrounding areas say that numerous small incidences have taken place which could go bad to worst anytime, any day. People speak about people avoiding close accidents numerous times in the bridge.
Local people say that numerous surveys by numerous departments (DED, GTA) and administration have been done but not a single piece of wood has been provided so far. They say that the last repair work was done in 1998 under DGHC. After that, no one has bothered for its maintenance and safety of the people.
Ironically not the administration but local people from around Tungsoong and Sumripani have been repairing on their own since long.
Monsoon has already arrived in Hills and the prevailing pathetic condition of this bridge (only medium of connection) in this season of heavy rainfall is inviting an untoward disaster for the local people or anyone who happens to walk through the bridge.
This alarming condition or the danger that is looming large in the lives of the people of the region is due to apathy of the present GTA or the state government who claim big development been done in the Hills.
We are very THANKFUL to Shri. Amar Rai the Chairman of North Bengal Development Department for kindly taking cognizance of the issue. Today the Officials from NBDD went to visit the site and conduct survey. We have been informed that the NBDD will develop a Detailed Project Report and soon work will start.