In the last few years, many filmmakers from the Northeast have done their bit to portray NE stories on the big screen. And truth be told, unlike their counterparts in metro cities, they do not always have easy access to funding or resources, but does this mean that films from NE cannot compete with films made elsewhere in the country or the globe? It may seem so at first but when you dig deeper, you will find that films from the Northeast have travelled to film festivals across the world and are appreciated by global viewers from different cultures. Talented NE filmmakers have proved time and again that, 'where there is a will, there is a way'.
Dawa Lepcha is one such filmmaker. In fact, Dhokbu: The Keeper, the first feature film by the Sikkimese filmmaker has earned rave reviews from movie lovers across the country. He has even been nominated for a Golden Fox Award in the Best Director category for his work in the film. In fact, he is the only director from India to be nominated in this particular category.
Journey So Far
A student of Tashi Namgyal Academy (TNA) in Gangtok, Dawa was interested in acting and writing plays from his school days. 'One of my teachers suggested NSD and FTII, both of which I could not afford.' Around the time he was in class 7, he became a regular at the local video parlours. 'I think by the time I sat for my class 10 board exams, I had made up my mind to follow this path. After graduating from Sikkim Government College, I did a post-graduate diploma course in film direction from National Institute of Film and Fine Arts in Kolkata.'
He has worked on song videos and documentaries, most of the ethnographic kind. His documentary Ritual Journeys was highly appreciated by the judges at a festival in London. 'We released a documentary a month back titled Finding Pushen which has been uploaded to YouTube as well. It will be screened at a festival in Vienna next year.'
The road has not really been a cake-walk for Dawa. Besides being a filmmaker, he is also a social activist and there were times when he had to struggle a lot just to get his voice heard. 'Actually, just as I was starting to take off in the field of filmmaking, I along with many of my friends got into this fight against hydro-electric companies and the authorities for environment, culture and survival. This went on for a long time during which I had to forget and forgo a lot of things, including films. Those days were really tough but I had some very wonderful people who helped me and my family survive.'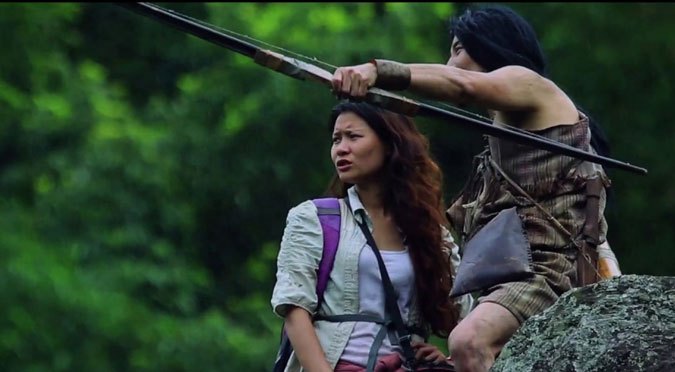 First Feature Film
Dawa chose a very interesting subject for his first feature film. 'Like every tribal community around the globe, we Lepchas also believe in natural deities and protector of wild forest and wilderness. This film is about a mythical character, who is the guardian of the wilderness in Sikkim Himalayas. He rescues and protects a young university student who gets lost in the wild while on a research recce and helps her returns to civilisation. The film reflects a few my own thoughts influenced by what I went through during my days of intense activism.'
But when it comes to filmmaking, it is not enough to have a great story, you need money to transform your thoughts into the reel format for the whole world to see. Dawa also felt the cash crunch when he was working on the film. 'But we somehow scrapped through, people and groups supported us as we went about the production doggedly, and things worked out eventually. We did lack in terms of equipment, we did the entire shoot with one Canon EOS 5D Mark III, in natural light. We had not trained or experienced professionals on board apart from myself, the cinematographer, and the main male lead.'
When asked about his favourite scene from the film, he shares, 'For the maker, it is difficult to choose one scene but if I have to choose, then I feel the best scene is when Tina emerges from the forest and goes back to the real world.'
Golden Fox Award Nomination
Dawa shares that the Golden Fox Award nomination was a surprise. 'It was not at all expected. Before I got the confirmation from the festival, I was just scrolling down the nominee list posted by another source without the least bit of expectation, and then I saw my name and was like "Arey!" It is very pleasant news to be nominated for one of the top awards. I am happy for my team who worked so hard with the least of means. Above all, it is a reassurance to one's efforts and dreams.'
He is currently working on the sequel of Dhokbu: The Keeper.
[Via: Eclectic Northeast]