This Special Series on Gorkhaland Andolan, wherein we seek to document the lived history of our people from the 1986-88 andolan days and beyond. This article by our contributor Divya Pradhan is Part III of her series of recollections. You can read the Part I here and Part II here We request all our readers who have lived through this period to kindly contribute your experiences. This is our lived history, and if we do not document it, no one else will.
FEAR
My grandparents no longer live in the house next to the main road. They have moved to the small ration shop which they own, for safety. I have been asked to guard the half-open ration shop today, while my grandmother cooks in the kitchen. I do this willingly because of the rush of self-importance I feel on being made a shop keeper. Its almost 10 in the morning so there are very few people around. Most people would have gone to work at the sound of the morning siren. The shop smells of freshly ground wheat, raw rice and twines.
I am really into decimals and fractions these days. So when some women come and ask for "ek tukra supari" and say they will pay me later, i make a note of the amount they owe and reach absurd figures like 11.35 paisa. I ask their names and address, which they tell me (now I realise indulgently) , Sagar ko ama- kothi dhura, Sainli badi- nau number, Sunita-pallo gaun. I can recognize these adults when I go to their houses to call a friend, but if I ever meet one outside they all look the same to me.
I am not party to some of the larger purchases that have been made because the customers insisted that I call my grandmother. I also watch with mild shock that my grandmother casually hands over "ek tukra supari" without asking for payment or noting it down.
As the day progresses, I realise that playing real shopkeeper is a dull affair. It's nowhere close to the one I play with my cousins where we fashion scales from old tins of Cherry Blossom shoe polish.
I hear my grandmother calling me loudly. She is panic-stricken. She closes the shop and tells me about a CRP raid in progress. Then she goes to put the chickens in the coop. While she is away, I notice that there is a bagful of iskus inside a Casa Paco bag.
Even kids my age know that Panchanan, Handa and Casa Paco bags are bad news.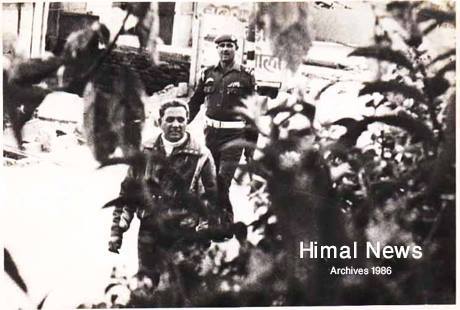 I try to lift the old and faded camouflage printed bag but it's too heavy. Someone has brought iskus from Soureni busty and left the bag next to the door. There is no one else in the house apart from my grandmother, who is still out there trying to put the chickens in the coop. So I take an old shawl, cover the bag, and wait for the CRP raid.
Special Series on Gorkhaland: to be continued…